Raleigh, North Carolina basd Intelligent Apps, LLC has announced the release and immediate availability of iDetox – Eyestrain Monitor, their new productivity app developed for iPhone, iPad and iPod touch devices. The familiar glow of small cellphone screens and tablets in a darkened room is a familiar sight to most Americans, and with an increasing number using these smart devices every year, eye health problems are on the rise.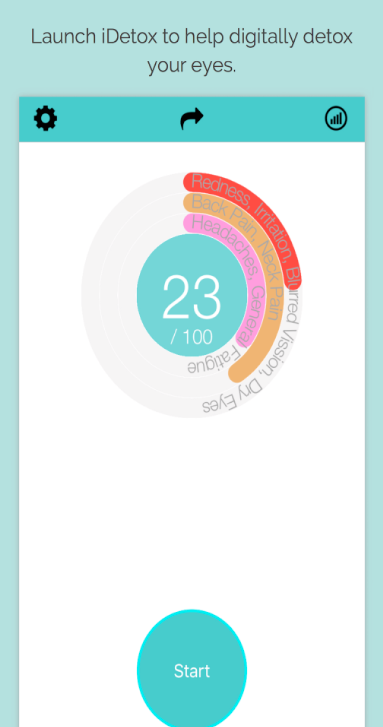 The blue light that emanates from these devices has been linked to health problems, and Intelligent Apps, LLC says it has been shown to prevent a good night's sleep even when Night Shift mode has been enabled.
iDetox works in the background monitoring users' eye fatigue level and their exposure to blue light. The app offers simple eye exercises like asking users to blink few times and look away when high eye-fatigue has been detected. In addition, iDetox offers automatic adjustment for the screen's brightness at certain times of day, including sunrise and sundown. For data lovers, an analytical tool has been included in iDetox, offering to track your daily eye exercises and setup a custom goal for how many exercises users need per day.
"Using your smart devices during the night time exposes the eye to blue light which simply isn't naturally present, which fools the brain into thinking that it's earlier than it really is," says Intelligent Apps CEO Sam Aljamal. "Combined with an overly bright phone light, or even over-dimming of the light, eye strain joins in. Over time, that has a catastrophic effect on the quality of your sleep – and your actual eyesight. We created iDetox as a way to minimize this risk."
App Features:
* Smart eye strain calculator to monitor eye strain throughout the day.
* Prompt users if high blue light exposure is detected before their bedtime.
* Provide eye exercises to rest users' eyes when high strain is detected.
* Each eye exercise is designed to target different symptoms of Digital Eye Strain.
* Custom Daytime and Nighttime Brightness setting
* Track eye exercises throughout the day
* App will determine local sunrise and sunset times to use for day and night brightness
Doctors have noted in recent years that not only does blue light disrupt the body's natural circadian rhythms – the natural human cycle of sleep and wakefulness – but also disrupts melatonin, the sleep hormone, potentially spelling bad news for general health since it is believed by some researchers to also work as an antioxidant that may help slow the progression of cancer and other serious health issues that manifest later in life.
Device Requirements:
* iPhone, iPad, and iPod touch
* Requires iOS 8.0 or later
* Universal Application
* 15.7 MB
iDetox 1.0 is $1.99 USD (or equivalent amount in other currencies) and available worldwide exclusively through the App Store in the Productivity category.
iDetox – Eyestrain Monitor 1.0:
http://www.intelligentappsinc.com/iDetox/
Purchase and Download:
https://itunes.apple.com/app/id1092352548
YouTube Video (Promo):
https://www.youtube.com/watch?v=p-JcQlndsbg
Source: Intelligent Apps