Shubham Kedia is offering his JustType notes app for free (usually $.99) this weekend.
Just Type is a clean and atractive notes app that is designed to fit you and your note taking needs. Since it is designed for iCloud, your notes are always synced between all your devices automatically.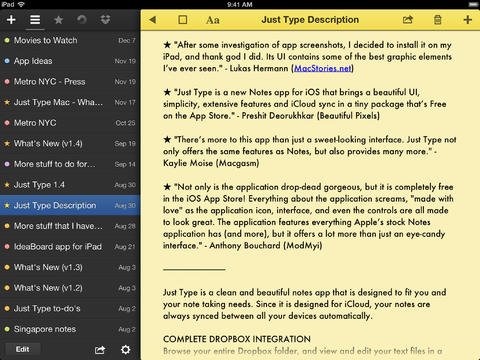 Complete Dropbox Integration
Browse your entire Dropbox folder, and view and edit your text files in a simple and elegant UI. Create new files inside Dropbox or delete existing ones, and all your changes will automatically be synced to Dropbox and all of your devices.
Intuitive User Interface
Just Type puts your list of notes right alongside the note you're currently viewing. Slide the note off to the right and see your list of notes. Pick another one from the list or just slide the note back in to continue jotting away! On iPad, simply resize the note depending on whether you wish to view the list alongside the note or wish to write fullscreen.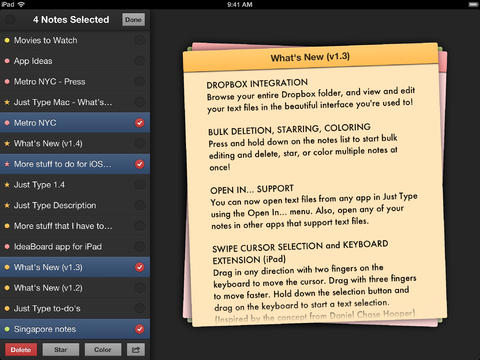 Swipe Cursor Selection And Keyboard Extension (iPad)
Drag in any direction with two fingers on the keyboard to move the cursor. Drag with three fingers to move faster. Hold down the selection button and drag on the keyboard to start a text selection.
Sort And Search Using Color
Assign one of seven beautifully designed colors to your notes.
Fonts To Choose From
Choose from one of 17 different fonts for your notes
Automatic Lists
Just Type makes lists a whole lot easier. It automatically detects numbered or bulleted lists, making it much quicker to quickly jot down ideas.
For numbered lists: type "1." + space or "1)" + space
For bulleted lists: type a dash/bullet (any of these: – " ) + space
Extensive Sharing Options
Share your notes using by Messaging, Email (as text or an attachment), save them to Dropbox, or simply print or copy the entire note with a single tap.
Star Important Notes
Slide to the right to star important notes, and then browse your starred notes for quick access!
Open In& Support
Open text files from any app in Just Type using the Open In& menu. Also, open any of your notes in other apps that support text files.
Undo/Redo Support
No need to worry about making mistakes. Just Type has complete undo and redo support for all actions, from changing colors and fonts to writing text and inserting/deleting notes. On iPad, just swipe left or right with two fingers on the note to undo and redo respectively
* Undo/Redo support is not supported in Dropbox.
New in Version 2.0
Please BACKUP your notes before you update. There shouldn't be any problems but just in case. Instructions:
http://bit.ly/JTBackup
ALL NEW DESIGN
Just Type has been completely redesigned and now sports a much cleaner look so you can just focus on your notes.
STAR DROPBOX FILES AND FOLDERS
You can now star Dropbox files and folders and access them quickly in the starred section along with other starred notes. No more having to dig through folders to find the same files again and again.
PASSCODE LOCK
You can now lock your notes using the new Passcode Lock feature so that your notes are for your eyes only. Your passcode is stored securely in the iOS keychain.
URL SCHEME SUPPORT
Launch Just Type and add new notes quickly using URL schemes and apps such as Launch Center Pro.
" Launch Just Type: just-type://
" Add New Note: just-type://new
" Add New Note with Text: just-type://new?text=[prompt]
IN-APP SETTINGS
All of Just Type's settings are now accessible from inside the app, as well as the Settings app.
AUTOMATIC BACKUPS
Just Type now automatically creates a backup of your notes every time you open/close the app. This backup is available through iTunes file sharing so you can copy it any time and restore your notes through Just Type.
Compatibility:
Requires iOS 6.0 or later.
Compatible with iPhone, iPad, and iPod touch.
This app is optimized for iPhone 5.
Free (Limted Time)
For more information, visit:
https://itunes.apple.com/app/id534429587