Easy Books is a double-entry accounting package alternative to QuickBooks for bioth OS X and iOS, complete with customer invoicing, balance sheet, P & L, a variety of account types including assets, liabilities, bank accounts, and credit cards. Built in are sales invoices, estimates, statements, a bunch of financial reports for products, services, taxes, as well as the standard P & L, cash flow, transactions, and more.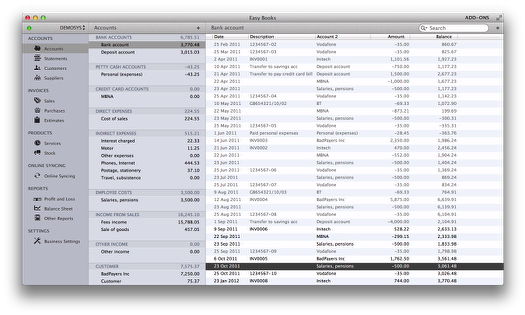 Easy Books is a full double-entry accounts package with bank statement reconciliation so you can easily find any missing or erroneous transactions that need to be corrected.
Prepare estimates, sales invoices and send them in PDF format direct to your customers. Track how your business is doing with the Profit & Loss and Balance Sheet reports. Use the Customer Aged Debt report to keep tabs on any late payments you might need to chase up.
Using more than one device? Use Easy Books Online Sync service (in-app purchase – see below) to keep everything backed up and in sync. Enter new information anywhere and it will appear on all your other devices (Mac and iOS).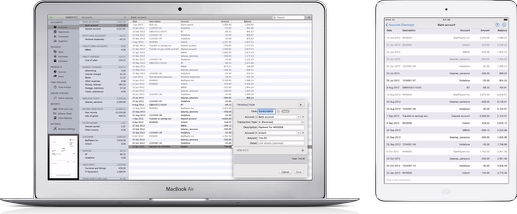 Run more than one business? You can add as many as you need to in Easy Books. You can even track your personal finances.
Use the "Consolidate" option on the Profit & Loss report to consolidate all your income and expenses for the year.
Customer Invoicing
Sales Invoices:
All invoices are sent as PDF format direct from your device. Email your customer, print and post or pass to a third party app such as Dropbox or Evernote.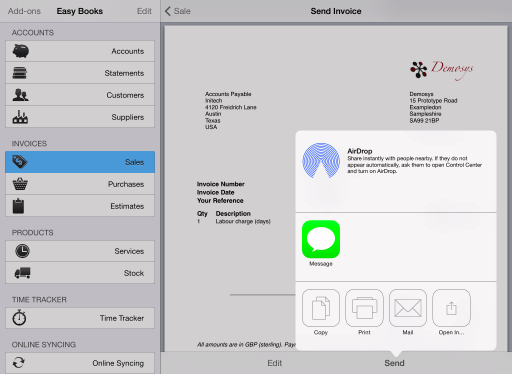 Estimates:
Create a quotation quickly and (if accepted) turn it instantly into a new sales invoice.
Statements:
Statements show all sales, credits and payments.
Customise your letterhead/logo, footer, payment terms and all the fixed content labels. Choose between A4 and US Letter page sizes.
Reporting
• Financial Reports
• Profit & Loss
• Balance Sheet
• Trial Balance
• Monthly Breakdown
• Cash Flow
• Transaction List
• Audit
Tax Reports:
VAT Return can be used in other tax schemes but ties in closely with the UK VAT-100 form for faster filing.
Customer Reports:
Track your best customers (in terms of sales) and monitor which customers have payments overdue using the Customer Aged Debt report.
Products:
Find your best selling products or generate a stock report showing how much stock you have bought and sold in a time period.
Output Format:
All reports can be printed or emailed. Reports are produced in HTML, CSV and ZIP (containing both) formats.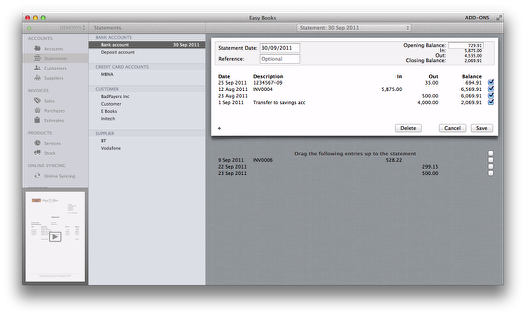 Comparisons:
Most financial reports allow a comparison report to be added alongside to help you compare a previous tax year with your current one.
Container Accounts:
Use container accounts to reduce the detail level in reports, hiding individual accounts to give an overview.
Consolidate:
When your Year End has passed and you've reconciled all your bank and credit card statements, use the Consolidate option in the P&L Report to start the new tax year.
Handy built-in calculator.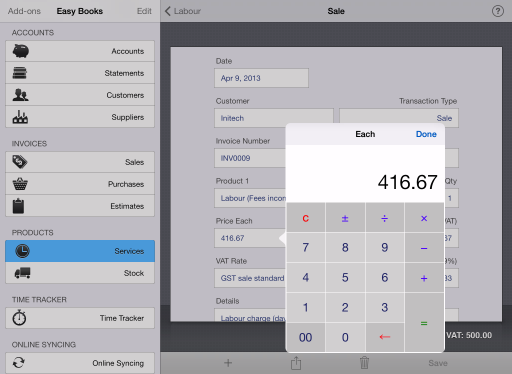 Online Syncing
Online Sync provides continuous online backup of your data whenever you make a change. Everything is sent to your other devices, whether Mac or iOS to keep them all up to date. You can try the service out for two weeks free at:
http://sync.easybooksapp.com
After that it will cost you.
Online Backup
Should something bad happen to your device, you'll just need to sign in to retrieve all your data. The system makes regular backups of your data should you want to undo a recent change and go back to an earlier version.
Sharing
If you have more than one business you can make use of the sharing feature to share just one business with a partner or your accountant. Share with read-only or full access.
System requirements Easy Books for Mac:
• Mac OS X
• Requires OS X 10.7 or later
Easy Books for iOS – iPad, iPhone and iPod Touch:
• Requires iOS 7.0 or later
Easy Books is nominally free but if you sign up for unlimited transactions ($29.99), customer invoicing ($29.99), online syncing ($31.99), and the Time Tracker ($16.99), you've kissed more than a hundred bucks goodbye.
There are two versions of the app available: one for iOS and another for Mac OS X. The iOS app runs on any iOS device (iPad, iPhone, and iPod Touch) running iOS 7.0 or later. The Mac app runs on any Mac running OS X 10.7 "Lion" or later.
The two apps are compatible with each other, but are charged separately. You won't be charged twice within the same family of devices, so all your add-ons for iOS will run on all your iOS devices (but not your OS X devices. Similarly, all your add-ons for the Mac app will run on all your Macs at no extra charge, but not on the iOS version.
For more information, visit:
http://easybooksapp.com/user-guide/mac
App Store iOS:
https://itunes.apple.com/app/easy-books/id345338910?mt=8&ign-mpt=uo%3D4