iProp Universal Tablet "Beanbag" Stand – 'Book Mystique Review
If I could have but one iPad accessory, I can say without hesitation or equivocation that it would be a good, comfortable, hands-off support for the tablet while I use it on my lap or on a support surface. There are literally dozens of iPad stands and holders on the market, some very ingeniously designed, variously made from plastic, metal, wood, or fabric-covered. For my usage, I lean to fabric units, which are well-suited to on-the-lap duty especially. Soft padded contact services are more comfortable then stands made of hard materials, and offer a superior coefficient of traction, so to speak, to hold the iPad in situ more stably.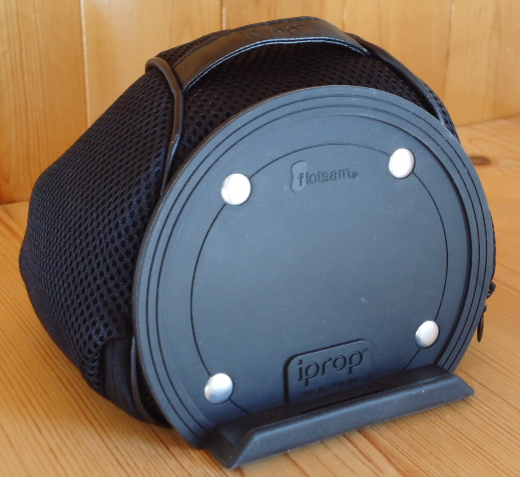 The latest take on soft, comfortable iPad lap supports is Dockem's iProp universal tablet stand, which in some respects resembles a beanbag, but isn't one, strictly speaking. Instead of dried beans, its fabric mesh enclosure is stuffed with a second fabric bag containing silicon microbeads. The outer fabric cover is a mesh-woven synthetic — probably nylon or polyester, which should prove sufficiently rugged over the long term.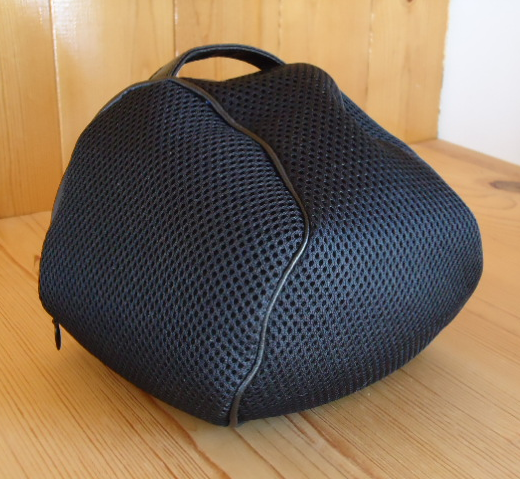 The a zipper closure inner compartment that holds the silicon microbead beanbag support material also can serve as a limited storage/carriage compartment for your charge cable, earbuds, or other small items, and Dockem even suggests that the iProp can pinch-hit as a travel pillow. For its primary intended use, the form compliant silicon microbead support allows almost infinite angle configurations.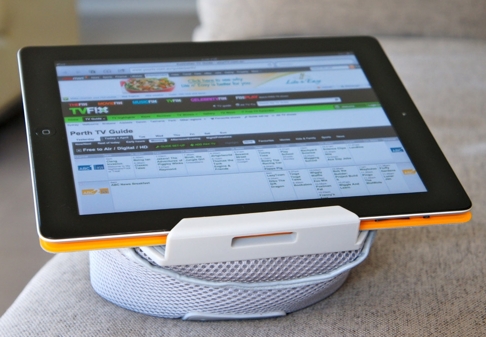 The iProp is particularly ideal as a quick and easy solution to holding your iPad while using it almost anywhere around your house or office. It works well on hard flat surfaces, but really excels as a tablet bed stand to support the tablet when you're in bed, on a sofa, or on your lap when seated. For that matter, it's so light and compact that it's not much of a hardship to tote with you when mobile to use in laptop mode on transit trains or buses, in coffee shops or in waiting rooms, as well as on airline seat back trays.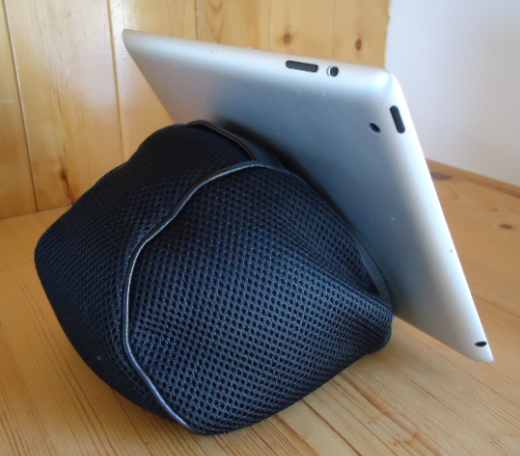 The silicon microbead "beanbag" instantly contours to adopt the shape of whatever surface it rests on, and the high-traction silicone shelf is in practice a lot more secure a mounting than it appears to be until you've actually used it. I have an iPad 2, but deductively it should be even better and more stable holding an iPad Air, iPad mini, or other smaller tablet.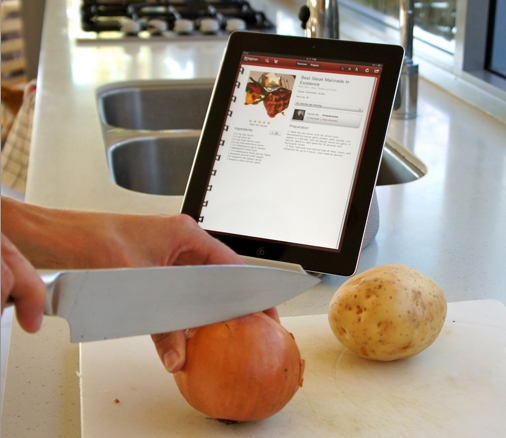 One characteristic distinguishing iProp from conventional beanbags is weight. Those silicon microbeads are really light, and the entire unit (sans iPad) weighs less than half a pound. It's so light in fact that I wondered if it would actually be able to support an iPad satisfactorily on any surface, but it was fine in practice in either landscape or portrait orientation.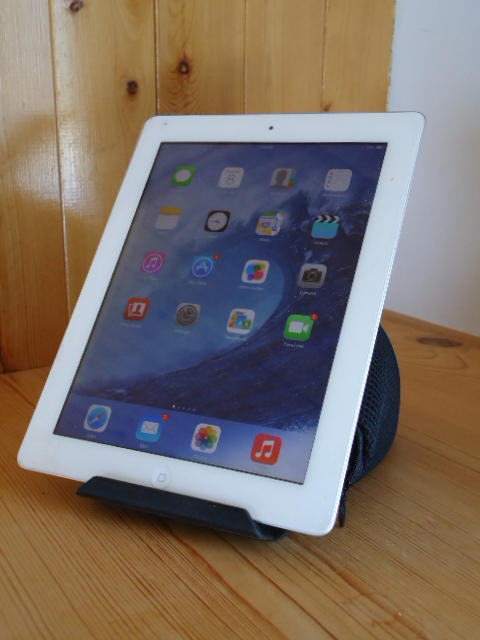 The front of the iProp features semirigid silicon "rubber" faceplate stiffener panel with a molded-in support shelf for the tablet, fastened to the enclosure bag's front surface by four snaps so it can easily be removed when the machine-washable enclosure bag is laundered. The soft-textured silicon is easy on the iPad's finish, and has lots of traction to hold the tablet in place.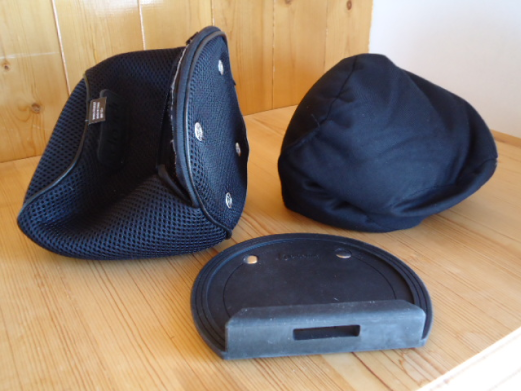 Since the entire snap-on support shelf is molded in one piece from grippy silicon rubber material, the latter contacts the bottom and back of the tablet everywhere they touch over and area that is likely about the same as the contact patch one of your car's tires makes with the road. There is also a small silicon rubber patch sewn to the rear bottom surface of the unit which adds more traction, especially when it's resting on hard services, to keep the assembly from slipping around when you access the touchscreen.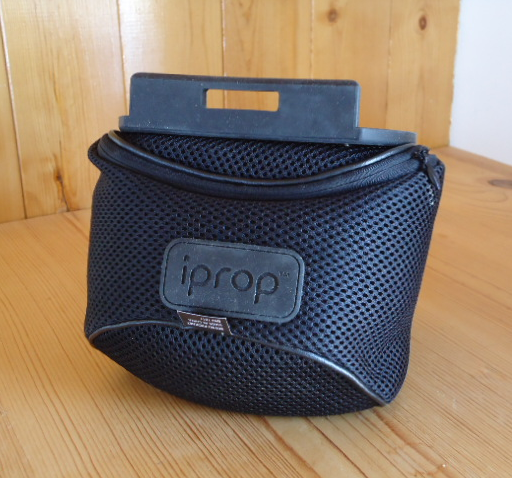 Another handy feature is a simple loop sewn into the iPod's top side for easy lifting and carrying the stand (which you can do with one finger comfortably).
The support shelf is wide enough that it should be able to accommodate the iPad without taking it out of most portfolio-type cases. Just flip the case's front closure flap up and back over the top of the iProp stand. This "in case mode" has the added advantage of extra protection for the iPad if you drift off while using it on your lap or in bed, and dump it onto the floor. My iPad 2 has suffered that indignity twice (caseless both times alas), and survived with only one tiny scratch on the aluminum enclosure that you really have to be looking for to notice.
The iProp is smaller than I had expected, but it supports my iPad 2 with no problem, and can handle devices up to 17mm thick, which will be ample for any iPad model we've seen as yet. The compact size does make me skeptical about its suitability as a pillow substitute, though. It's available in either black or gray.
Generally however,this is a thoughtfully and cleverly engineered product designed with the complementary attributes of elegance and simplicity. The only thing I found to negatively criticize is that the enclosure bag's zipper is a bit stiff to operate, with its not very generously sized pull tab is both small and slippery to grip. Perhaps the zipper's action will free up with more use. I'll give the iProp Universal Tablet Bean Bag Stand a four out of five rating.
At $29.95 from Dockem (free USA shipping) or $25 from Amazon, the iProp is priced competitively with other iPad stands, and represents an excellent value for the money.
For more information, visit:
http://www.dockem.com/
Product Page:
http://www.dockem.com/iProp-Bean-Bag-iPad-Stand-p/20010.htm