WaterField Designs has announced the Rough Rider leather messenger bag, a throwback to the past with distinctly modern functionality. Every detail of the Rough Rider is engineered with precision.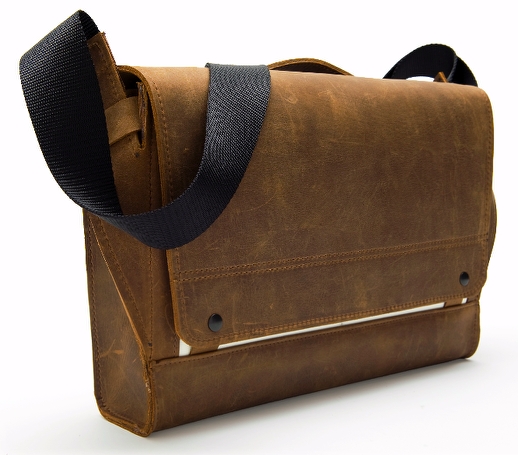 The ingenious strap system compresses bag contents to maintain a slim, neat profile, and it positions the bag snugly against the body to help ease back fatigue. Rough leather edges combine with clean lines for a look that will appeal to professionals, café regulars and travelers alike.
As the name implies, the Rough Rider is constructed of rugged, naturally-tanned leather that develops a rich patina over time. The unlined interior and natural edges reveal the leather's premium quality. A splash of colorful nylon under the flap (in six color choices) allows for customization.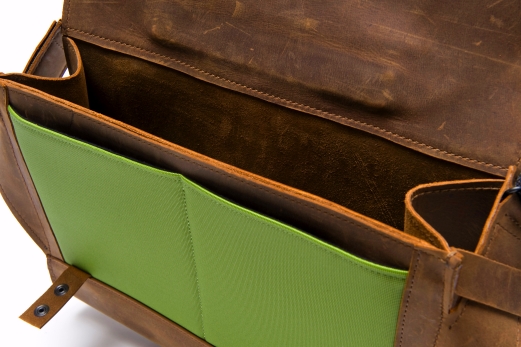 The laptop bag main compartment can house a 13-inch laptop or tablet, along with files, chargers, and other necessities. Pocket-lovers will find two deep, waxed canvas pockets in the main compartment and two additional scratch-free, lined pockets under the flap – perfect for keeping an iPad mini and smartphone safe. The flap snaps securely shut with two options to adjust based on the bulk of what is inside. A removable no-slip shoulder pad keeps the adjustable strap in place. A leather handle sits conveniently at the top for a quick grab.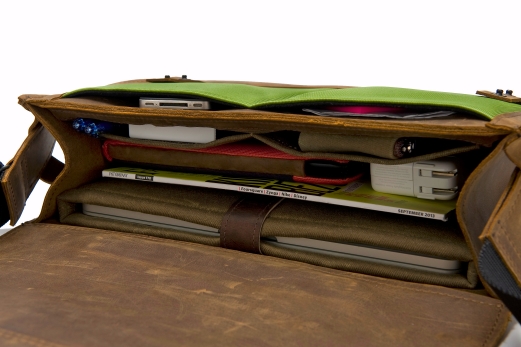 "I like the timeless, Old West look of the Rough Rider—it's tough and rustic with raw edges," says company owner Gary Waterfield. "Most of the Rough Rider is sewn on a 1940's machine that can sew a penny through a piece of wood – not that we do that – but the thread we use is sturdy as hell, and adds beautiful detail to the inside and outside of the bag."
The Rough Rider Dimensions: 15″ x 10.5 x 3.5″. Colors: Distressed, "Grizzly" brown, naturally-tanned leather with color accents in black, copper, pine, grass, flame, or pearl.
Price: $335.
Available for pre-order at sfbags.com. Shipping begins February 28, 2014.
Video demo:
http://youtu.be/t1Sjzk0X810
Product page:
http://www.sfbags.com/products/rough-rider/rough-rider.php