Twelve South has introduced Compass 2, a totally redesigned version of its go-anywhere, multipurpose stand for iPad. Compass 2 has been retooled with new dimensions optimized to work with all iPads, including iPad Air and iPad mini, plus it offers a convenient locking rear leg for desktop use and a more FaceTime-friendly viewing angle.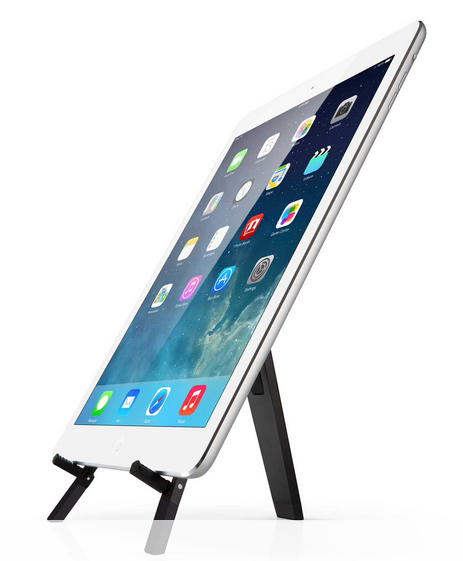 Super light and compact, Compass 2 holds all iPad Air, iPad mini and iPad models in both landscape and portrait. Available in iPad Silver, Tactical Black and Candy Apple Red, Compass 2 is available for $39.99 at both Apple Store (http://e2.ma/click/hvthd/xf0kp/hnjo5) and TwelveSouth.com (http://e2.ma/click/hvthd/xf0kp/xfko5).
What can Compass 2 do for you? Unlike many built-in iPad case stands, Compass 2 holds your iPad Air or iPad mini in both landscape and portrait orientations. Why use your iPad in portrait? In portrait mode, Compass positions your iPad camera at eye level for FaceTime while matching the orientation of your head, which makes it perfect for hands-free FaceTime chats. And because Compass 2 is so small and light, you can slip it into your backpack or purse to FaceTime wherever your travels take you.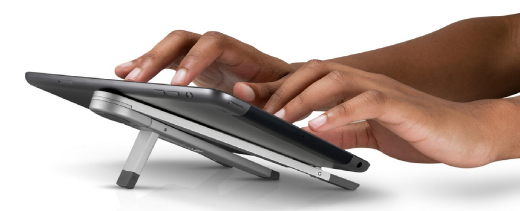 In the kitchen, you can set your iPad horizontally on Compass 2 to stream cooking videos or follow recipes. While you cook, Compass 2 elevates iPad off the counter, away from spills, flour and other ingredients. Move Compass 2 to your workshop and stream "how-to' videos with your iPad lifted above the sawdust, glue and other shop hazards.
Compass 2 has a hidden secondary leg that folds down, transforming it into a comfortable typing stand so you can tackle Pages documents, emails or your next blog post. Because of its small footprint, Compass 2 can be used virtually anywhere for almost anything. When you're done, Compass 2 folds flat and stores inside its included travel sleeve, making it one of the most portable stands on the market.
"People sometimes ask me why they need a Compass for their iPad," says Andrew Green, Creative Director of Twelve South. "It's simple: 1) Compass holds iPad in Portrait mode for better video conferencing; 2) It's way more stable in a bumpy airplane or train than the case-based stands; and 3) It lets you use a more minimal case (or no case) because it adds the hands-free or typing stand when you need it. Compass 2 is the ultimate tool for the iPad road warrior, truly expanding the ways you use your iPad."
For more information, visit:
http://e2.ma/click/hvthd/xf0kp/5doo5