Claude Turcot's "Weather Chum" is a unique and whimsical weather app for iPad, iPhone, and iPod touch, showing you the actual conditions and forecast in an animated cartoon format. Join Carl and his dog Twister on a wild meteorological adventure as they react based on your current weather conditions, time and location. Light rain, brutal thunderstorms, moon phases, sun's position, wind, snowfalls are all part of Weather Chum's creative canvas with realistic sound effects.

Weather Chum Features include:
* Animations
All weather conditions are animated on your screen and the character reacts to them.
* Accurate Elements
Day and night, sunrise, sunset, moon phases, seasonal trees and cloud percentage.
* 7 Day Forecast
Detailed current conditions + 7 day forecast split in 3 hour increments.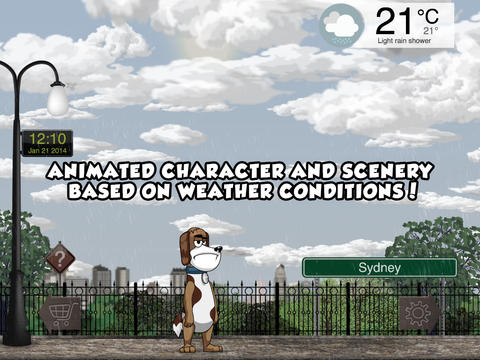 * Sunrise and sunset times, wind speed and direction, humidity levels, "feels like" temperature as well as probability of precipitations
* Sound Effects
Rain, wind, thunder, character and ambient sound effects.
* Temperature on icon (positive only)
Fahrenheit or Celsius setting. Nnegative numbers are not allowed by thhe iOS so, if the temperature is negative it will not show it.
Choose the location where you are (via GPS) and/or up to 3 other cities from anywhere in the world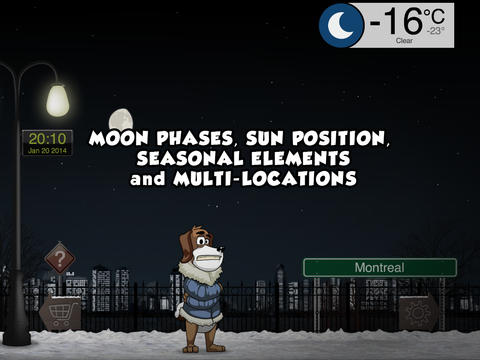 * Languages
Interface in English or French + 17 additional languages including Spanish, Portuguese, Swedish, Russian, Italian, German, Romanian, Finnish, Dutch, Bulgarian, Chinese Traditional, Turkish, Czech, Polish, Vietnamese, Macedonian and Slovak for detailed weather information.
* Facebook Sharing
Snapshot photo of actual scenery with your thoughts in a speech bubble.
* Multi-Locations
Your current GPS location along with any 3 other cities of your choice around the world.
* An optional purchase will unlock Twister the dog as well as the mountain scenery
* Extras
Unlock Twister the dog AND the Mountain scenery with an InApp purchase.
Compatibility:
Requires iOS 5.1 or later. Compatible with iPhone, iPad, and iPod touch. This app is optimized for iPhone 5.
$0.99
For more information (with video and screenshots) visit: :
http://www.weatherchum.com
iTunes link:
https://itunes.apple.com/app/id803572230
* Available on February 20th 2014
Video presentation:
https://www.youtube.com/watch?v=ur0g-wrbpRc