Sunnyvale, California based technology designer and manufacturer IPEVO has released the Articulating Video Stand for iPhone and iPod touch. A multi-jointed swing arm allows the device to be positioned at any height and angle, even downward for close-up capture of documents and objects. The Articulating Video Stand allows either Apple device to be mounted in a secure and stable manner at any height and angle for high-quality video and photo capture. Ideal for capturing documents as well as objects, the stand is now available at IPEVO's Online Store at website at a price of $69(USD).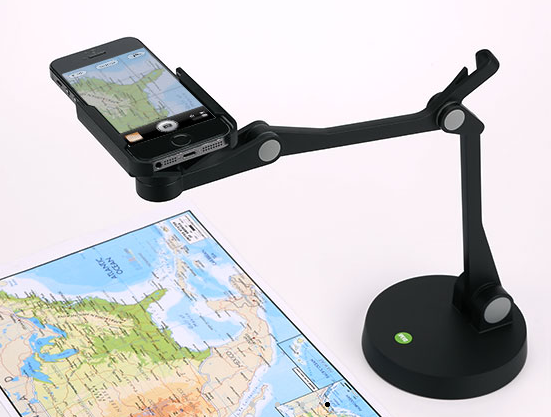 The chief feature of the Articulating Video Stand is a multi-jointed swing-arm, which may be easily adjusted by hand in order to position either iPhone or iPod touch at a wide variety of heights and angles. This includes a downward angle parallel to the table surface – a position which conventional tripod stands are unable to achieve – making the stand ideal for capturing documents as well as objects, much like IPEVO's own document cameras.
A weighted base provides a sturdy foundation for the swing-arm, even at full extension. And a spring-loaded grip makes mounting the device (as well as removing it from the stand) quick and easy. Rubber inserts inside the grip prevent any damage to the iPhone or iPod touch, and a rear hook in the middle of the swing-arm allows the mounted device to charge without the cord hanging in front of the screen.
IPEVO stresses that the Articulating Video Stand can help users achieve high-quality capture due to its range of camera angles and complete device stability, features which can't be achieved with handheld operation and its associated shakiness. And because the Articulating Video Stand allows for hands-free capture, it is ideal for demonstrations, tutorials, art and writing, and similar hands-on activities. Video bloggers, educators, lecturers/presenters, businesspeople, and hobbyists may all benefit from the Articulating Video Stand.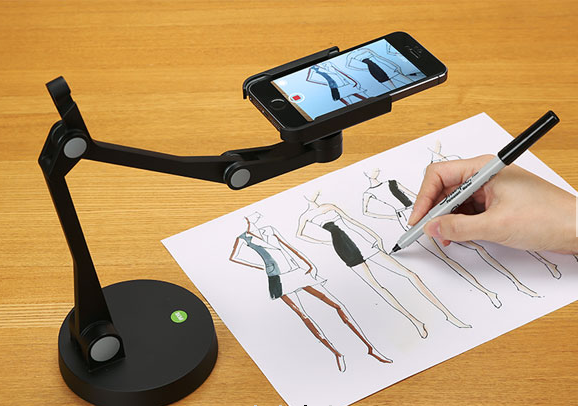 Mounted on the Articulating Video Stand, the Apple device may also be used like a document camera in classroom and office contexts with the IPEVO Presenter app, which is available for free through the Apple App Store. Two focus modes, live image pause, orientation rotation and lock, and a one-touch ability to switch between the front and rear cameras are a few of the features possible in IPEVO Presenter.
"Existing tripod stands and similar stands lock the iPhone into a single height and angle, severely limiting capture possibilities," says Royce Hong, CEO and big head of design for IPEVO. "And achieving a downward-facing, document camera-style angle is completely impossible. The Articulating Video Stand breaks free of the usual stand limitations, allowing the user to take full advantage of iPhone's high-quality camera. Documents, handwriting, fine art, cooking, instrument playing, nature objects in science class – all of these and much more can be captured easily and at a serious level of quality without camera shake, poor framing or blurriness."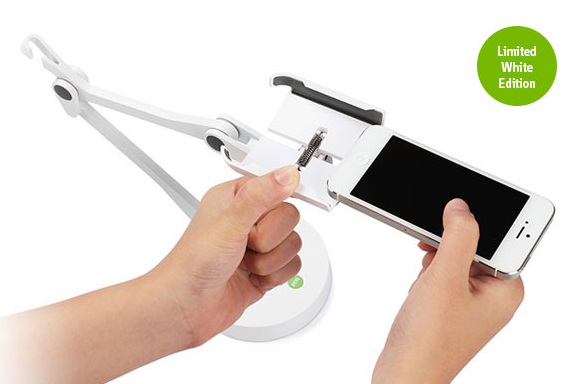 Articulating Video Stand for iPhone and iPod Touch:
http://goo.gl/Wi6fuj
Articulating Video Stand for iPhone and iPod Touch – Black :
http://goo.gl/wov5vE
Purchase from Amazon:
http://goo.gl/KnriYL
IPEVO Presenter 1.1:
https://itunes.apple.com/app/ipevo-presenter/id702664497
Facebook Profile:
https://www.facebook.com/ipevous
Twitter Profile:
https://twitter.com/ipevo