For some additional context on the wider mobile Web usage environment, Chitika Insights examined total North American Android- and iOS-based Web traffic within our network. In terms of the sample for this data set, Chitika Insights examined tens of millions of North American Android- and iOS-based online ad impressions cataloged within the Chitika network from February 26 through March 4, 2014.
Looking at the Web traffic from all North American users of both operating systems, iOS users generate 65% of the total, and Android users the remaining 35%. Put another way, 85% more aggregate Web traffic is driven by iOS devices as compared to Android devices in North America. These figures are similar to what we observed in an identically framed study back in late-2012, with two percentage points in share moving from iOS to Android over that time frame.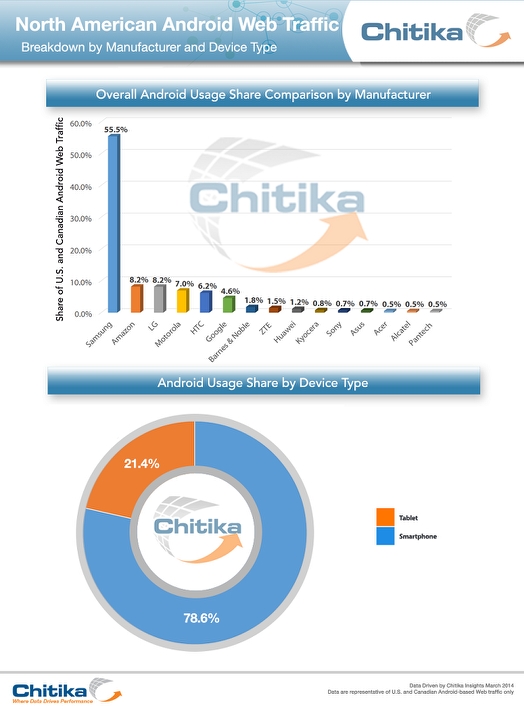 In the context of its device sales and marketing budget, Samsung can reasonably be seen as the biggest fish in the Android pond. The Korean company saw its device sales continue to climb as 2013 came to an end, and while analysts see its prospects in emerging markets being more tenuous, North American Web usage statistics make it abundantly clear that Samsung is dominating the U.S. and Canadian Android ecosystem.
To quantify this latest study, Chitika Insights examined tens of millions of U.S. and Canadian Android-based online ad impressions generated within the Chitika network from February 20 through February 26, 2014.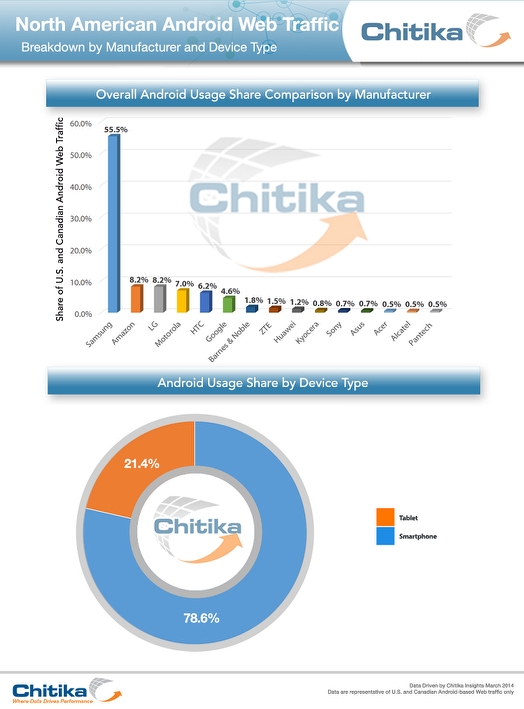 With a 55.5% share of all North American Android-based Web traffic, Samsung's usage share has grown more than 8 percentage points since our last study on the subject in July 2013. In the same time period, Amazon (-0.6%), Motorola (-2.5%) and HTC (-3.5%) all saw share drops. The latter two companies have dealt with quarter-over-quarter subscriber declines that have likely impacted their usage position, while weaker than expected sales of new Kindle Fire tablets in Q4 2014 may be partially to blame for Amazon's slight share dip.
Google saw the largest share gain outside of Samsung (+2.1%), on the back of strong Nexus 5 sales, however Barnes and Noble arguably presented the most surprising, albeit minor share gain since the previous report (+0.5%). The bookseller's Nook devices represented a big financial loss for the company last quarter, but its usage share gain suggests that its series of steep price cuts on its existing stock of devices throughout the second half of 2013 did help get the devices in more consumers' hands.
Promising 2013 LG smartphone sales seem to have stabilized the company's position in the North American market. LG users' share of Android Web usage dipped by just 0.1 percentage points since our last report, and thanks to larger share loses by some of its competitors, the company's devices are now the third-largest Android traffic source within the continent — just barely behind Amazon.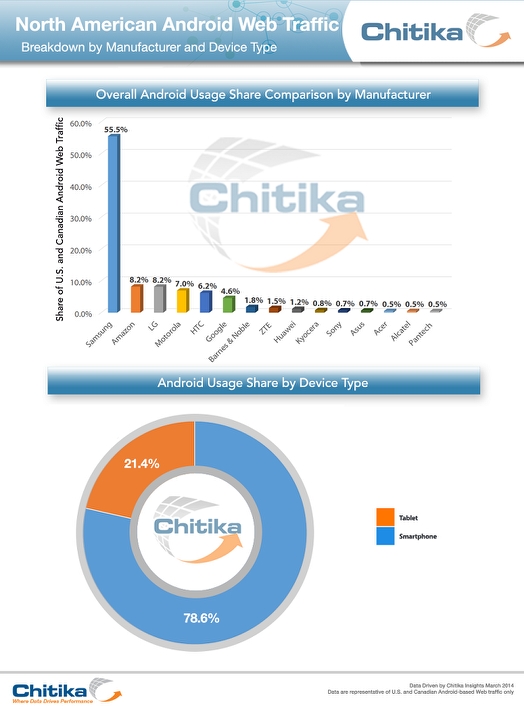 On a larger scale, the second graph illustrates how North American Android Web traffic is still overwhelmingly driven by smartphones rather than tablets. Apple users still generate more than three quarters of all tablet Web traffic, and the two closest Android competitors, Amazon and Samsung, hold shares less than 10% of Apple's total. Additionally, Amazon's Kindle Fire tablets encourage users to stay within the company's own content ecosystem, possibly reducing aggregate Web usage of those devices.
With smartphones still representing a huge piece of the North American Android ecosystem from a Web usage perspective, Samsung has a decided advantage within the continent thanks to its track record and marketing muscle. However, the now Lenovo-owned Motorola presents an interesting competitive storyline as we move through 2014.