SCOTTEVEST brings their tech-ready clothing creations to a new level by teaming up with jeffstaple of Staple Design and Reed Space to create the world's most fashionable and functional hoodie: The Knowmatic Hoodie. It's designed with hip, electronically-connected, on-the-go and in-the-know "nomads" in mind, hence the name "Knowmatic." Debuting as an extremely limited release item, only 300 Knowmatic Hoodies will be available at http://www.SCOTTEVEST.com and 50 more through jeffstaple's iconic NYC boutique, Reed Space.
The Knowmatic Hoodie is the perfect union of cutting-edge fashion and TEC-Technology Enabled Clothing functionality, including tech and travel features never found in one piece of clothing. Directly inspired by early 20th century dazzle camouflage – used to distort the shape of WWII Navy ships – the exterior pattern is unique to this limited edition item and was designed by jeffstaple.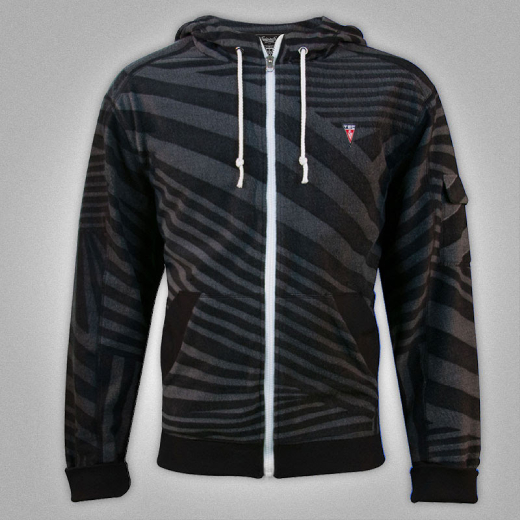 The SCOTTEVEST / Staple Design "Knowmatic" Hoodie
Staple Design is infamous for street-minded, sophisticated, exclusive looks that combine clean lines and cutting-edge urban fashion trends. "I've always been a huge fan of SCOTTEVEST," says jeffstaple, "even long before I met with Scott Jordan, the Founder. Being able to now add my flair and creative touch to this Hoodie is a dream come true!"
Known for the integration of electronics and wearable computers into clothing, SCOTTEVEST has infused the hoodie with gadget-friendly features. The Knowmatic Hoodie includes the highly engineered pockets that SCOTTEVEST is known for, and many other unique touches that convert it into a mobile command center for the Knowmatic lifestyle.
"Wearable tech enables the constant connectivity required to work and play while on the go, and this is the only hoodie that has everything you need to embrace that always-on lifestyle," said Scott Jordan. "This is THE hoodie for the tech-savvy and fashion-forward."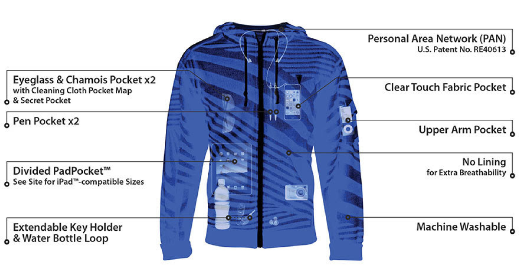 The "Knowmatic" Hoodie combines SCOTTEVEST's ultra-engineered pockets with Staple's cutting-edge fashion finesse
What makes the Limited Edition Knowmatic Hoodie special? 15 pockets to store all your urban adventure gear. Some exterior, some interior, some secret/hidden, and all designed with SeV's patented PAN (Personal Area Network) allowing power and headphone wires to travel from pocket to pocket Adjustable hood with built-in "DO NOT DISTURB" eye mask flap for when you need to grab some ZZZs in flight Handwarmer pockets with magnetic closures so you don't lose your change while breakdancing A PadPocket to carry your iPad or other phablet device for impromptu art sketching whenever inspiration strikes Clear-touch fabric phone/gadget pocket, so you can text and run apps without ever taking your smartphone out of the pocket Eyeglass pocket made of chamois fabric for cleaning your shades.
For 13 years, SCOTTEVEST has been known for its pockets – engineered to carry everything you need conveniently – and has created a niche market among frequent travelers. Staple Design, Inc. was founded in 1997, and is now a well-known streetwear brand (@StaplePigeon), creative consulting agency (Staple Design) and retail store (@ReedSpace, which opened in 2002). Some clients of jeffstaple's include Levi's, Sony, Microsoft, Nike, Burton Snowboards, Uniqlo, Kid Robot, Kia and ESPN. When the two collided and realized their mutual affinity towards each other's visions – a whole new genre formed. Tech-functional fashion meets high-end streetwear with the Knowmatic Hoodie collaboration.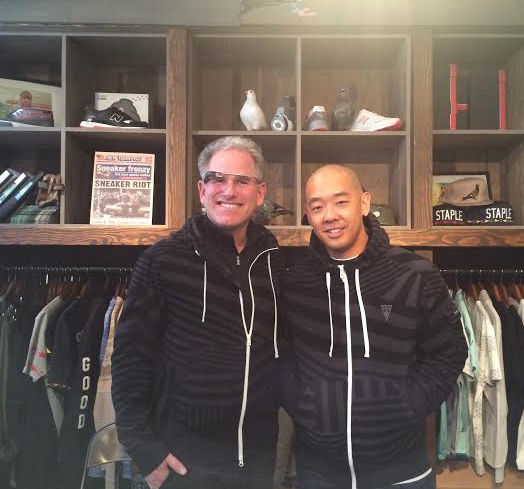 Scott Jordan and Jeff Ng exactly one year after meeting, showing off their completed collaboration – The "Knowmatic" Hoodie
"I may not look like it, but I am a huge hip-hip and streetwear fan and have followed jeffstaple's work for awhile now," says SCOTTEVEST CEO and founder Scott Jordan. "I was blasting Snoop Dogg on the radio in the office, daydreaming of getting SCOTTEVEST into a rap video when I realized I needed to 'pimp out' our designs and I instantly thought of the innovative work Staple Design was doing."
Their collaboration grew over countless Skype calls and email chains discussing design and functionality. They worked tirelessly to join the Staple Design streetwear expertise with SCOTTEVEST's extreme attention to technical detail and speciality pocket engineering. The culmination of their joint effort is captured in the collaboration video produced by Staple Design, showing the merger of high-fashion and high-tech.
The resulting Knowmatic Hoodie isn't expected to be available for long, with only 350 available to the public they are likely going to sell out within days of launch, like the SCOTTEVEST Brad Thor Alpha collaboration jacket. In preparation for the expected high-hoodie-demand avalanche resulting from the Knowmatic Hoodie launch, SCOTTEVEST is also introducing two additional new hoodies: The Hoodie – Cotton and The Hoodie – Microfleece. The Hoodies boast similar technical features to the Knowmatic Hoodie, but come in solid colors rather than the exclusive Staple Design "dazzle" pattern.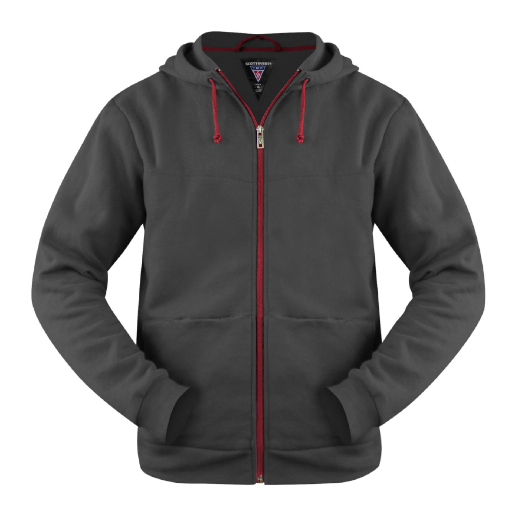 SCOTTEVEST is also launching two additional hoodies: The Hoodie – Cotton & The Hoodie – Microfleece

The ultra-convenient and cool looking outer pockets on The Hoodies are snap front top-entry, a completely new pocket to any SCOTTEVEST product. Both versions of The Hoodie will be available online at http://www.SCOTTEVEST.com for $75. The Hoodie – Microfleece comes in black and The Hoodie – Cotton comes in crimson and grey.
Founded in 2000, SCOTTEVEST engineers TEC – Technology Enabled Clothing with hidden, travel-friendly pockets. Over 13 years of product innovation later, their clothing line has grown to include over 50 stylish, top-quality and functional items for men and women. SCOTTEVEST was the first clothing company to make a pocket designed to carry the iPad, and continues to revolutionize the industry with RFID-blocking pockets, clear touch pockets for touchscreen devices, and the patented Personal Area Network (PAN) from TEC®. Named in Inc's Fastest Growing Companies list for the third year in a row, SCOTTEVEST was also named #6 of the top 100 Idaho companies by Inc. SCOTTEVEST is a privately held company headquartered in beautiful Ketchum/Sun Valley, Idaho.
Jeff Ng (aka "jeffstaple") is an established graphic and fashion designer, curator, branding expert, footwear aficionado, and all-around creative visionary. He founded Staple Design, Inc. in 1997: now a well-known streetwear brand (@StaplePigeon), creative consulting agency (Staple Design) and retail store (@ReedSpace, which opened in 2002). Some clients include HBO, Levi's, Sony, Microsoft, Nike, Burton Snowboards, LVMH, Uniqlo, Kid Robot, Kia and ESPN. Over the years, Jeff has taken Staple's motto, "A Positive Social Contagion" to whole new levels, spreading his instinctual design know-how and fresh knowledge across all media platforms and worldwide.
For more information, visit:
http://stapledesign.com
http://staplepigeon.com
http://thereedspace.com
http://facebook.com/stapledesign
http://facebook.com/reedspace
Twitter/Instagram: @jeffstaple, @staplepigeon, @reedspace