iPad and iPhone Kung Fu: Tips, Tricks, Hints, and Hacks for iOS 7 (Pragmatic Bookshelf, $19 paperback, $12 ebook), provides you with the information you need to transform your Apple iDevice into a go-to office tool, and tighten security to deter theft.
A shortcut to iOS power-user level with over 300 tips, tricks, hints, and hacks to make your Apple device the one thing you can't live without.Designed to be dipped into, most tips take only a minute to implement, but can change Your life. Good for iOS 7 on iPhone, iPad, iPod touch.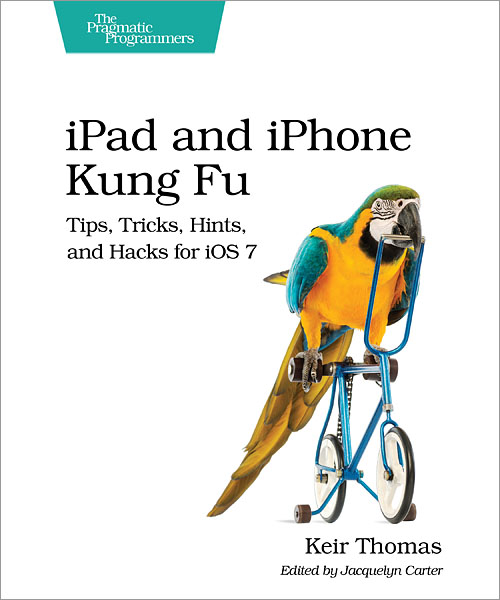 While Apple s impeccable design and attention to detail with the iPhone and iPad makes using the devices easy, getting the very most from the software takes time and effort. iPad and iPhone Kung Fu picks up where instruction manuals finish.
Whether you're browsing the web with Safari, emailing with Mail, photographing with the Camera app, sharing on Facebook or Twitter, reading and learning with iBooks, or navigating with Maps, this book digs down into the nitty-gritty of the operating system and its apps. You'll find a raft of time-savers and labor-saving tricks for iOS 7.
But the iPad and iPhone aren't just about content consumption. Learn tricks for using Apple's iWork applications — which are now bundled for free with new Apple iDevices — to edit and create documents, spreadsheets, and presentations. Find tips for using GarageBand to make tunes, and hints for how iMovie can create your latest blockbuster. You'll discover the secrets of Apple s iPhoto image editing app too.
iPad and iPhone Kung Fu is vailable for e-readers in epub, mobi, and PDF formats direct from the publisher and in paperback from fine bookstores worldwide.
iPad and iPhone Kung Fu Tips, Tricks, Hints, and Hacks for iOS 7
by Keir Thomas
ISBN: 9781937785727
324 pages
$19.00US, $20.00CA, 7.59.25.
Pragmatic Bookshelf Titles are distributed to bookstores internationally by O Reilly Media.
Sample chapters, table of contents, and more information is available on the book's home page.
For more information, visit:
http://shop.oreilly.com/product/9781937785727.do