"It's time for real change says Google Enterprise President Amit Singh, noting that this week marks the end of a computing era, with Microsoft having finally pulled the plug on Windows XP, which was released in 2001, and even Microsoft admits it's time for a change.
Singh notes that with nearly 30% of desktops still running XP, many businesses are in a tough spot, and that despite "significant" security and privacy risks, legacy software or custom-built apps have held many businesses back from migrating in time for the XP support deadline, and they now find themselves at a "timely crossroads."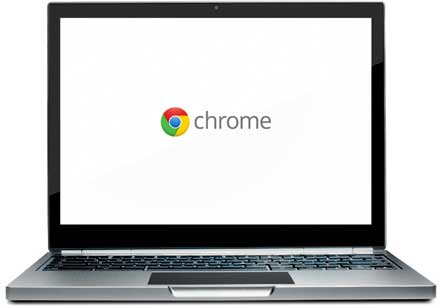 So rather than more of the same," says Mr. Singh, Chromebooks for Business offers you a secure and easy-to-use computing experience, along with a central web-based management console and lower total cost of ownership. And if you've been considering Chromebooks for your company (or even if you haven't until now) until June 30, Google is sweetening the deal thus:
• Buy Chromebooks for Business and get $100 off for each managed device you purchase for your company.
• If your employees need to access desktop apps, Google has partnered with Citrix and VMware to bring two additional offers:
– Get $200 off Chromebooks for Business with VMware Desktop as a Service for each managed device (DaaS).
– Get Chromebooks for Business and 25% off Citrix XenApp Platinum Edition, which includes AppDNA software for accelerating Windows XP migration.
For more information, visit:
https://www.google.com/enterprise/upgrade.html
Google and Citrix Collaborate on New Ways to Deliver Business-critical Windows Apps to Chromebooks
Citrix is working with Google to deliver business-critical Windows apps to Google Chromebooks. Chromebooks are experiencing rapidly growing adoption across organizations of all types, including many of the largest enterprises, and one of the key needs for these organizations is to provide users anywhere, anytime access to Windows apps that are critical for business, such as line of business apps for HR, finance and sales.
Chromebooks for Business, combined with Citrix XenApp virtual app delivery solution and Citrix Receiver for HTML5, enable customers to deliver all types of Windows apps with the high-definition user experience of Citrix HDX technology, and operational scalability for the largest organizations. In addition to secure app delivery, Citrix adds support for collaboration with the recently announced GoToMeeting Free, a web-based app that gives users quick and simple video conferencing for Chromebook users, further enhancing a mobile workspace solution within the Chrome environment.
Enterprises looking to adopt Chromebooks for their users have to address a fundamental challenge – how to deliver all those business-critical line-of-business apps to Chrome devices. XenApp with the HTML5 Receiver powers Chromebooks with Windows apps, and offers the performance, power and bandwidth efficiency of our industry-leading HDX technology. Chromebook users get high fidelity, seamless access over the cloud directly to Windows apps. With millions of Windows applications hosted on XenApp already, this helps pave the way for Chromebooks in the enterprise.
Why switch to Chromebooks?
• Secure & easy to manage
Chromebooks automatically stay up-to-date with the latest security fixes, so they don't need additional anti-virus software, OS upgrades, or manual maintenance. With Chrome OS management, you can centrally set up and manage users, apps and devices across your entire organization from the web-based management console.
• Best of cloud and desktop
Chromebooks are perfect for powerful web applications like Google Apps, Salesforce, and Zendesk or your organization's custom web apps. You can also access desktop applications in a virtual environment with Chrome RDP, Citrix, VMware and other virtualization providers.
• Powerful, purposeful devices
You can enable a Chromebook or Chromebox to perform specific functions with Chrome OS's Kiosk mode. Whether you have a sales dashboard to display, customer kiosks or shared employee work stations to power, chances are many computers in your company could be better and more securely managed with Chrome OS.
Benefits of Using Google Technology
• Simple
Technology that lets you focus on what matters.
• Proven
5 million organizations rely on Google's infrastructure.
• Transformative
Modern tools that drive change in your organization.
Singh notes that last year, Forrester urged businesses to consider Chromebooks, and cites several reasons why even organizations that rely on desktop applications should consider a switch:
• Run your favorite work apps –, even offline: With more adoption of business web apps, companies are making the switch from Windows XP to Chromebooks. Google Docs, Sheets and Slides work online or offline. Quickoffice is built into every Chromebook and Cisco is bringing WebEx to Chromebooks soon.
• Access traditional desktops and software, too: Customers, like Woolworths, access Windows applications in a virtual environment through providers like Citrix, VMware and others.
• Power your kiosks: Use Chrome OS's Kiosk mode to power your customer kiosks, shared employee terminals, or sales dashboard — like Dillard's, which relies on Managed Public Sessions to help employees access their corporate email and important internal systems.
• Certified for schools: For education, Chromebooks are verified to meet Smarter Balanced and PARCC assessment requirements with software from AIR and Pearson Testnav8. According to NPD, Chromebooks made up 21% of U.S. commercial laptop sales in 2013.
To accelerate the adoption of Chromebooks for business, Citrix is announcing a promotional discount of 25 percent for XenApp Platinum edition – the flagship version that also includes Citrix AppDNA application management technology. AppDNA technology simplifies and speeds up the migration for Microsoft customers from Windows XP to the newest versions. The promotion began April 8, 2014 – the date that Windows XP reaches end-of-life.
To help customers understand the benefits of Chrome with XenApp, Citrix and Google are running a joint educational seminar series, the first of which is on April 22, 2014, with another on May 13, 2014. In addition, Citrix, Google and joint partner, MTM Technologies, are holding the first in a series of customer roadshows at Google's New York Chelsea Market office on April 23, 2014.
Citrix and Google have been working together since Chromebooks were first released to deliver business apps to Chromebooks. Along with the availability since day-one of Citrix Receiver, Citrix has built a Citrix Ready verified ecosystem of Chromebook OEMs such as HP, Dell, Acer, Samsung and Toshiba to help ensure that customers can use the latest Chromebooks with the confidence that they will work with XenApp and XenDesktop solutions.
"Enterprises have been steadily adopting Google Chromebooks as an easy-to-use and cost-effective alternative to traditional computing platforms. Citrix and Google have been working together since 2010 to ensure our customers have access to enterprise-critical Windows apps in the Chrome environment," says Amit Singh. "The Windows XP end-of-life brings a tremendous opportunity for organizations of all types to rethink their approach to computing and transition to Chromebooks for improved manageability, security and cost savings."
Douglas Soltesz, Vice President CIO, Budd Van Lines
"With the unpredictable weather conditions this winter, Google Chromebooks became the primary tool in our disaster recovery readiness arsenal to ensure we can keep trucks moving nationwide. Employees were given a Chromebook for use inside or outside of the office and virtual access to their productivity, CRM and ERP apps. Combined with Citrix virtual desktop and app delivery technology, Chromebooks are an economical, maintenance-free computing device that provides critical mobile access to our employees."
"Applications remain at the core of what business users need to get their jobs done. Citrix has been at the forefront of enabling technologies for delivering applications, securely, to users regardless of their device type or location," says Sudhakar Ramakrishna, SVP and GM, Enterprise and Service Provider Division at Citrix. "With the growing acceptance of new computing platforms in the enterprise, like Chrome, we are helping Chromebook users get access to these business-critical apps anywhere and at any time. New customer deployments such as Woolworths, which is transitioning to Chromebooks, is a clear demonstration of the strength of our collaboration. We see a very bright future for Google and Citrix in the enterprise."
Chromebooks for Business with XenApp at Citrix Synergy
There will be more innovations and insights into Chromebooks for Business with Citrix at the Citrix Synergy conference, which takes place May 6-8, 2014, at the Anaheim Convention Center in Los Angeles, California.
For more information, visit:
https://www.google.com/enterprise/upgrade.html
and: