This week, market research firms IDC and Gartner Inc. both released their latest PC sales metrics, but they don't always agree, and this time they don't on whether Apple is in third or fourth place in PC sales domestically. Neither firm includes tablets in the PC category.
Windows XP Migration, Weakening Tablet Sales and Commercial Spending Help Offset Weak Consumer PC Demand in the First Quarter of 2014, Apple In Fourth Place Domestically – According to IDC
Worldwide PC shipments totaled 73.4 million units in the first quarter of 2014 (1Q14), a decline of -4.4% year on year, according to the International Data Corporation (IDC) Worldwide Quarterly PC Tracker. Although still in decline and with continuing weakness in consumer and emerging market segments, the preliminary results are slightly better than a projected decline of -5.3%.
Similar to the latter part of 2013, the upside in the first quarter arose primarily from demand in mature commercial markets. Commercial refresh projects, which had already been protracted, received a last push from the impending end of Windows XP support, particularly in Japan. In addition, slowing demand for tablets seems to have helped constrain previously drastic cutbacks in notebooks. Nevertheless, emerging regions continued to post weak results, with growth in Latin America and Asia/Pacific (excluding Japan)(APeJ) falling even faster than recent declines as both economic conditions and continued tablet penetration stifled PC shipments.
"Worldwide PC shipments have now declined for eight consecutive quarters as a result of shifting technology usage and competition (notably with tablets & smartphones) as well as economic pressures (including high unemployment, slow growth & investment, tight credit, and currency fluctuations) related to the Great Recession, sovereign debt crises, and their related impact on international trade," says Loren Loverde, Vice President, Worldwide PC Trackers. "The economic front seems to be gradually stabilizing and/or improving. However, this has been a slow process, and it is unlikely that sovereign debt issues will be resolved soon or that growth in emerging markets like China will return to prior levels. On the technology front, the transition to more mobile devices and usage modes is unlikely to stop, although the short term impact on PC shipments may slow as tablet penetration rises – as we've begun to see in some mature regions. The net result remains consistent with our past forecasts – in particular, that there is potential for PC shipments to stabilize, but not much opportunity for growth."
"PC shipment growth in the United States remained slightly faster than most other regions in the first quarter. However, the passing boost from XP replacements, constrained consumer demand, and no clear driver of a market rebound are expected to keep growth below zero going forward," says Rajani Singh, Senior Research Analyst, Personal Computing. "A rebound in consumer or a continuation of accelerated commercial upgrades could boost growth slightly, but low demand for upgrades in general combined with competition from tablets and 2-in-1 systems limit the growth potential."
Regional Highlights
United States – The U.S. market continued to stabilize with growth near zero – in line with forecasts. With shipments totaling 14.3 million PCs in 1Q14, the U.S. market contracted by -0.6% from the same quarter a year ago. Desktop shipments were slightly stronger, posting 3.5% growth, while portables remained in negative territory.
EMEA – The PC market in EMEA returned to more stable levels and performed above expectations, with shipments supported by healthy demand in the commercial space, where end of Windows XP support and improving macro-economic outlook led to stronger than anticipated sell-in across a number of countries. The consumer market started to stabilize, showing signs of improvement; however shipments remained within negative trends. Performance in some mature markets appears to have been more positive than expected, with growth enhanced particularly by corporate renewals, while the business environment in the emerging economies proved difficult, with shipments affected by currency fluctuations and high inventory in certain countries.
Japan – The scale of commercial refresh remained remarkably strong, helping Japan achieve yet another double-digit growth quarter. Consumer volume was also good due to the last minute surge in demand before the VAT increase in April. All major vendors saw sizable growth and Japan shipments rose to more than 7% of worldwide PC volume – the highest since early 2006.
Asia/Pacific (excluding Japan) – Most markets continued to struggle with lackluster demand and cautious channel intake. Inventory remains higher than ideal for most vendors, although pockets of retail are showing signs of mild pick up. Although shipments were close to forecast, growth declined by double digits, marking a full two years of shipment declines for APeJ.
Vendor Highlights
Lenovo preserved its lead in total worldwide PC shipments despite a seasonal drop due to the Chinese New Year. Growth in other regions continued at a solid pace although Latin America slowed after a dramatic expansion over the past year.
HP remained in the number 2 position, with growth rising nicely to nearly 5% year on year, the company's highest growth in more than two years. Strong results in EMEA had the largest impact on HP's results, although growth in the U.S. and Canada also improved notably.
Dell grew over 9% in the first quarter, its highest rate since 4Q11 and the third consecutive quarter of positive year-on-year growth. The vendor's revamped channel strategy – with greater focus on partners and solutions as well as use of PC sales as part of broader solutions – Is paying dividends as the company benefits from the relative strength of commercial replacements as well as operational freedom and reduced uncertainty after completing the privatization.
Acer continues to work on stabilizing PC shipments. Fourth quarter growth turned up nicely, but first quarter results slipped again. Slow consumer demand, competition from other players, and a shift in product portfolio towards 2-in-1 and tablets all contributed to the slower PC results.
ASUS growth slipped notably in the U.S., but follows a relatively strong fourth quarter. The company is in a challenging spot – working to expand regional coverage with a consumer focus when emerging regions and consumers are slow parts of the market. Even so, the company grew faster than the market in EMEA and APeJ (its two largest markets) and saw strong gains in Latin America.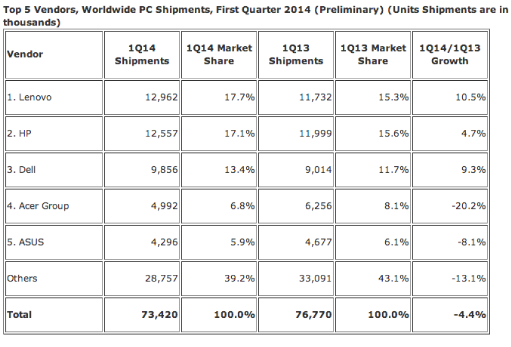 Source: IDC Worldwide Quarterly PC Tracker, April 9, 2014
Table notes follow the last table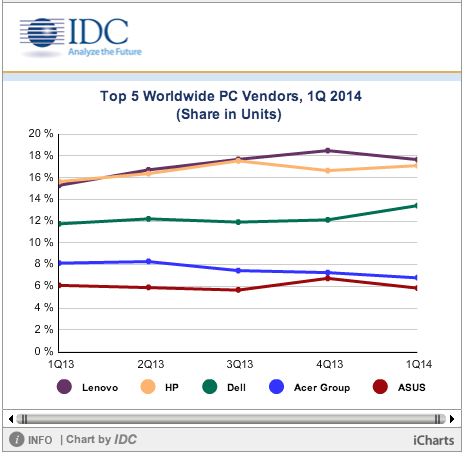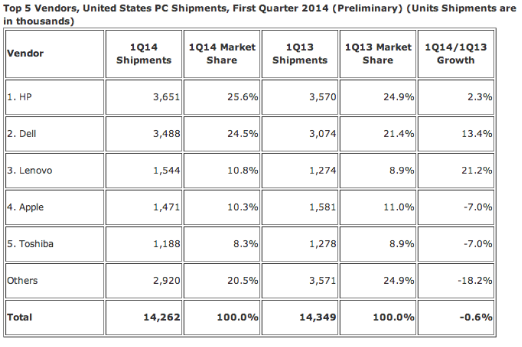 Source: IDC Worldwide Quarterly PC Tracker, April 9, 2014
Table Notes:
* Some IDC estimates prior to financial earnings reports.
Shipments include shipments to distribution channels or end users. OEM sales are counted under the vendor/brand under which they are sold.
* PCs include Desktops, Portables, Ultraslim Notebooks, Workstations and do not include handhelds, x86 Servers and Tablets (i.e. iPad, Tablets with detachable keyboards running either Windows or Android). Data for all vendors are reported for calendar periods.
For more information, visit:
http://www.idc.com
Gartner Says Worldwide PC Shipments in the First Quarter of 2014 Declined 1.7 Percent; End of Windows XP Support Provides a Boost in PC Replacements; Apple In Third Place In Domestic PC Sales
Worldwide PC shipments totaled 76.6 million units in the first quarter of 2014, a 1.7 percent decline from the first quarter of 2013, according to preliminary results by Gartner. The severity of the decline eased compared with the past seven quarters.
"The end of XP support by Microsoft on April 8 has played a role in the easing decline of PC shipments," says Mikako Kitagawa, principal analyst at Gartner. "All regions indicated a positive effect since the end of XP support stimulated the PC refresh of XP systems. Professional desktops, in particular, showed strength in the quarter. Among key countries, Japan was greatly affected by the end of XP support, registering a 35 percent year-over-year increase in PC shipments. The growth was also boosted by sales tax change. We expect the impact of XP migration worldwide to continue throughout 2014."
"While the PC market remains weak, it is showing signs of improvement compared to last year. The PC professional market generally improved in regions such as EMEA. The U.S. saw the gradual recovery of PC spending as the impact of tablets faded." Ms. Kitagawa said.
The PC market continued to be tough for many vendors. Economies of scale matter tremendously in this high-volume, low-profit market, which is forcing some vendors, such as Sony, out of the market. In contrast, all of the top five vendors, except Acer, registered year-over-year shipment growth. The top thee vendors — Lenovo, HP and Dell — have all confirmed the importance of the PC business as part of their overall business strategies.
Lenovo experienced the strongest growth among the top five vendors. Its shipments grew 10.9 percent (see Table 1), and Lenovo extended its position as the worldwide leader. The company's shipments grew in all regions except Asia/Pacific, where growth in China has been problematic. Overall, the China market again slowed, in part due to the long holiday in the middle of the quarter.

Note: Data includes desk-based PCs and mobile PCs, including x86 tablets equipped with Windows 8, but excludes Chromebooks and other tablets. Source: Gartner (April 2014)
The share difference between Dell and HP once again narrowed compared to last quarter. In the first quarter of 2014, HP achieved its fastest shipment growth of the last two years. HP's shipment growth in EMEA well exceeded the regional average, which improved HP's overall growth. Dell maintained a strong position in the market. Since the completion of the leverage buyout last year, Dell has been aggressively expanding its PC business throughout the regions. The first quarter of 2014 was the third consecutive quarter of PC shipment growth for Dell, registering its highest growth since the fourth quarter of 2011.
In the U.S. market, PC shipments totaled 14.1 million units in the first quarter of 2014, a 2.1 percent increase from the same period last year (see Table 2). HP maintained the No. 1 position, as it accounted for 25 percent of PC shipments in the U.S. market. Dell and Lenovo experienced the strongest growth among the top five vendors, with growth rates of 13.2 and 16.8 percent.
"In terms of the major structural shift of the PC market, the U.S. market is ahead of other regions," Ms. Kitagawa says. "The installed base of PCs started declining in 2013, while the worldwide installed base still grew. The U.S. PC market has been highly saturated with devices: 99 percent of households own at least one or more desktops or laptops, and more than half of them own both. While tablet penetration is expected to reach 50 percent in 2014, some consumer spending could return to PCs."
Note: Data includes desk-based PCs and mobile PCs, including x86 tablets equipped with Windows 8, but excludes Chromebooks and other tablets. All data is estimated based on a preliminary study. The statistics are based on the shipments selling into channels.
Source: Gartner (April 2014)
In Asia/Pacific, PC shipments reached 24.9 million units in the first quarter of 2014, a 10.8 percent decline from the first quarter of 2013. Pressure on traditional notebooks continued as the installed base transitioned to alternative devices and replaced only on an as-needed basis. New hybrid ultramobiles with lower price points were available, but demand remained slow as buyers evaluated usage scenarios and application availability amid a market with many other options.
These results are preliminary. Final statistics will be available soon to clients of Gartner's PC Quarterly Statistics Worldwide by Region program. This program offers a comprehensive and timely picture of the worldwide PC market, allowing product planning, distribution, marketing and sales organizations to keep abreast of key issues and their future implications around the globe. Additional research can be found on Gartner's Computing Hardware section on Gartner's website at:
http://gtnr.it/1lVVQG9