Results from 451 Research's latest ChangeWave survey on consumer smart phone demand include an early look at potential demand for a next-generation "iPhone 6," and finds an unprecedented level of consumer interest.
"This is the highest level of demand for an unannounced Apple model in a ChangeWave survey – stronger than we've seen in previous years for the iPhone 5S and iPhone 5 models prior to their announcements," says Andy Golub of 451 Research. "Speculation over a larger screen iPhone is clearly striking a chord with consumers."
The March survey of 4,109 primarily North American respondents also looked at next 90 day smart phone demand trends – where Samsung is showing a burst of momentum and interest in phablet devices is hitting a new all-time high.
Advance Interest in Apple "iPhone 6"
Apple is expected to release its next generation iPhone later this year, with speculations ranging from a single larger screen "phablet" to multiple devices similar to their previous release. While nothing is certain until an official announcement, many consumers are beginning to hold off on an Apple smart phone purchase in anticipation of an upcoming release.
To measure the potential demand for a new "iPhone 6" model, we presented consumers with a brief description of probable features and asked how likely they would be to buy one when it becomes available.
Some analysts think Apple will release its next generation "iPhone 6" later this year. New features would likely include a larger screen size, gesture control, a faster processor, and an updated iOS operating system. The "iPhone 6" is expected to cost $199 for the 16GB model, $299 for the 32GB model, and $399 for the 64GB model on most of the major carriers.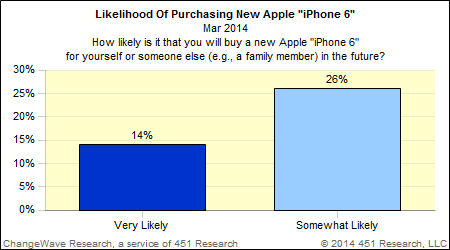 The results show very strong advanced interest for a next generation iPhone – 14% of respondents say they're Very Likely and 26% Somewhat Likely to buy the "iPhone 6" in the future.
Here is a comparison of the "iPhone 6" advance interest findings with previous survey results for the iPhone 5S and iPhone 5 taken several months prior to their official announcements: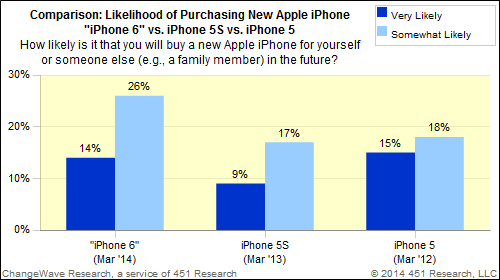 While the "iPhone 6" findings are still speculative, they point to enormous consumer interest in the next gen Apple iPhone.
Meanwhile, Apple's biggest competitor – Samsung – is seeing a burst of momentum in planned smart phone buying over the next 90 days, led by demand for the new Galaxy S 5.
Next 90 Days: Smart Phone Manufacturer Demand
A total of 28% of respondents who plan to buy a smart phone in the next 90 days say they'll purchase a Samsung – a 9-pt surge from our previous survey in December.
As the following chart shows, this is the second jump in a row for Samsung – and it's now at an all-time high for a ChangeWave survey.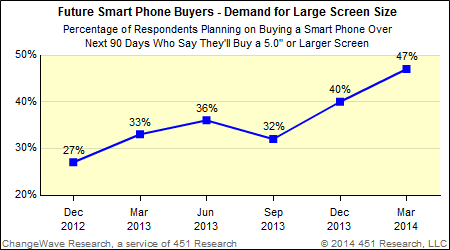 The 14-pt leap for Samsung planned buying over the past two surveys is similar in scope to the surge leading up to the Galaxy S4 release (up 14-pts between Sep 2012 and Mar 2013).
We note that Apple (42%) remains the leader in North American smart phone buying plans over the next 90 days – though demand has settled back since the iPhone 5S/5C release two quarters ago. All other manufacturers trail by a wide margin.
One key factor helping drive demand for Samsung is continued momentum for 'phablet' devices (e.g., smart phones with a 5" screen or larger).
Shift Towards Big Screen Smart Phones Continues
451 Research's ChangeWave surveys have been tracking consumer interest in larger-screen smart phones since 2012 – and throughout this time it has been having a big impact on demand.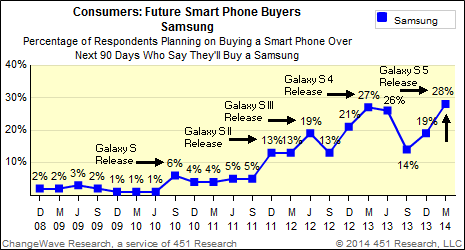 In the latest survey, nearly half (47%) of planned smart phone buyers say they're most interested in buying a 5 inch screen or larger – a 7-pt jump in phablet demand just since December, and the highest level since we began asking this question.
Samsung is the leader in this space and remains well positioned going forward – with nearly two-in-three planned Samsung buyers (64%; up 6-pts) saying they're most interested in purchasing a 5" screen or larger device.
At the same time, the percentage of non-Samsung buyers interested in purchasing a phablet has risen sharply over the past two surveys (up 13-pts), from 26% in September to 39% in the current survey – a clear sign that the appeal of these devices is not fading.
The high level of interest in an "iPhone 6" – with an expected larger screen – is likely contributing to this surging momentum.
For more on 451 Research and the Consumer Smart Phone results, follow this link.