PhatWare Corp. has announced it has renamed its new WritePro word processing app for iPhone and iPad: WritePad Pro. The decision to change the app's name to leverages the strong brand awareness and foundational technology of PhatWare's WritePad app and handwriting recognition SDK.
WritePad Pro, which builds upon WritePad's powerful handwriting recognition technology, adds rich text editing that can be combined with images, custom drawings, and text. The app also integrates with various system resources such as email, contacts, maps, iCloud, social networks, and others. WritePad Pro creates HTML and PDF documents and can open text, Microsoft Word, RTF and HTML files for editing.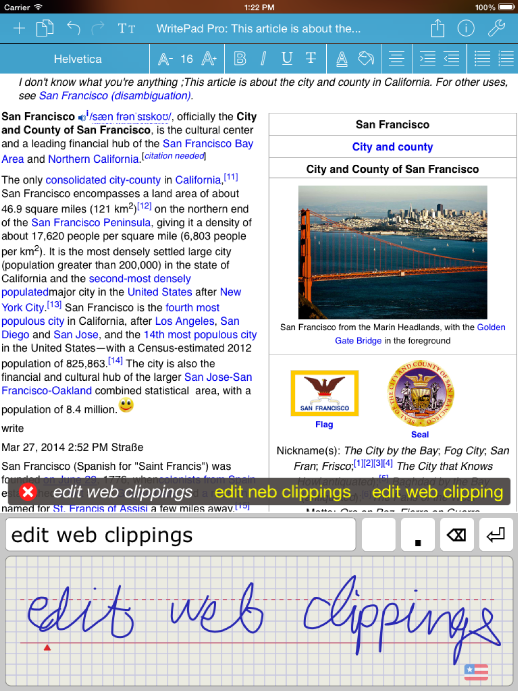 To speed-up note-taking, WritePad Pro offers advanced shorthand features that enable users to format text using written commands. Users can scribble shorthand commands to change font, paragraph and other formatting options, insert emotions and user-defined text blocks, invoke translator, maps and other system resources, and much more.
For users who must collaborate with people in other countries, WritePad Pro offers superior integration with an online language translator. Notes can be written in English, for example, which can be automatically converted to Spanish or fifteen other common languages.
Document sharing is a key element of WritePad Pro, offering a large number of ways to share and collaborate with documents. WritePad Pro documents are standard HTML files which can be viewed on any computer using any modern Internet browser and can be easily shared via HTML email, Twitter, Facebook and iMessage. Documents can further be synchronized with Box, Dropbox, Microsoft OneDrive, iCloud, Evernote, and Google Drive. Users can also print and export documents as PDFs.
WritePad Pro's main features include:
* Handwriting recognition, including self-learning adaptive handwriting recognition engine, statistical vocabulary analyzer, and multilingual support (English (UK, US), German, French, Spanish, Portuguese (BR, EU), Italian, Dutch, Danish, Norwegian, Swedish, and Finnish)
* Spell checker with user dictionary and customizable auto-corrector
* Large number of pre-defined and user-defined shorthand commands
* Supported document formats include text, HTML, RTF, and Microsoft Word.
* Text formatting includes all standard options, including font formats (size, face, bold, italic, underline, strikethrough, and color) and paragraph formats (alignment, ordered list, unordered list, hierarchical lists, and indent)
* Sketch capability – allowing users to insert custom drawings or handwritten text into HTML documents
* Integration with contacts, maps, events, email and iCloud
* Social media support, including the ability to post to Twitter or Facebook from within the app
Device Requirements:
* iPhone, iPad, and iPod touch
* Requires iOS 7.0 or later
* Universal Application
* 17.6 MB
WritePad Pro 1.1.0 is offered at the special introductory price of $9.99 USD (or equivalent amount in other currencies) and available worldwide exclusively through the App Store in the Productivity category. For more information about WritePad Pro, please visit PhatWare online.
PhatWare:
http://www.phatware.com/
WritePad Pro 1.1.0:
http://www.phatware.com/index.php?q=page/writepadpro/ipad#
Purchase and Download:
https://itunes.apple.com/app/writepad-pro./id797238295
Facebook Profile:
http://www.facebook.com/phatware
Twitter Profile:
http://twitter.com/phatware