WaterField Designs have announced the new 15-inch size of their popular Rough Rider leather messenger bag, a vintage-looking bag that combines Old West charm and ruggedness with distinctly modern functionality.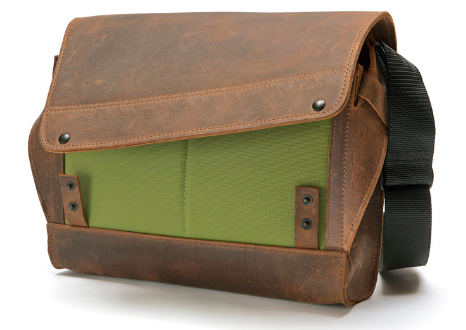 Now available in both a 13-inch and 15-inch laptop size, the Rough Rider is engineered with precision. A unique strap system compresses bag contents to maintain a slim, neat profile. The laptop bag rests snuggly against the body to help ease back fatigue. Premium, rough leather edges combine with clean lines for a look that will appeal to everyone from professionals to free-spirited world travelers.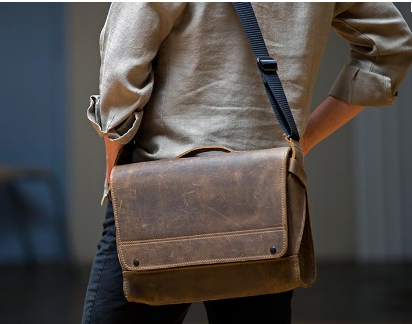 "I like the timeless, Old West look of the Rough Rider — it's tough and rustic with raw edges," explains owner Gary Waterfield. "We had so many requests for a 15-inch version of our recently launched bag, that we've bumped the new size up on our launch calendar to offer it in time for graduation and Father's Day."
The Rough Rider
• Constructed of rugged, naturally-tanned, full-grain leather that develops stunning patina over time
• Unlined interior and natural edges reveal leather's premium quality
• Splash of nylon under the flap—in six color choices—allows for customization
• Main compartment can house 15-inch laptop or tablet, files, chargers, and other necessities (Also available in 13-inch laptop size)
• Two deep, waxed canvas pockets in main compartment
• Two additional scratch-free, lined pockets under the flap—perfect for iPad mini and smartphone
• Flap snaps securely shut with two options to adjust based on bulk of what is inside
• Removable no-slip shoulder pad keeps adjustable strap in place
• Top leather handle for quick grab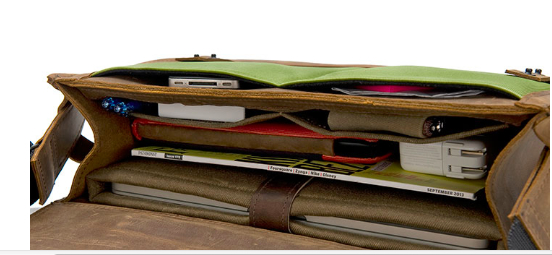 The 15-inch Rough Rider is $355 (USD). The 13-inch is $335. Colors: Distressed, "Grizzly" brown, naturally-tanned leather with color accents in black, copper, pine, grass, flame, or pearl. Available for pre-order at WaterField Designs online. Shipping begins May 20, 2014.
WaterField Designs:
http://www.sfbags.com/
The Rough Rider Leather Laptop Messenger Bag:
http://www.sfbags.com/products/rough-rider/rough-rider.php
YouTube Video (Demo):
http://www.youtube.com/watch?v=t1Sjzk0X810
For more information, visit:
http://www.sfbags.com/