Apple on Wednesday announced financial results for its fiscal 2014 second quarter ended March 29, 2014. The Company posted quarterly revenue of $45.6 billion and quarterly net profit of $10.2 billion, or $11.62 per diluted share. These results compare to revenue of $43.6 billion and net profit of $9.5 billion, or $10.09 per diluted share, in the year-ago quarter. Gross margin was 39.3 percent compared to 37.5 percent in the year-ago quarter. International sales accounted for 66 percent of the quarter's revenue.
"We're very proud of our quarterly results, especially our strong iPhone sales and record revenue from services," said Tim Cook, Apple's CEO. "We're eagerly looking forward to introducing more new products and services that only Apple could bring to market."
In the conference call, Mr. Cook also addressed recent conventional wisdom that the iPad has peaked and is in a sales slump. He observed that the iPad has been the fast growing product in Apple's history, and the only product the company has ever made that was instantly a hit in three key markets: consumer, the enterprise and education, and that in its first four years Apple has sold over 210 million iPads.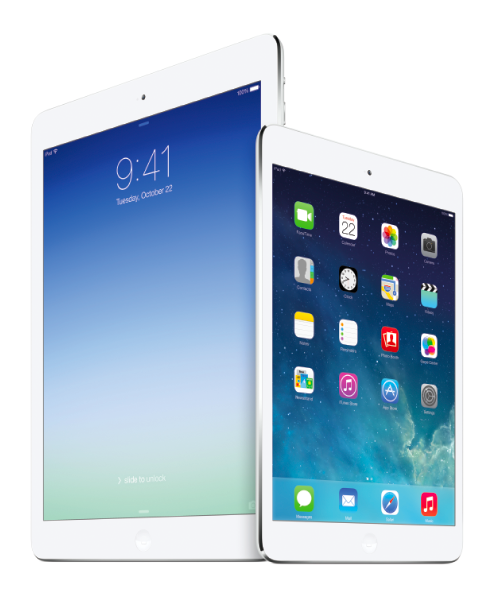 Cook also pointed out that Apple enjoys a 95 percent share in the education tablet market in the U.S., that "the match has been lit," and the iPad is making inroads in education, far beyond the U.S.
Turning to the Enterprise market, he noted that virtually all — 98 percent — of Fortune 500 companied use the iPad, and that according to latest metrics from Good Technologies, 91 percent of tablets in the enterprise have been iPads, with many of those companies writing proprietary apps for the platform.
Mr. Cook further observed that despite there being a lot of product he personally wouldn't put in the same category as the iPad included in its calculation, according to NPD the iPad still had a 46 percent share of the domestic tablet market.
He thinks Office for the iPad "does help," but its still unclear as to how much, and that if it had been done earlier, it would've been even better for Microsoft. However, he sees Office as a key franchise in the enterprise, thinks having it on iPad is good, and "wholeheartedly welcomes Microsoft to the App Store."
More good iPad news: customer satisfaction stats are at 98 percent,and the iPad has four times the Web traffic as all Android tablets combined.
Mr. Cook concluded that he can't help but be extremely excited about where Apple is, and he's "very bullish on iPad."
"We generated $13.5 billion in cash flow from operations and returned almost $21 billion in cash to shareholders through dividends and share repurchases during the March quarter," said Peter Oppenheimer, Apple's CFO. "That brings cumulative payments under our capital return program to $66 billion."
Apple is providing the following guidance for its fiscal 2014 third quarter:
• revenue between $36 billion and $38 billion
• gross margin between 37 percent and 38 percent
• operating expenses between $4.4 billion and $4.5 billion
• other income/(expense) of $200 million
• tax rate of 26.1 percent
Apple will provide live streaming of its Q2 2014 financial results conference call for approximately two weeks at:
http://www.apple.com/quicktime/qtv/earningsq214