The New York International Auto Show roared into the Jacob K. Javits Convention Center last week and Toyota, the world's top automakers, made a splash with 3D printed versions of its FT-1 concept car by MakerBot, a global leader in the desktop 3D printing industry.
Visitors to the Toyota exhibit were able to view the FT-1 concept car on display and watch as a scaled-down model is 3D printed on a MakerBot Replicator 2 Desktop 3D Printer. Visitors interested in 3D printing can participate in a daily drawing to win a MakerBot Replicator 2 for the remainder of the auto show.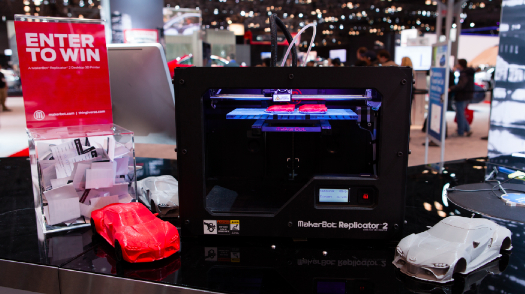 "Automotive manufacturers have always been enthusiastic and early adopters of 3D printing, starting 25 years ago when 3D printing was first introduced," noted Bre Pettis, CEO of MakerBot. "3D printing brings an affordable and immediate impact to the development and design of cars. A concept designed in a CAD file can be 3D printed, reviewed and immediately tested for consumer feedback. When Toyota proposed creating a 3D printed version of the FT-1 concept car at the New York International Auto Show, we immediately jumped on board for the ride."
"It is remarkable that MakerBot technology can help automotive manufacturers like Toyota with design methodology, manufacturing and QA processes," commented Mark Schulze, MakerBot's vice president of sales. "This demonstration proves that previously unthinkable solutions to everyday problems can now be found by giving engineers access to 3D printers."
MakerBot was also on hand at the Toyota Arcade on April 16, a media party hosted by Toyota at the Standard Biergarten, in conjunction with the two-day New York International Auto Show press preview. On display at the event was the Toyota FT-1 in addition to two MakerBot Replicator Desktop 3D Printers 3D printing keychain-sized models of the FT-1 in real time for partygoers. MakerBot also provided 3D trophies for winners of the Toyota FT-1 editors' challenge, which took place during the event.
Founded in 2009, MakerBot has built the largest installed base of desktop 3D printers sold to innovative and industry-leading customers worldwide, including engineers, architects, designers, educators and consumers. The MakerBot 3D Ecosystem drives accessibility and rapid adoption of 3D printing and includes Thingiverse.com, the MakerBot Digitizer Desktop 3D Scanner, the MakerBot Replicator line of Desktop 3D Printers, MakerBot Desktop, the MakerBot MakerCare Protection Plan, the MakerBot Retail Stores and strategic partnerships with top-tier brands. MakerBot has been honored with many accolades, including Popular Mechanics' "Overall Winner" for best 3D printer, Time's "Best Inventions of 2012," Popular Mechanics' "Editor's Choice Award," Popular Science's "Product of the Year," Fast Company's "One of the World's Top 10 Most Innovative Companies in Consumer Electronics" and many more. Join the Next Industrial Revolution by following MakerBot at: http://makerbot.com
Stratasys Ltd., headquartered in Minneapolis, Minn., and Rehovot, Israel, is a global provider of 3D printing and additive manufacturing solutions. The company's patented FDM and PolyJet 3D printing technologies produce prototypes and manufactured goods directly from 3D CAD files or other 3D content. Systems include 3D printers for idea development, prototyping and direct digital manufacturing. Stratasys subsidiaries include MakerBot and Solidscape, and the company operates the RedEye digital-manufacturing service. Stratasys has more than 1,800 employees, holds over 550 granted or pending additive manufacturing patents globally, and has received more than 25 awards for its technology and leadership. For more information, visit:
http://stratasys.com
or
http://blog.stratasys.com
Toyota, the world's largest-selling automaker and creator of the Prius, has built more than 25 million cars and trucks in North America, where it operates 14 manufacturing plants and directly employs more than 40,000 people. The company's 1,800 North American dealerships sold more than 2.5 million cars and trucks in 2013 – and about 80 percent of all Toyota vehicles sold over the past 20 years are still on the road today. For more information about Toyota, visit:
http://www.toyotanewsroom.com