Washington based PhatWare today announced PhatPad Lite 3.2, a free version of their note-taking and collaboration app for iPads. Designed for iOS 7, PhatPad Lite includes most of PhatPad's features except for the handwriting recognition and handwriting search. PhatPad offers everything you need to express your ideas, enabling you to draw pictures, jot notes and more. Version 3.2 introduces support for Adonit Jot Touch Bluetooth stylus, optimized for iOS 7.1 and minor bug fixes.
PhatPad is as technically impressive as it is conducive to creative openness. Legions of apps let users scribble down their thoughts, but PhatPad isn't any app. Digital ink technology guarantees notes all seem fluid, while advanced word and shape recognition tech effortlessly transform notes into written text and hand drawn images into perfect shapes in an instant. The voice note feature enable users to include audio notes on demand, and create unattended presentations.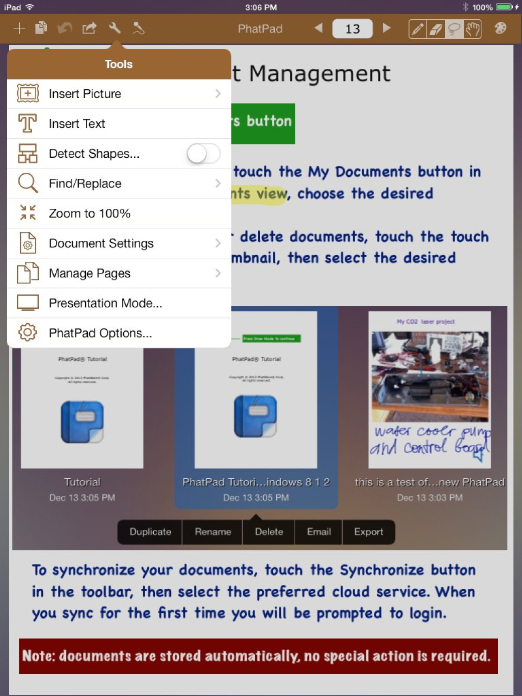 More than just a note-taking app, PhatPad turns an iPad into an advanced brainstorming, collaboration and presentation tool, by enabling users to draw, write, and type on the iPad, then instantly share ideas via PDF, email, WiFi sync, Dropbox, Box, Google Drive, SkyDrive, Evernote, or in PhatPad's presentation mode.
PhatPad's presentation mode makes brainstorming and collaborating with team members simple. Users can create quick presentations, and display them on the iPad screen, or an external monitor.
Device Requirements:
* Compatible with iPad
* Requires iOS 6.1 or later
* 13.3 MB
PhatPad Lite 3.2 is available now though the iTunes App Store in the Productivity category and is free. To disable the advertisement bar users can make an in-app purchase for $1.99 (USD). PhatPad Lite is also available on Android OS via Google Play, allowing users to share PhatPad documents on multiple platforms via cloud sync. For more information about the PhatPad product line, please visit PhatWare online.
PhatWare:
http://www.phatware.com/
PhatPad Lite 3.2:
http://www.phatware.com/index.php?q=page/phatpad/ipad#
Download from iTunes:
https://itunes.apple.com/app/phatpad-lite/id799162090
YouTube Video:
https://www.youtube.com/watch?v=H8TWWziWVPk