Samsung Electronics America has unveiled the first tablets in its new flagship Galaxy Tab S line. In both 8.4- and 10.5-inch versions, the Galaxy Tab S offers the world's first high-resolution Super AMOLED display, combining Samsung's thinnest and lightest tablet design with a WQXGA Super AMOLED display.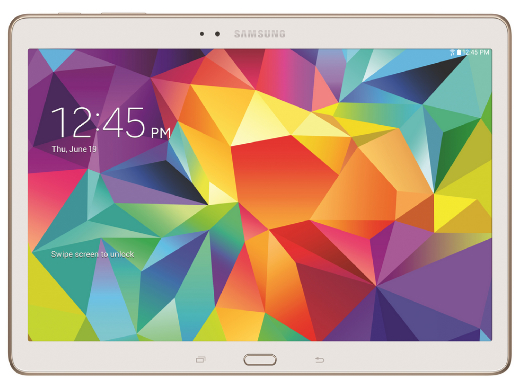 The Wi-Fi versions of the Tab S 8.4 will be available for $399.99, while the Tab S 10.5 will be $499.99. Pre-orders for Wi-Fi devices began June 13 at Samsung.com. The Tab S will be available for purchase in July at Samsung.com, Amazon, Best Buy, Fry's, Office Depot, Office Max, PC Richard & Son, Sears, Tiger Direct and Walmart.com. Later this year, the Galaxy Tab S will come to AT&T with LTE, Sprint (10.5) with Sprint Spark, T-Mobile (10.5) with LTE and Verizon Wireless (8.4 and 10.5) with LTE.
"Building on the heritage of the Galaxy S smartphone line, the Galaxy Tab S line delivers on our commitment to bring meaningful innovation that our customers care most about," says Gregory Lee, president and CEO of Samsung Telecommunications America and Samsung Electronics North America Headquarters. "We know consumers want the best screen when purchasing a tablet, and as an undisputed leader in display technology, we've brought our industry-leading Super AMOLED screen to the Tab S for an unrivaled viewing experience in both connected and Wi-Fi options."
Galaxy Tab S Displays
Display is a key purchase driver for tablets, and the Galaxy Tab S delivers, with a WQXGA Super AMOLED display offering a wider color range, deeper contrast, truer blacks and our own adaptive display technology to provide an improved viewing experience in any environment. The Galaxy Tab S is one of the select few Android devices in the U.S. to offer Netflix HD content viewing.
With both tablets measuring just 6.6mm in thickness, and Tab S 8.4 weighing less than one pound, the Galaxy Tab S was designed for portability and to provide a more comfortable experience over long periods of usage.
Other New Features

The Galaxy Tab S offers customizable settings and privacy features for sharing with family members of all ages. Kids Mode offers easy access to kid-friendly content, and gives parents the ability to control the content that kids access, as well as length of play. The Galaxy Tab S features a built-in fingerprint sensor, making multi-user access easy and secure. In Multi-User Mode, the fingerprint scanner allows for access to individual, customized user profiles.
Galaxy Tab S also offers more apps compatible with Multi Window, allowing users to open up to two windows at once. The latest version of SideSync allows you to make and receive calls from your tablet via the connection to your phone, as well as drag and drop files from your phone to your Galaxy Tab S.
Premium Content
The Galaxy Tab S includes premium content and services, including WatchON with which users can access the program guide directly from the Tab S, or use Tab S as a remote control. The service provides Video on Demand so users can find favorite movies and TV shows with ease. The Galaxy Tab S is the first tablet compatible with Milk Music powered by Slacker, a free and ad-free radio service. Milk is designed with an elegant, easy-to-use interface and more than 200 stations that offer a fully customizable experience to your personal taste.
Samsung is also partnered with entertainment, productivity and news providers through Galaxy Gifts, which on Tab S includes one-year free of Gogo In-flight Wi-Fi access (up to 36 segments), a 12-month subscription to Bloomberg BusinessWeek, 6-month trial subscription to The Wall Street Journal and The Washington Post, 3-month subscription to The New York Times, 3 months free Sirius XM Radio, and 3 months free subscription to Audible.
Samsung Papergarden debuts on Tab S and includes popular magazine titles, like Cosmopolitan, Elle, Elle Décor, HGTV Magazine, Vogue, Architectural Digest, GQ, Rolling Stone and US Weekly and more. Papergarden is offering all single issues free of charge through July 31st, 2014. Also included are National Geographic's 50 Greatest Photos and a 3-month free trial of Marvel Unlimited.
The Tab S is compatible with office documents, and enabled for e-meetings with multiple devices. Remote PC allows quick access to the office from anywhere. Quickly share content between devices with Quick Connect, which identifies the best way to share content with nearby people and devices. Quick Connect also allows screen-sharing and device control with Wi-Fi direct.
Tab S will launch with a variety of accessories including Bluetooth keyboard book covers, standalone Bluetooth keyboard, flip covers, book covers, S Action Mouse, USB LAN Hub, power saving cable and portable battery packs.
For more information, visit:
http://www.samsung.com
Galaxy Tab S 10.5 Product Specifications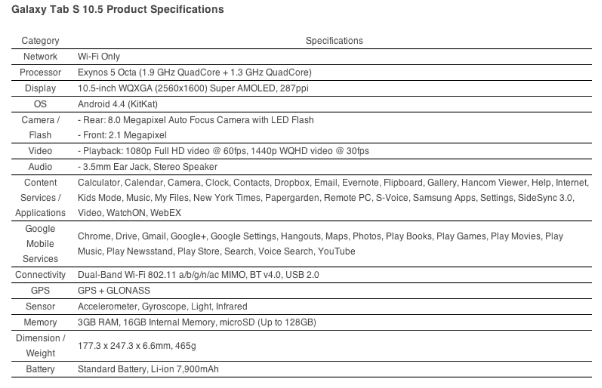 Galaxy Tab S 8.4 Product Specifications