Infovole have some of their excellent iPad text processor apps are on sale during the 4th of July weekend. The discount starts this Thursday and ends on Sunday.
Easy Writer + is free of charge (it normally costs $0,99)
https://itunes.apple.com/us/app/easy-writer-+/id495631561?mt=8
Textkraft English (pro version of EasyWriter+) is 50% off (Price drop from $3,99 to $1,99)
https://itunes.apple.com/us/app/textkraft-pro-version-easy/id470843464?mt=8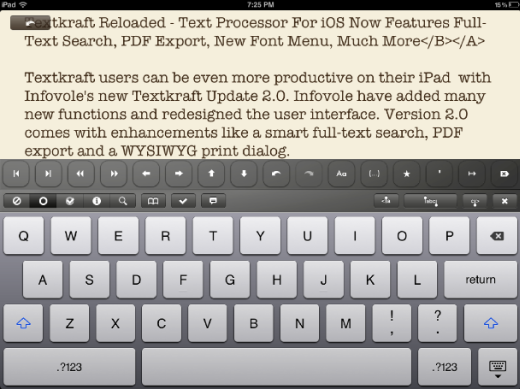 Textkraft is my go-to app for most composition on the iPad, and offers a raft of powerful, useful tools (such as a forward delete key and case-change button) that you don't get with most text apps.
However, Easy Writer is no slouch features-wise either, and with this offer you can get a taste of what these apps can do for free.