With the success of the mCard, there has been increased interest in getting older MacBook Pros and iMacs that were produced with the standard PCIe bus to access the 802.11ac Wi-Fi spectrum. The mCard uses an Apple proprietary PCIe bus which is smaller. The mCard fills that gap, allowing older MacBook Pros and iMacs to work with the latest wireless technology. As long as you have a standard PCIe bus and the ability to run OS 10.9.2, you will be able to upgrade your Mac.
No longer must Apple MacBook and iMac users replace the whole computer just to get the latest in wireless speeds. Wichita, Kansas -based QuickerTek has engineered the mCard upgrade, delivering all the wireless speed and range that was previously only available in new Apple computers. The mCard replaces the internal wireless networking card and is user installable. It is available from QuickerTek and its dealers for $149.00 USD.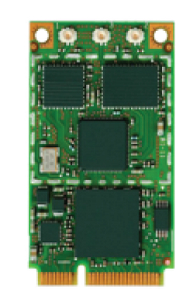 QuickerTek's mCard is an internal PCIe mini adapter which enables older MacBooks and iMacs to use any wireless network with outstanding range and the fastest speeds managed by that network. The user installation is also quite straightforward, requiring no soldering or other Frankenstein work – it just replaces the stock wireless card. Users do not have to perform any additional steps to use the mCard either – it's as simple as install and use.
Not only does the mCard provide exceptional wireless speed, but it also allows for a significant increase in range. No longer is it necessary for MacBook users to be limited by the distance from a wireless access point. The mCard can also be upgraded with an external antenna for even greater wireless performance. mCard users have more options for future wireless performance, that are not currently available for even the latest MacBooks or iMacs.
In addition to the wireless networking upgrade, mCard also adds the latest Bluetooth – version 4. Apple is planning on making Bluetooth 4 an integral part of Mac OSX going forward and the mCard ensures the user won't miss out here either. Bluetooth 4 powers the exciting new Apple Handoff function – integrating iOS devices with the MacBook and iMac.
Users are also assured of compatibility without drivers. The wireless integration is provided by Apple in MacOS X and the mCard uses this built-in functionality – just like a stock Apple wireless card. While mCard is compatible with Mac OSX 10.9.2 now, it is also compatible with the next planned Apple OS update too.
The mCard is compatible with many slightly older 15-inch MacBook Pros and Intel iMacs. These capable computers are limited in speed and range by the then current wireless technology. In addition, users will have complete compatibility with all Apple AirPort wireless Base Stations. Compatibility includes QuickerTek's acHex multiple antenna upgrade for Apple Base Stations as well as Linksys, Belkin, and all other common wireless network hardware found at home, office or when mobile. The mCard works with MacOS X Mavericks 10.9.2 today, and all the most current wireless systems, including wireless networks offering 802.11 AC, N, and A.
mCard Specifications:
* Internal PCIe mini interface
* Bluetooth 4.0
* Transmission rate: 1.3 Gbs
* 3×3 antenna system
* Works with all Apple and PC wireless access points and routers
* Uses existing antennas
* Capable of adding a higher performance antenna
mCard Compatibility:
* 2008-2009 15-inch MacBook Pros
* 17-inch Intel iMacs
* 2007-2008 20-inch Intel iMacs
* 27-inch Intel iMacs
* MacOS X Mavericks 10.9.2 today, and with next OSX version Apple has announced
QuickerTek:
http://www.quickertek.com/
mCard:
http://www.quickertek.com/products/qCardm.html
Facebook Profile:
http://www.facebook.com/quickertek
Twitter Profile:
http://twitter.com/QuickerTek