London, England based Vision Genesis Ltd has just released Daughters Of Zion Magazine for iPad, a digital magazine published monthly on the Apple Newsstand.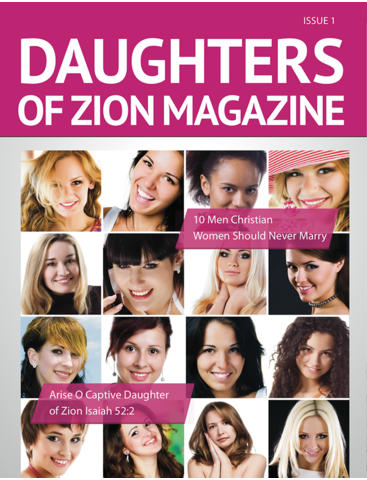 Making full use of the iPad's powerful features, the app is designed to be easy to use, and contains a variety of articles covering everything from parenting, dietary, health issues, relationship advice, motivational articles, encouraging words, and life transforming messages. Christian Women looking for inspirational articles, advice, and entertainment will find the Daughters Of Zion Magazine a powerful resource.
Articles in the magazine include:
* 10 Men Christian Women Should Never Marry
* Arise O Captive Daughter Of Zion
* A Healthy BMI For Diabetic
* Prayer For The Busy Woman
* Teaching Kids Responsibility
Daughters Of Zion Magazine's lead developer, Renee Sofolabo says of the app: "Daughters Of Zion Magazine makes it easy for Christian Women to receive uplifting and inspiring information on a monthly basis. Each issue is packed to the brim with informative and entertaining content, gorgeous images, and positive messages. We're confident this app will prove to be an awesome blessing!"
The mission of Vision Genesis:
* To inspire and empower Christian women regardless of their status
* To encourage Christian women of all nations
* To resource Christian women in their faith by consistently providing monthly inspirational, uplifting and life transforming articles and messages
* To help Christian women to grow in their relationship with God
* To champion Christian women to love God more deeply and live fearlessly for His kingdom
* To provide practical help and a biblical perspective on the issues impacting their daily lives
Device requirements:
* Compatible with iPad
* Requires iOS 5.1.1 or later
* 19.6 MB
Daughters Of Zion Magazine 1.0 is currently available for sale worldwide through the Apple App Store in the Newsstand as a free download. Each issue is 3.99 GBP monthly. Yearly subscriptions are available for 29.99 GBP.
Daughters Of Zion Magazine 1.0:
http://www.daughtersofzionmagazine.com
Download from App Store:
https://itunes.apple.com/app/daughters-zion-magazine-christian/id880661843
YouTube Video:
https://www.youtube.com/watch?v=yydwuQc-lWc
Pinterest Gallery:
http://www.pinterest.com/dozmagazine/arise-o-captive-daughter-of-zion/
Facebook Profile:
https://www.facebook.com/daughtersofzionmagazine
Twitter Profile:
https://twitter.com/DOZMAGAZINE