The last time Apple teamed up with IBM, results were mixed. In the early '90s the two companies joined with Motorola in forming the AIM partnership to develop and market Power PC processor silicon based on IBM's Reduced Instruction Set Computing (RISC) technology.
Some of the best-loved Mac computers of all time had PowerPC inside, and it was elegant technology, but as a serious challenger to Intel's domination of PC silicon space, the AIM venture has to be regarded as a magnificent failure. IBM lost interest in the PC sector, Motorola pursued other device markets and eventually was sold to Google, while Apple bailed from Power PC and adopted Intel CPUs in January, 2006.
However on Tuesday Apple and IBM announced an exclusive new global partnership that teams the market-leading strengths of each company respectively to transform enterprise mobility through joint development of a new class of business apps — bringing IBM's big data and analytics capabilities to Apple's paradigm-setting iPhone and iPad devices for enterprise users.
Image Courtesy Apple
The partners say their aim is to redefine the way work will get done, address key industry mobility challenges and a spark true mobile-led business change grounded in four core capabilities:
– A new class of more than 100 industry-specific enterprise solutions including native apps, developed exclusively from the ground up, for iPhone and iPad
– Unique IBM cloud services optimized for iOS, including device management, security, analytics and mobile integration
– A new AppleCare service and support offering tailored to the needs of the enterprise
– New packaged offerings from IBM for device activation, supply and management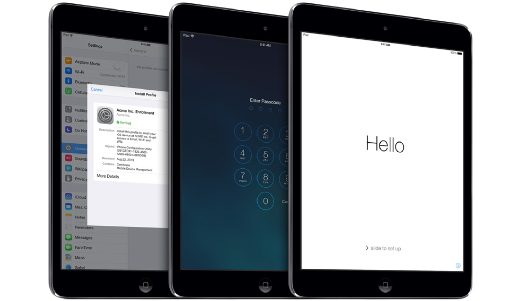 Image Courtesy Apple
The new IBM MobileFirst for iOS solutions are to be built in an exclusive collaboration with Apple that draws on the distinct strengths of each company. The objective is to fuse IBM's big data and analytics capabilities, with the power of more than 100,000 IBM industry and domain consultants and software developers behind it, with Apple's legendary consumer experience, hardware and software integration and developer platform. This complimentary synergy of talents will create apps designed to transform specific aspects of how businesses and employees work using iPhone and iPad, allowing companies to achieve new levels of efficiency, effectiveness and customer satisfaction — faster and easier than ever before.
As part of the exclusive IBM MobileFirst for iOS agreement, IBM will also sell iPhones and iPads with the industry-specific solutions to business clients worldwide. Close collaboration with IBM lends the iOS and Apple's iDevices a degree of business gravitas it doesn't posses on its own, while Apple brings expertise in giving end users what they want, even if they don't necessarily know they want it.
"iPhone and iPad are the best mobile devices in the world and have transformed the way people work with over 98 percent of the Fortune 500 and over 92 percent of the Global 500 using iOS devices in their business today," says Tim Cook, Apple's CEO. "For the first time ever we're putting IBM's renowned big data analytics at iOS users' fingertips, which opens up a large market opportunity for Apple. This is a radical step for enterprise and something that only Apple and IBM can deliver."

"Mobility — combined with the phenomena of data and cloud—is transforming business and our industry in historic ways, allowing people to re-imagine work, industries and professions," affirms Ginni Rometty, IBM Chairman, President and CEO. "This alliance with Apple will build on our momentum in bringing these innovations to our clients globally, and leverages IBM's leadership in analytics, cloud, software and services. We are delighted to be teaming with Apple, whose innovations have transformed our lives in ways we take for granted, but can't imagine living without. Our alliance will bring the same kind of transformation to the way people work, industries operate and companies perform."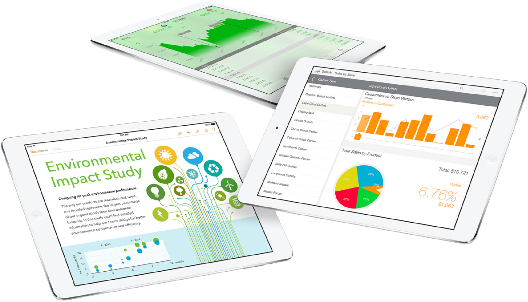 Image Courtesy Apple
Apple and IBM say their shared vision for this partnership is to put in the hands of business professionals everywhere the unique capabilities of iPads and iPhones with a company's knowledge, data, analytics and workflows. Specifically, the two companies are working together to deliver the essential elements of enterprise mobile solutions:
– Mobile solutions that transform business: The companies will collaborate to build IBM MobileFirst for iOS Solutions — a new class of "made-for-business apps" targeting specific industry issues or opportunities in retail, healthcare, banking, travel and transportation, telecommunications and insurance, among others, that will become available starting this fall and into 2015.
– Mobile platform: The IBM MobileFirst Platform for iOS will deliver the services required for an end-to-end enterprise capability, from analytics, workflow and cloud storage, to fleet-scale device management, security and integration. Enhanced mobile management includes a private app catalog, data and transaction security services, and productivity suite for all IBM MobileFirst for iOS solutions. In addition to on-premise software solutions, all of these services will be available on Bluemix — IBM's development platform on the IBM Cloud Marketplace.
– Mobile service and support: AppleCare for Enterprise will provide IT departments and end users with 24/7 assistance from Apple's award-winning customer support group, with on-site service delivered by IBM.
– Packaged service offerings: IBM is introducing IBM MobileFirst Supply and Management for device supply, activation and management services for iPhone and iPad, with leasing options.
Additionally, Apple's forthcoming iOS 8 is claimed to be the biggest release since the launch of the App Store, giving users raft of new features, and developers enhanced and expanded tools to create new apps. For enterprise, iOS 8 builds on the new IT model for a mobilized workforce by improving the way users are informed of how their devices are configured, managed or restricted, with expanded security, management and productivity features.
For more information regarding the new Apple and IBM solutions, please visit:
http://www.ibm.com/MobileFirstForiOS
or
http:/http://www.apple.com/ipad/business