Kingston Upon Thames, UK, based JFDP Labs have released Paper Camera 4.0.0 going from Paid to Free. And the app got even better. A quick, responsive and organic "papery" interface, new effects, new video importing mode (has to be seen absolutely), quicker video capture and much better saving and sharing capabilities. And all of that is just a small subset of many more features waiting to be discovered, best part is that this time you don't really have any excuses, it's all free.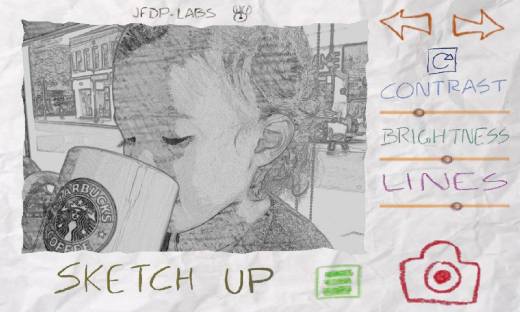 What if you could see your everyday life, your house, your street, your school, your family as a sketch up, a cartoon, a comic book? Paper Camera delivers instant gratification, amazes you, and it can do it anywhere, at anytime.
JFDP Labs have developed many photography apps and their main focus has always been to be on the cutting edge of mobile camera/photography technology. With Paper Camera, they are pushing those boundaries even further. All the processing is done in real-time on the camera video feed. Those filters/effects are so complex they would require few seconds to compute for a normal post-processing camera app. With Paper Camera you can actually see them in real time on the video feed.
Paper Camera includes 13 cool cartoon/comic filters to start with:
* Cartoon (manga style)
* Sketch up
* Acquarello (water color)
* Old Half tone
* Neon crayons
* Dirty pencil
* Colour Half tone
* Old comic book
* 20's Noir
* Granny's Paper
* Andy Pop
* Pen and Pencil
* Haystack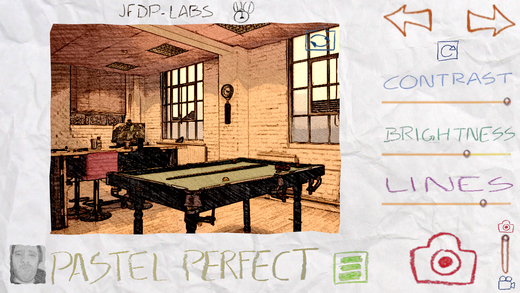 Future updates will bring in as many as 20+ filters. A simple, unique and stylish user interface will let you adjust, always in real time, filters/effects settings, tweaking your shots to perfection.
MInimum Device Requirements:
* iPhone 4 , 4th Gen iPod touch
* iPad 2
* Requires iOS 6.0 or later
* 15 MB
Paper Camera 4.0.0 is currently free with optional in-app purchases and available worldwide through the App Store in the Photography category.
JFDP Labs:
http://www.jfdplabs.com
Paper Camera 4.0.0:
http://www.jfdplabs.com/papercamera
Download from iTunes:
http://itunes.apple.com/app/id443802549
Facebook Profile:
http://www.facebook.com/pages/Paper-Camera/143162792424795