Amazon.com has introduced Kindle Unlimited — a new subscription service which allows customers to freely read as much as they want from over 600,000 Kindle books, and listen as much as they want to thousands of Audible audiobooks, all for only $9.99 a month. Finding a great book is easy, and there are never any due dates — just look for the Kindle Unlimited logo on eligible titles and click "Read for Free."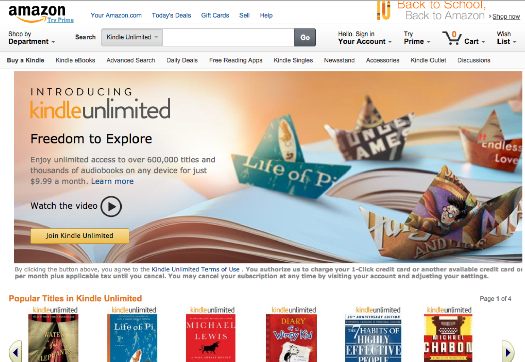 With thousands of professionally narrated audiobooks from Audible, like The Handmaid's Tale and Water for Elephants, the story can continue in the car or on the go. Kindle Unlimited subscribers also get the additional benefit of a complimentary three-month Audible membership, with access to the full selection of Audible titles. Kindle Unlimited is available starting immediately, and is accessible from Kindle devices or with Amazon's free Kindle reading apps at:
http://www.amazon.com/ku-freetrial
"With Kindle Unlimited, you won't have to think twice before you try a new author or genreóyou can just start reading and listening," says Russ Grandinetti, Senior Vice President, Kindle. "In addition to offering over 600,000 eBooks, Kindle Unlimited is also by far the most cost-effective way to enjoy audiobooks and eBooks together. With thousands of Whispersync for Voice-enabled audiobooks to choose from, you can easily switch between reading and listening to a book, allowing the story to continue even when your eyes are busy. We hope you take advantage of the 30-day free trial and try it for yourself."
Kindle Unlimited features include:
Unlimited reading: Access over 600,000 books
Unlimited listening: Keep the story going with unlimited access to more than 2,000 audiobooks from Audible with Whispersync for Voice, and switch seamlessly between reading and listening.
Kindle exclusives: Choose from hundreds of thousands of books only found on Kindle,
Short Reads: For a quick escape, select from thousands of books that are 100 pages or less.
Free three-month Audible membership: In addition to the thousands of professionally narrated audiobooks from Audible included in Kindle Unlimited, subscribers get a complimentary three-month Audible membership, with access to more than 150,000 titles.
Popular Kindle features: Enjoy all the great Kindle features customers love such as Whispersync, Popular Highlights, X-Ray, customer reviews, and Goodreads integration.
Read and listen everywhere: Access across Kindle devices and free Kindle reading apps for iPhone, iPad, Android tablets and phones, Windows Phone, BlackBerry, PC, Mac and Windows 8 — so you always have your library with you and never lose your place.
For more details on Kindle Unlimited, visit:
http://www.amazon.com/kindleunlimited