Web traffic analysis firm Chitika notes that an earlier UK-based smartphone usage study found that Apple, Samsung, and BlackBerry users generated more than 86% of that country's total smartphone Web traffic in June 2014. They note that the latest Web traffic statistics for North America demonstrate a more diversified market on a brand basis, but Apple and Samsung users remain the biggest smartphone traffic drivers by a sizable margin.
To provide a view into how North American smartphone usage breaks down by brand, Chitika Insights analyzed hundreds of millions of U.S. and Canadian smartphone-based online ad impressions generated within the Chitika Ad Network from July 1 through 28, 2014. The historical data were drawn from impressions observed from February 1 through 28, 2014. The results were then graphed alongside each other for comparative purposes.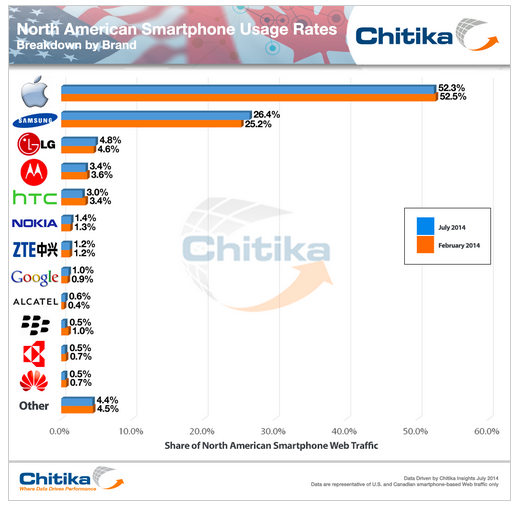 As a note, the slight differences between these device-specific statistics and the OS-specific figures observed back in May 2014 is due to the expanded "other" category in this most recent study, which includes some impressions where no discernable device identifier appeared.
Similar to hwat was observed within the UK marketplace, smartphone market volatility in the U.S. and Canada is relatively low from a brand perspective. Chitika says this should be expected, since North America represents one of the world's more mature smartphone ecosystems, with recent figures pointing to more than 66% and 55% of mobile users owning a smartphone in the U.S. and Canada, respectively. For some comparison, recent estimates point to smartphone penetration being close to 31% globally.
Along these lines, Chitika reports that Apple's iOS continues to drive the majority of U.S. and Canadian smartphone Web traffic, and it's unlikely that Apple will be ceding first-place position anytime soon. Even after posting a slight 0.2 percentage point loss since February, at 52.3%, Apple's share is nearly double that of second-place Samsung (26.4%). However, the Korean device maker did experience the largest share gain of any brand since February at 1.2 percentage points.
Other brands also demonstrating share gains include LG (+0.2%), Nokia (+0.1%), Google (+0.1%), and Alcatel (+0.2%). LG's rise is likely partially driven by the release of its new flagship device, the LG G3, sales of which began during the month of July. Alcatel also began selling its mid-range OneTouch Idol 2 device during the study timeframe, which may have helped boost its usage share.
The largest share losses were experienced by HTC (-0.4%) and BlackBerry (-0.5%). The dips for both brands highlight the issues HTC and BlackBerry have had retaining traction in the North American marketplace with their latest flagship handsets.
As the third quarter of 2014 continues, Chitika points to several emergent developments that may impact the North American smartphone usage environment. The biggest of these is undoubtedly the anticipated launch of one or two new iPhone models this fall, which are likely to produce a boost in Web traffic generated by iPhone users, particularly in the time directly following the release date.
Samsung is also expected to release two new smartphone models in the "near future," the most notable of which is the fourth generation of the brand's popular Galaxy Note series of phablets.
Moving away from the tier-one players, Microsoft and HTC have hinted at imminent debuts of new higher-end Windows phone devices, reception of which Chitika says should provide some good clues as to the degree of success Windows Phone will have in North America after surpassing BlackBerry earlier this year.
With this slate of upcoming releases, along with the recent launch of Amazon's Fire Phone, Chitika notes that there's a great deal of activity within the North American smartphone marketplace. On top of these developments, they say it's also worth watching discount and promotional activity by individual manufacturers and retail outlets, which have correlated with usage share increases in the past, and represent a way for brands to boost sales in between update cycles.
Full report:
http://bit.ly/1AQauVb