As the tablet PC market matures and growth slows, the dominance of market leaders Apple and Samsung is also weakening, according to the latest NPD DisplaySearch Monthly Tablet PC Panel Shipment & Value Chain Report, which says total tablet PC display shipments declined 10 percent between the first half (1H) of 2013 and 2014, while combined tablet PC display shipments to Apple and Samsung fell 34 percent.
And although the two companies comprised 42 percent of tablet PC panel shipments in the first half (1H) of 2013, their combined share dropped to 29 percent in 1H 2014, the report says.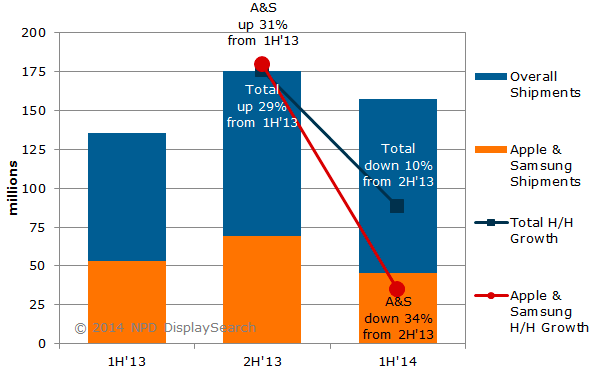 "As the tablet PC category matures, Apple and Samsung are facing new growth challenges,"says Brian Huh, NPD DisplaySearch senior analyst for small and medium displays. "The tablet PC leaders have been dealing with an increase in large-screen smartphone sales, a slowdown in the consumer replacement cycle, as well as greater competition from white-box brands and other low-cost tablet PCs."
Total tablet PC panel shipments to Apple reached just 31 million units in 1H 2014, representing a year-over-year decline of 14 percent. During that same period, panels shipped to Samsung fell to 14.7 million units, a year-over-year decline of 29 percent.
In the fourth quarter (Q4) of 2013, Apple launched its new high-end iPad series, with the 7.9-inch iPad mini Retina display and the 9.7-inch iPad air. Panel shipment levels were increased to satisfy new-product demand and year-end seasonality. However, since the beginning of this year, demand rapidly decreased, which forced LG Display, Samsung Display, Sharp, and AUO to ship fewer panels than previously planned.
Samsung also focused on the high-end tablet PC segment, led by the Galaxy Tab, Tab Pro, and Galaxy Note Pro devices; however, like Apple, panel shipment demand also decreased significantly in the first half of this year. Samsung released new products, including the 8.4-inch, 10.1-inch, and 12.2-inch WQXGA (2560×1600) panels, in Q1 2014; however, demand did not keep pace with previous market expectations.
Furthermore, mid-level tablet PC panel shipments for Samsung's 7-inch, 8-inch, and 10.1-inch WXGA (1280×800) products also declined, which caused JDI, Samsung Display and BOE to reduce tablet PC panel production in 2014.
For more information, visit: http://www.displaysearch.com, or visit the DisplaySearch blog at http://www.displaysearchblog.com or follow on Twitter at @DisplaySearch.