Appsicum's Files Finder App is designed for iPad users who miss the functionality of the OS X Finder and Windows' Explorer on their tablet. Files-Finder Edition App is a complete tool having rich features like finder and explorer and have complete media editing capabilities.
'Files-Finder Edition is a file manager and document viewer for iPad which emulates some of the features of both Finder and Explorer, including the interface and usability of Finder or Explorer in a complete file/media organization tool with document and Excel editing support.
Features:
* App has good old Finder-like interface with gesture controls and touchscreen optimization
*Supports almost all file types including Doc, Docx, RTF, TXT, PNG, JPEG, MP4, MOV, PDF, Web Pages, WAV, 3GP, Zip, and more
* Built-in file previewer for most of the file types.
* You can sync your files on cloud networks such as Google Drive, Dropbox and Sugarsync in the same interface.
* Edit Documents like Excel and other files using Google Drive right in to app.
* Create custom shortcuts for files you frequently use.
* Create filters and save as shortcut for easy access. Feature works as search folder in Microsoft Outlook.
* Functional Address/Breadcrumb bar for quick navigation.
* In-built browser with pre-loaded bookmarks and file download Manager.
* You can lock your important files and folders for security.
* Browser's search function is integrated with Twitter, Wikipedia and Dictionary along with Google. Type a word in the browser address bar and search directly on Google, Wiki, Dictionary and Twitter.
* You can search and filter your files based on:
-Tags
-File Types
-File Size
-Date
-Categories
* Sort files on multiple sorting parameters at once instead of sorting them on just name or size or other parameters.
* You can create voice notes with this file manager app.
* Download Manager is equipped with background File download support.
* Share Files Over Wifi with password protection mode enabled.
* You can categorize items like Microsoft Outlook.
* Gesture based copy/move/paste.
* Built-in Zip creation and extraction.
* Share files via email, Facebook, Twitter and many more.
* Air Print Support to print files over WiFI.
* Tags support for easy filtering.
* Desktop-like status bar.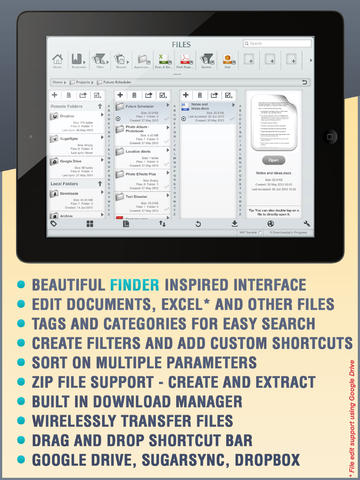 Notes:
1) The app has a higher Apple Store rating because it has a browser. The app doesn't offer any age restricted material and the rating in question is just to meet the Apple guidelines due to the app having a browser.
2) As per the Apple iOS Security Architecture, an app can not access the iPad's file system directly or media/files/docs that are stored in other apps. Thus Files – Finder Edition can't access files stored in other apps.
System Requirements:
– Requires iOS 5.0 or later.
– Compatible with iPad.
Files Finder Edition sells for $5.99
For more information, visit:
http://appsicum.com/
App Store:
https://itunes.apple.com/us/app/files-finder-edition/id733259837?mt=8