Razer Taipan Mouse For Gamers And Non-Gamers – The 'Book Mystique Review
If you're a serious gamer on either Mac or Windows PCs, a serious gaming mouse is a necessity for first-tier performance. However, even if like me you're not much of a gamer, there's still a strong case to be made for using a gaming mouse for other categories of computing, especially if you like cutting-edge precision, silky-smooth feel, and durability a cut or two above the median. A real gaming mouse will cost more, but as with Mac systems, a premium price is justified by premium performance quality, and durability.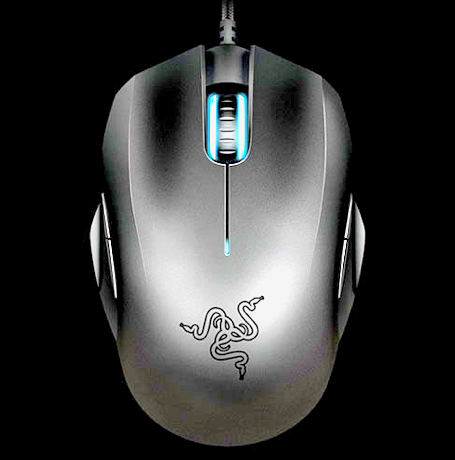 For the past couple of years, I've been using a Razer Orochi gaming mouse as a general-duty pointing device with my MacBook. I like the feel of its light touch but positive click buttons and the precision of its hard-wired USB connection resolution of 6,400 DPI 4G laser sensor (8 times greater than standard 800dpi optical sensors) and speedy tracking of up to 100 inches per second. That's way better than any wireless mouse, including the Orochi itself when in its alternate Bluetooth mode in which resolution drops to 2,000 DPI sensitivity.
I've always been a bit puzzled as to what the point is with wireless mice at desktop workstations. Sure, when going mobile with a laptop, wireless is a great convenience, and I use a wireless mouse to when I take one along, but in most home and office desktop environments, a corded connection is no hardship, at least if you have a USB hub to accommodate multiple device connections. And actually even that is a wash with non-– Bluetooth wireless mice like a Logitech unit I use and like.
And what a great cord these Razer mice have, easily the most elegant USB cables I've had with any computer peripherals. It's lightweight, seven feet long, extremely flexible and covered with a black braided fabric-like texture flexible fiber armor, and real gold plated USB connectors.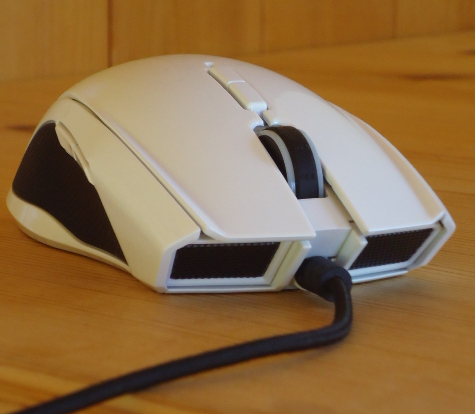 Anyway, I thought the Razer Orochi's 6400 dpi resolution was pretty impressive, until I checked out the new Razer Taipan gaming mouse this week. The Taipan drops the Bluetooth wireless capability, but combines all of the (corded mode) features of the Orochi and adding more.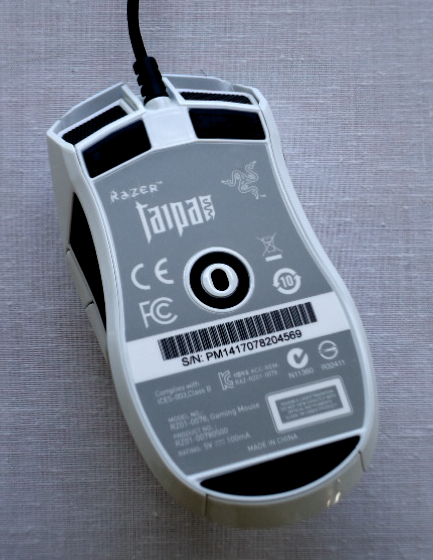 There are now dual 4G laser sensors enabling cursor positioning resolution up to an amazing 8200 dpi at up to 200 in./s and 50G acceleration, and adding app-mediated configuration and settings via Razer's Synapse2 driver, which resides in the cloud and usable on any Internet connected Windows (XP 32-bit through 8.1) or OS X Mac (10.7–10.9).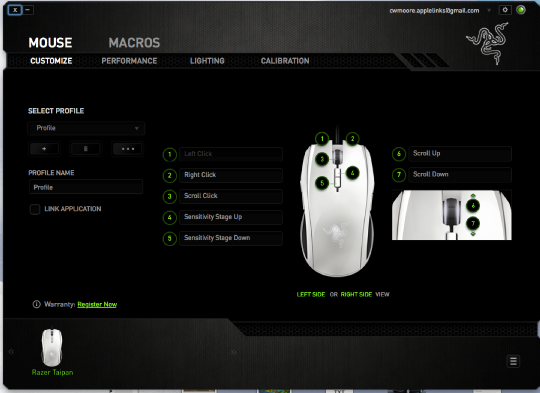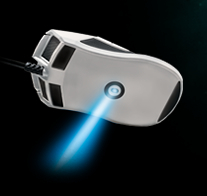 If you are a gamer, the Taipan can also be calibrated to your specific surface, By calibrating your Razer Taipan to a specific surface, enabling the sensor to record said surface's color, topography, and other properties. As variations on the surface are continuously detected as the mouse moves, it is compared to the original recording, allowing the sensor to react quicker and more accurately. Once the sensor has been calibrated to the surface, you can customize the height at which tracking is cut off when the mouse is lifted. This ensures on-screen cursor jitter is reduced; so your aim stays dead-on target even as you move. You can find out more about that at:
http://bit.ly/1qoNFiT
The Taipan is also outfitted with an on-board 32 bit ARM processor, essentially a little computer onboard that is computing everything at an incredibly fast rate making the mouse a virtual extension of your hand, whereby every movement you make, every function on the mouse you execute, is delivered instantaneously.
The taipan is bigger then the not especially small Orochi. That suits me fine, as I'm partial to large mice as long as the ergonomics are sound. Razer says the form factor has been developed taking to extensive feedback from professional gamers, who tend to be less tolerant of uncomfortable ergonomics then other categories of users. The taipan is an ambidextrous design, which should please so supply users, as well as right – handers who use a claw, palm, or fingertip grip. Another advantage of wired mouse connections is that the unit doesn't have to pack heavy batteries, so the Taipan is quite light despite its size, it's weight distribution has also been optimized,and it tracks smoothly and effortlessly. Vital Statistics are: Length 126 mm/5 inches x Width 65 mm/2.6 inches x Height 39 mm/1.5 inches, and weight 95 g/0.21 pounds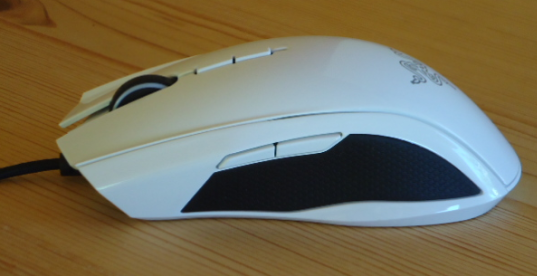 The side surfaces of the Taipan are sculpted and coated with a rubber – like material for positive thumb grip, even with sweaty hands. These black sides also look very sporty on the white tester Taipan, which is also available in basic black.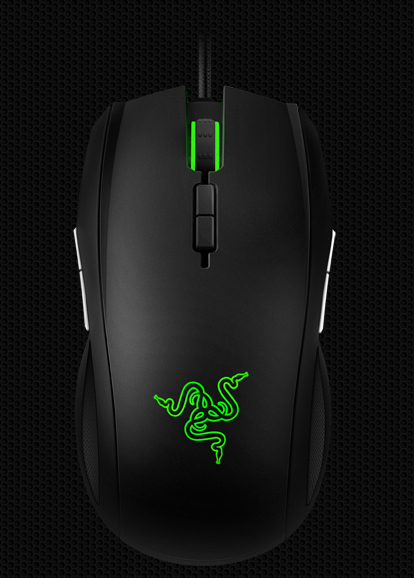 The Razer Taipan features bright white lighting on the mouse scroll wheel and Triple-Headed Snake logo. Compared with the black Orochi, my sense of aesthetics gives the white model thumbs up for looks.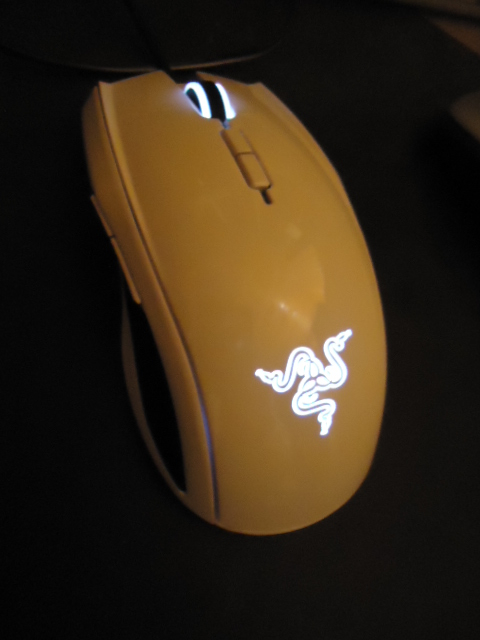 Another thing I like about the Taipan is that its scroll wheel has a lighter, smoother action then the Orochi's does. The Orochi's wheel isn't bad, but it's not exceptional either. I like light-effort controls. Razer says its scroll wheels can turn hundreds of millions of times in their lifespan, while retaining the exact same precision.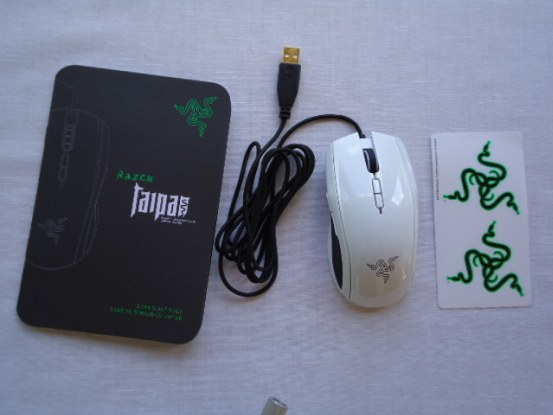 The Taipan has eight buttons plus a ninth button click function with the scroll wheel – – all programmable with the aforementioned synapse to software. Razer's says its mouse buttons are designed to be hair-trigger sensitive. This means as soon as you think it, your finger has already mouse clicked it. Utilizing highly durable Omron switches, there is a pronounced tactile feedback to your fingertips with each actuation, so you get the absolute assurance that you're winning with precision. – See more at:
http://bit.ly/1qoNFiT
The Razer Taipan Gaming Mouse sells for $79.99.
For more information, visit:
http://www.razerzone.com/gaming-mice/razer-taipan