The iPad's Real Competitive Challenger (Not Surface Pro Or Galaxy Tab Pro) – The 'Book Mystique
It's been my contention for some time that the iPad is suffering from something of an identity crisis, and I suspect that may be a factor in slackening sales this year. Apple can't seem to decide just what the iPad's mission and purpose are in this not-really-post-PC era. And if they can't figure that out, how can consumers be expected to?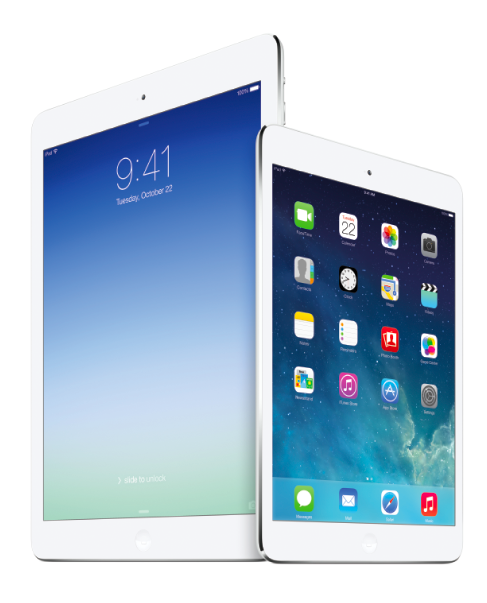 Photo Courtesy Apple
On the one hand, Apple is strongly pushing the iPad as an enterprise-friendly platform, especially since entering into a business software development/iOS device marketing alliance with IBM to develop business software for iOS and have IBMs sales army flog Apple iDevices to their enterprise clients. However, Apple has also doggedly refused to budge from its user-simplicity paradigm, stubbornly stonewalling calls from productivity-oriented users for address of the iPad's several shortcomings as a work tool, such as lack of multitasking, non-support of multiple open windows, no user access to the file directory, no support for mouse input (even Steve Jobs affirmed that pawing at a touchscreen with the iPad in vertical orientation was horrendous ergonomically), no multiple user account support, no standard data I/O port, no expansion card slot, you can't save as or print from PDF documents on an iPad, and theres no iPad counterpart to OS X's Preview app. to name a few, the absence of which frustrates users who try to do serious work on the iPad. Apple CEO Tim Cook may do 80 percent of his work on his iPad, but I'm guessing that in his case its mostly delegation and communication chores and not much in the way of content creation. And even he needs a Mac for that remaining 20 percent.
The iPad is an indisputably excellent content consumption device, but is it that much better than a large-screen smartphone, burgeoning popularity of which is also doubtless contributing to the iPad's sales decline, and likely will even more when Apple's own 5.5-inch iPhone phablet arrives later this year. The iPad mini will be particularly vulnerable to large(er) screen iPhone cannibalization.
Seeking Alpha blogger Bob Ciura maintains that the Apple/IBM deal could well be the iPad's saviour, and a foil against at least some iPad sales bleed to the large-screen iPhone and other phablets. He observes that Tim Cook made it clear on a conference call with analysts that enterprise penetration is one of his highest priorities, noting that IBM will create more than 100 business applications to be utilized specifically on the iPhone and iPad and run on Apple's iOS operating system. Of course, the latter means that some or most, maybe all of them will also support the iPhone 6, which would arguably leave the iPad mini still vulnerable.
My suggestion to Apple, if I may be so presumptuous, is to sweeten the iPad's appeal as a productivity device by giving us content creation oriented users what we've been asking for. As a reader noted last week, "Mouse stack, USB, SD Card, File System access, and multiple windows. All items appear very easy to accomplish. Would devastate the Surface, explode the business use even more and help ward off Android devices. Apple could continue with the basic iPad Air and introduce an iPad Pro model for example. Charge more for the fully equipped device; heck, they would probably even increase margins significantly on such a device."
So, why not? Would it not be possible to transcend minimalist simplicity, optionally of course, for those of us whose needs are more demanding in aid of making the iPad a bit more Mac-like? Unhappily, aside from some (plausible) scuttlebutt about iOS 8 possibly incorporating limited multi-windowing on the second-generation iPad Air, I've heard nothing else so far in leaks and rumors to suggest that anything else on the productivity wish-list cited above will be addressed in the coming next tranche of iPad/iOS upgrades, and it appears that the second-gen iPad Air will be pretty much just an update and speed bump with a faster A8 SoC, possibly more RAM, a fingerprint sensor, and a higher resolution rear-facing camera. Welcome tweaks all, but somewhat beside the point of what's troubling iPad sales dynamism, with revenue from iPads falling 8 percent in the last quarter, which is significant, because the iPad has been Apple's biggest money generator, second only to the iPhone, and its sudden decline was unanticipated.
And while I agree that IBM's collaborative efforts should be a big help, I continue to maintain that they need to be augmented by address of the aforementioned productivity bottlenecks and aggravations. By all means keep supplying the basic iPad to the consumer market, but please, Apple, do yourself a favor and give us production-oriented users the features we need in order to get our work done efficiently, features that that we would be willing to pay for within reason.
Which does bring us to the matter of cost. Starting at $499 and $399 respectively for the entry-level 16 GB WiFi models, the iPad Air and mini are definitely premium-priced. That's nothing new for Apple products. The quality of materials and construction is there, and Apple has never been interested in trolling the basement-level of the market. Some might point to unimpressive sales of Microsoft's Surface Pro tablet as an argument in defense of Apple's intransigence in equipping the iPad with desktop-style features and accoutrements. However, the Surface Pro is also a premium-priced machine, and has the handicap of the Windows operating system kneecapping it.
In one of his Monday Note columns last spring, former Apple exec Jean-Louis Gasseé contends that the iPad in its current guises is a tease, and that its meteoric initial rise elevated expectations it can't currently fulfill.
Part of the problem, says Mr. Gasseé, is a collision of priorities favored by different classes of users. Non tech-oriented content consumption types like the iPads simplistic minimalism: no multi-windowing, no (visible) file system, no cursor keys, no mouse or trackpad, even as add-ons — the very features that more power-user types long for. As Mr. Gasseé puts it: blissful simplicity exacts a high price. He notes that, for example, its essentially impossible (at least in practical terms) to create a real-life composite document, one that combines graphics, spreadsheet data, rich text from several sources and hyperlinks. For such tasks, the Rest of Us have to go back to our PCs and Macs.
If Apple wants the iPad to resume sales growth and get back to cannibalizing more of the PC market, it will have to compromise and remove walls, like (at risk of sounding like a stuck record, to coin an anachronistic analogy) making the devices file system, directories, and so forth visible and accessible for users who need directory level document control. Why hide these details from users? Mr. Gasseé asks. Why indeed?
For example, supporting a Bluetooth mouse driver would be no more hardship for simplicity devotees than current Bluetooth keyboard support is. Ditto for a multi-windowing option. If they don't like that stuff, they need not trouble themselves with it. Ditto for an SD Card slot providing some expansion headroom, and a real mini-USB port. Those who don't want them need not use them.
Or, an alternative would be to build a real iPad Pro with all the productivity bells and whistles, and continue selling the minimalist iPad to consumption types. Seems like a no-brainer to me.
Apple also needs to be mindful of stronger competition in the productivity tablet category. I'm not talking about the Surface Pro, whose price really makes it more a MacBook Air or even MacBook Pro competitor, than an iPad challenger.
Rather than Surface Pro or Samsung's Galaxy Tab Pro models, Seeking Alpha's Mark Hibben points to Lenovo's Thinkpad 10, which strongly contributed to Lenovo's a 67 percent year-over-year tablet sales gain at the same time iPad sales have been slumping. Unlike with the Core i powered Surface Pro, the ThinkPad 10 runs Intel's heavily subsidized Bay Trail Atom processor, allowing Lenovo to substantially undercut Apple in price.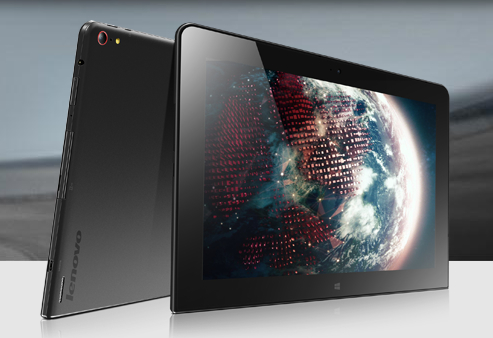 For example, the base ThinkPad 10 sells for $599.00 with 64 GB of storage, and an Intel Atom Z3795 Processor with 2GB system RAM, although at that price you only get a 32-bit version of Windows. For the same money Apple only gives you 32 GB of storage, and 1 GB of system RAM, although you do get 64 Bit support across the board.
Amazingly, go up another 20 bucks to $619, and you get 4GB system RAM, 128GB data storage, and a 64bit Windows 8.1 Bing OS. That's gotta be the best-spent $20 upgrade in the industry, and likely evidence of that Intel subsidy. The most system RAM Apple puts in any model iPad is 1 GB, and to get 128 GB storage, it's $799.00 for the WiFi version.
Those are U.S. prices. For Canadians like me, the price points and relationships are less enticing, pegged at Can$679 and Can$699, although it's still just a $20 difference between the two ThinkPad 10 models. The WiFi 128 GB iPad sells for Can$819 in Canada.
The ThinkPad 10 has an 8 megapixel rear-facing camera (to the iPad Air's 5 MP unit (although pixel resolution is not necessarily a certain indicator of picture quality). There are both Micro HDMI and standard USB 2.0 I/O ports, and a Micro SD card slot, none of which are available on the iPad; and Windows of course supports multi-windowing and user access to the file system. For good measure, Lenovo throws in a full year of Office 365 Personal when you purchase the ThinkPad 10 with Windows 8.1 with Bing OS, plus 60 minutes of Skype calling each month, and 20GB of free OneDrive cloud storage.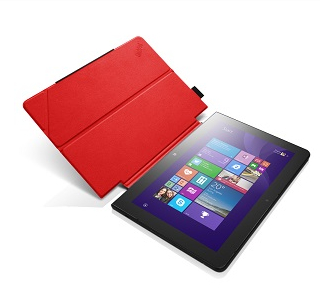 The ThinkPad 10 has a slightly larger but lower resolution 10.1-inch, 1920 x 1100 touchscreen than the iPad Air's 9.7-inch 2048 x 1536 res.Retina panel. The Lenovo tablet weighs 1.3 lb. to the Air's one pound even, and is 8.95 mm thick, compared with the iPad's slimmer 7.5 mm.
A true tablet and not a convertible laptop hybrid, the ThinkPad 10 is offered with an optional ($119.99) very cool, thin, mechanical Ultrabook Keyboard that connects to the tablet via a custom hinge which is a much more elegant solution than Apple's relatively clumsy and unintegrated optional Bluetooth external keyboard. Even cooler, IMHO, is the keyboard's built-in glass trackpad, and of course it supports a regular mouse or other pointing devices as well via USB.

There's also the very nice ThinkPad 10 Quickshot Cover with micro-fiber lining on the inside available to protect the device from scratches and dust. The cover converts into a stand for hands-free viewing, and has a unique camera flap can be folded down with the flick of a finger for rapid activation of the camera.
In summary, the Lenovo ThinkPad 10 has pretty much the feature set I would love to see made available on the iPad, and at a more reasonable price. And Google's 64 bit Android L is coming. In order for a Apple to claw back some of the dominant market share it once enjoyed, or indeed even to hold on to what it has now, in my estimation it needs to give iPad customers the features they want in a tablet. The new focus on enterprise and the IBM deal are a great start, bu need to be backed up with more task-tackling versatility, efficiency, and flexibility, especially for business and content creator users.
I love my iPad, but I would love its replacement even more offered more of what the Lenovo ThinkPad 10 does in both feature set and price.