Four Tablet Pillow/BeanBag Stands Compared – iProp, Lap Log, PadPillow, and PadPillow Lite The 'Book Mystique
If I could only have one accessory for my iPad, it would be a pillow-beanbag type stand — no hesitation. In my estimation having one of these stands, and preferably more than one depending upon where and how it's being used, is the key to getting the best use out of a touchscreen tablet.
In most respects, I would prefer to use a full-featured laptop with a real PC operating system than a tablet, except for the comfort and portability factor. I'm not a big fan of iPad keyboard cases or external keyboards. The physical keys may be excellent, but you're still stuck with having to reach awkwardly (and painfully) over it to manipulate the touchscreen, since Apple refuses to provide a Bluetooth mouse driver for those of us who prefer ergonomic and comfortable pointing device function. Steve Jobs was right about the body-English with using touchscreens in vertical orientation being abominable. Better to use a laptop if you're sitting at a table or desk.
On the other hand, when you want to relax in comfort for some laid back on-screen work or recreation, the tablet can,t be beat, especially if you have one of these stands, which turn the iPad into a comfortable literal laptop device for use with its on-screen virtual keyboard, for which a whole new world of options is now opening up with iOS 8 add-ons.
I have experience with four of these products — two by iPevo, and one each by Dockem and Bamboosa. I like them all. Not a dud in the bunch. Consequently, the purpose of this article is not to declare winners and losers, but rather to describe the products' respective characteristics that may appeal more or less for your particular use. The respective profiles appear in alphabetical order.
iProp Universal Tablet "Beanbag" Stand
Dockem's iProp Universal Tablet Stand in some respects resembles a beanbag, but isn't one, strictly speaking, since Instead of dried beans, its fabric mesh enclosure is stuffed with a second fabric bag containing silicon microbeads. The outer fabric cover is a mesh-woven synthetic — probably nylon or polyester, which should prove sufficiently rugged over the long term.
.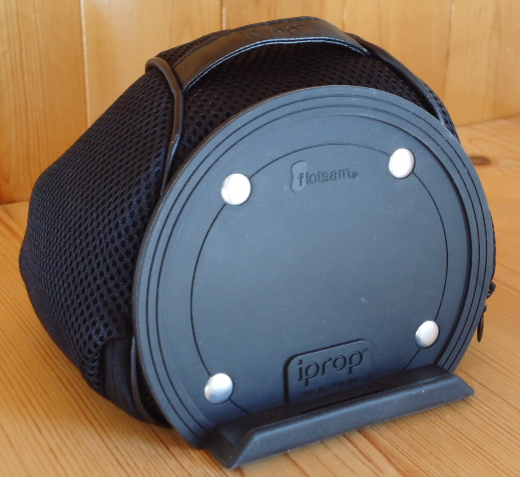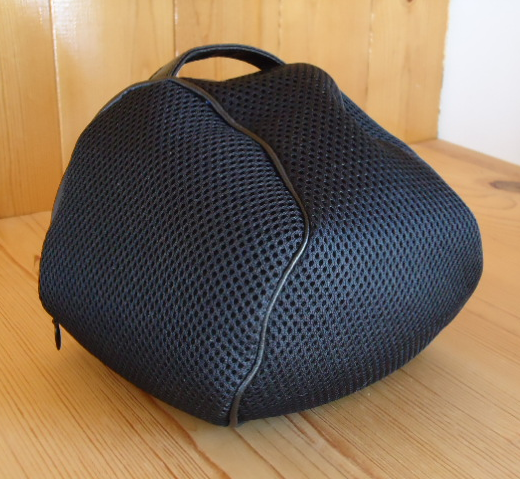 The a zipper closure inner compartment that holds the silicon microbead beanbag support material also can serve as a limited storage/carriage compartment for your charge cable, earbuds, or other small items, and Dockem even suggests that the iProp can pinch-hit as a travel pillow. For its primary intended use, the FORM-COMPLIANT silicon microbead support allows almost infinite angle configurations.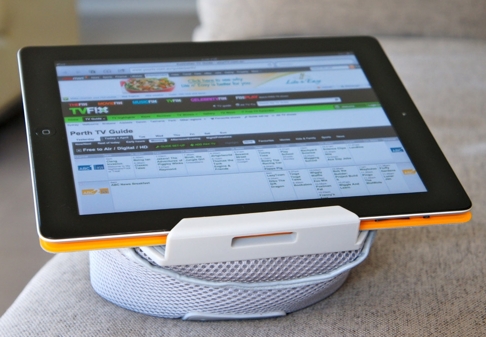 The iProp is particularly ideal as a quick and easy solution for holding your iPad while using it almost anywhere around your house or office. It works well on hard flat surfaces, but really excels as a hands-free stand to support the tablet when you're in bed, on a sofa, or on your lap when seated. For that matter, it's so light and compact that it's not much of a hardship to tote with you when mobile to use in laptop mode on transit trains or buses, in coffee shops or in waiting rooms, as well as on airline seat back trays.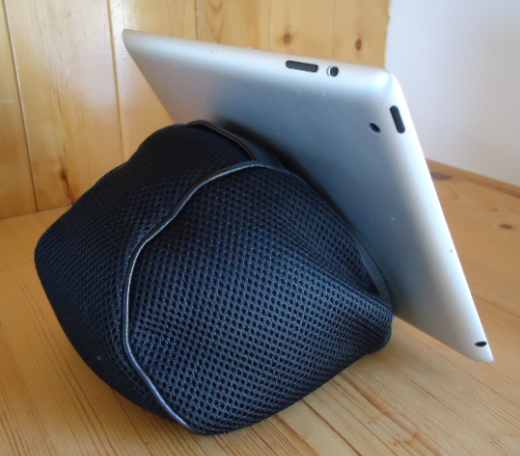 The silicon microbead "beanbag" instantly contours to adopt the shape of whatever surface it rests on, and the high-traction silicone device shelf is in practice a lot more secure a mounting than it appears to be until you've actually used it. I have an iPad 2, but deductively it should be even better and more stable holding an iPad Air, iPad mini, or other smaller tablet.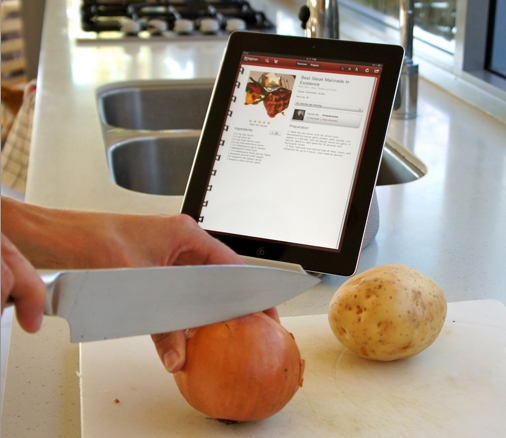 One characteristic distinguishing iProp from conventional beanbags, and from in this particular context the Lap Log — is weight. Those silicon microbeads are really light, and the entire unit (sans iPad) weighs less than half a pound. It's so light in fact that I wondered if it would actually be able to support an iPad satisfactorily on any surface, but it proved fine in practice in either landscape or portrait orientation.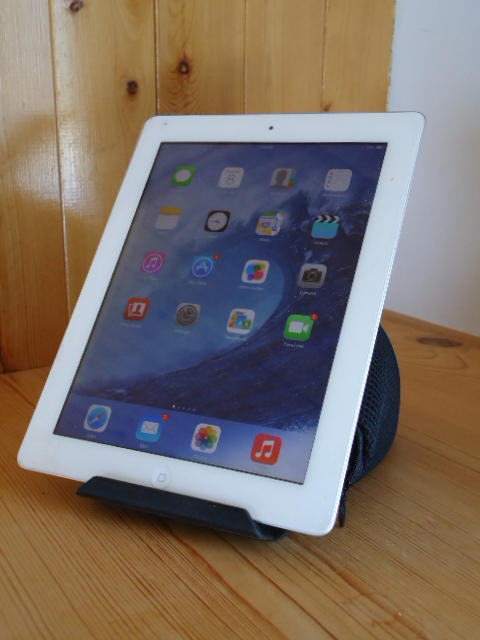 The front of the iProp features semirigid silicon "rubber" faceplate stiffener panel with the aforementioned molded-in support shelf for the tablet, which is fastened to the enclosure bag's front surface by four snaps so it can easily be removed when the machine-washable enclosure bag is laundered. The soft-textured silicon is easy on the iPad's finish, and has lots of traction to hold the tablet in place.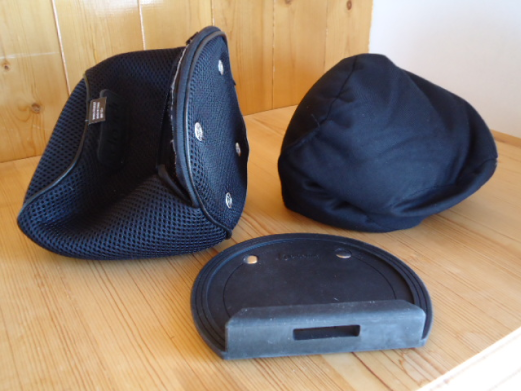 Since the entire snap-on support shelf is molded in one piece from grippy silicon rubber material, the latter contacts the bottom and back of the tablet everywhere they touch over and area that is likely about the same as the contact patch one of your car's tires makes with the road. There is also a small silicon rubber patch sewn to the rear bottom surface of the unit which adds more traction, especially when it's resting on hard services, to keep the assembly from slipping around when you access the touchscreen.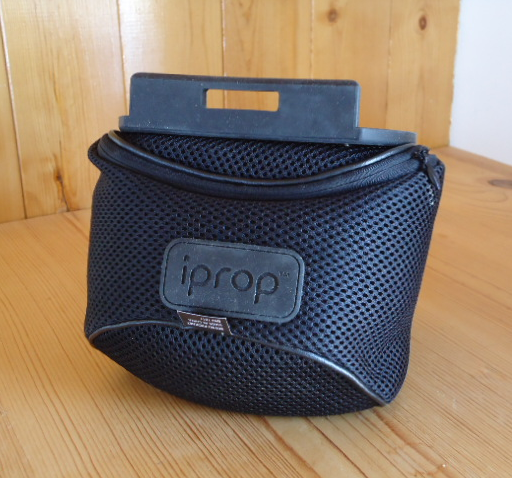 Another handy feature is a simple fabric loop handle sewn into the iPod's top side for easy lifting and carrying the stand (which you can do with one finger comfortably). That's one iProp feature I particularly miss on the other three stands profiled here.
The support shelf is wide enough that it should be able to accommodate the iPad without having to remove it from most portfolio-type iPad cases. Or if it's still too thick when the cover is folded back and double, try flipping the case's front closure flap up and back over the top of the iProp stand. This "in case mode" has the added advantage of extra protection for the iPad if you drift off while using it on your lap or in bed, and dump it onto the floor. My iPad 2 has suffered that indignity twice (caseless both times alas), and survived with only one tiny scratch on the aluminum enclosure that you really have to be looking for to notice.
The iProp has the narrowest form factor of the four stands. It supports my iPad 2 with no problem, and can handle devices up to 17mm thick, which will be ample for any iPad model we've seen as yet. The compact size does make me skeptical about its suitability as an actual pillow substitute, though. It's available in either black or gray.
The only thing I've found to negatively criticize is that the enclosure bag's zipper is a bit stiff to operate, with its not very generously sized pull tab both small and slippery to grip. Perhaps the zipper's action will free up with more use.
At $29.95 from Dockem (free USA shipping) or $25 from Amazon, the iProp is priced competitively.
For more information, visit:
http://www.dockem.com/
Product Page:
http://www.dockem.com/iProp-Bean-Bag-iPad-Stand-p/20010.htm
Lap Log Pillow Stand For Tablets And E-Readers
Bamboosa's Lap Log brings serious eco-friendliness to the table, being made of entirely natural materials with washable GOTS Certified 100 percent organic cotton twill fabric enclosure stuffed with naturally-grown buckwheat hulls, and a very attractive solid hardwood device support tray insert made of salvaged stock and coated with a non-toxic, natural stain. No plastic or polystyrene are used in the entirely U.S. made Lap Log's construction. It's even delivered in 100% recycled shipping materials (think paper tissue — not shrinkwrap!)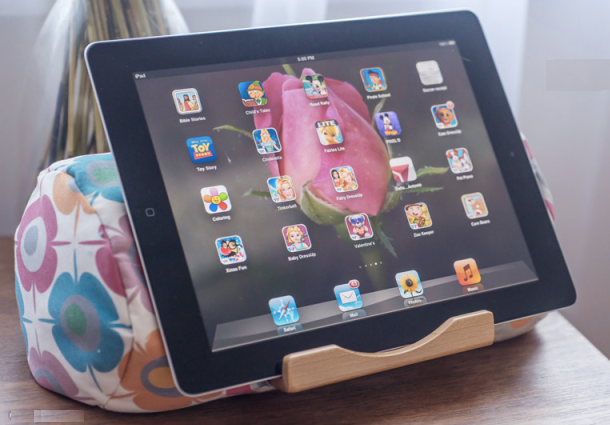 The buckwheat hull filling material is significantly heavier than either foam or microspheres, making the Lap Log weigh a bit north of a pound, or slightly more than an iPad Air, but that has the advantage of making the LapLog feel as stable and secure as, well — a log — on virtually any support surface. It is also infinitely adjustable for any angle from bolt-upright vertical to flat horizontal, and adaptable to a wide range of support surfaces.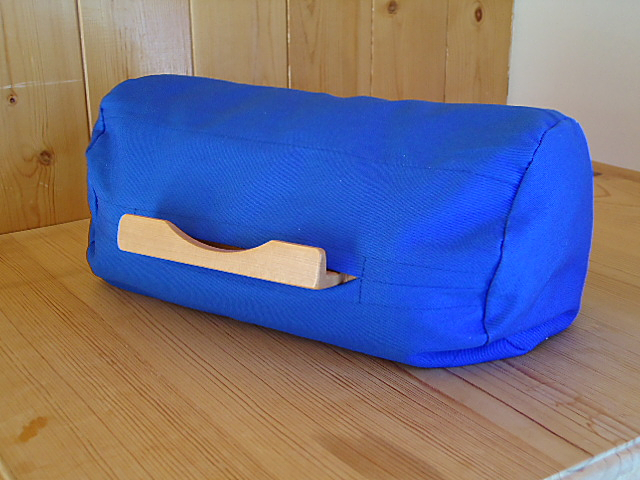 As with the other three products, the Lap Log's filler material (and the fine furniture finish wooden support insert) can be removed from the enclosure for laundering — in this instance machine-washed with mild soap, cold water, and tumbled dry. A hidden zipper allows you to remove the buckwheat hulls in order to wash the cover, and the wooden support shelf is easily disengaged from its no-fasteners anchor pocket.
Cited as avantages of the buckwheat hulls aside from being organic, are that they are biodegradable, and promote "breathing," thus staying cooler on your lap. Bamboosa claims the hulls deteriorate only slightly over time, an extra hulls are provided with each Lap Log to be used as needed. Moreover, Bamboosa contends that they'll heavier weight as opposed to synthetics is an advantage because it makes the Lap Log both more malleable and better at holding its adapted shape. You can add or remove hulls to adjust Lap Log flexibility.
Two different widths of the wooden device support tray insert are optionally available (@ $8.00), and easily switched, allowing accommodation of almost any tablet or e-reader device in landscape or portrait orientation. The standard (narrower) device tray insert works works with devices up to 1/2-inch thick, which accounts for roughly 90% of the market, and very nicely accommodates my iPad 2. The optional wider insert handles devices up to 1-inch thick, such as laptop/tablet convertible hybrid machines in detached tablet mode or a thinner device in a thickish case. The standard insert handles the iPad 2 in the cases I customarily use with it.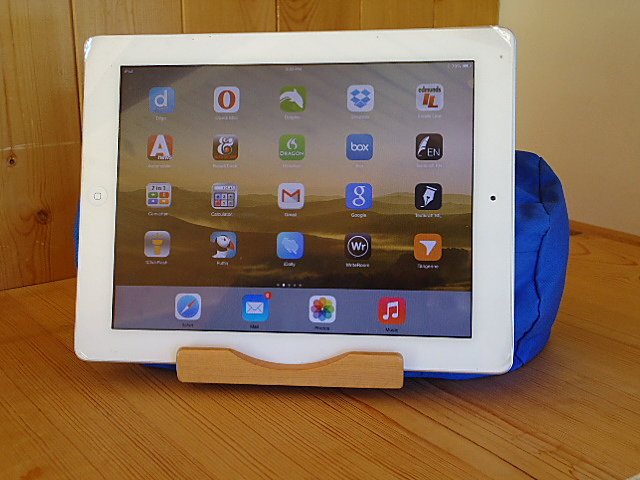 The Lap Log is more expensive than either the PadPillow or the iProp, but Bamboosa argues polystyrene is cheap, while organically grown buckwheat hulls are not. Nor is organically grown cotton as cheap as polyester or fine–finished hardwood as inexpensive as molded plastic, or for that matter manufacturing in the US compared to in China or other locations in east Asia.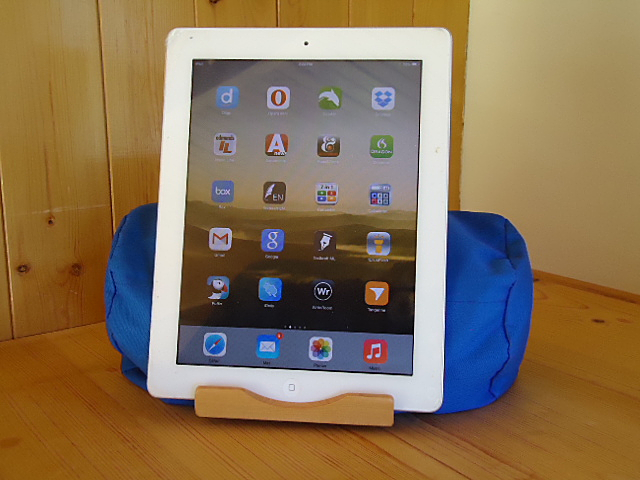 Lap Log Classic is available in solid colors Tomato Red, Avocado Green, Basic Black, Chilipepper Red, Hibiscus Pink, Deepwater Blue, Plum Wine, Stone Khaki, Nutmeg Brown, and Ocean Grey, and sells for $39.00.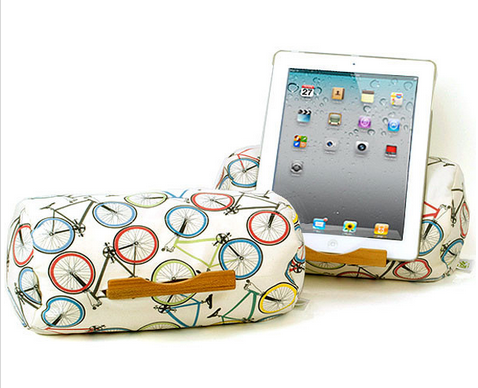 A variety of print patterns are also available, all designed, printed and sewn at Bamboosa, including one collection with the names Eco Garden, Bamboo Song, Candy Roll, Dog Park, Honey Comb, and Orchid Bloom; and another aimed at younger users including Paisley Peace, Cycle Trek, Uncork It, Blue Wave, Chevron Seven, and Bubble Up For a $44.00 each.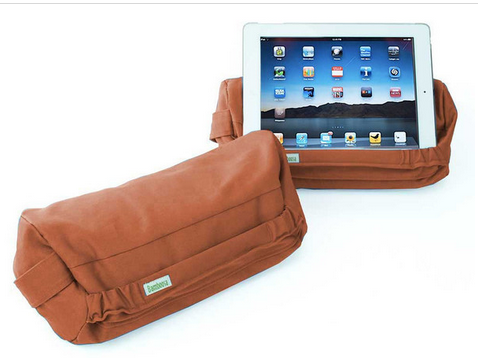 The Lap Log ECO is a more economical version of the Lap Log Classic but retains all of the latter's eco-friendly features. Available Lap Log Eco solid colors include Espresso Black, Honey Gold, Lagoon Blue, Sweet Potato, and Khaki Tan at $29.00 each.
For more information, visit:
http://www.thelaplog.com/
PadPillow Comfortable Tablet Stand By iPevo
The oldest design among our four products, PadPillow is a disarmingly simple concept in theory and a brilliant one in practise. It provides comfortable hands-free support when lounging in bed, relaxing on the couch, or wherever.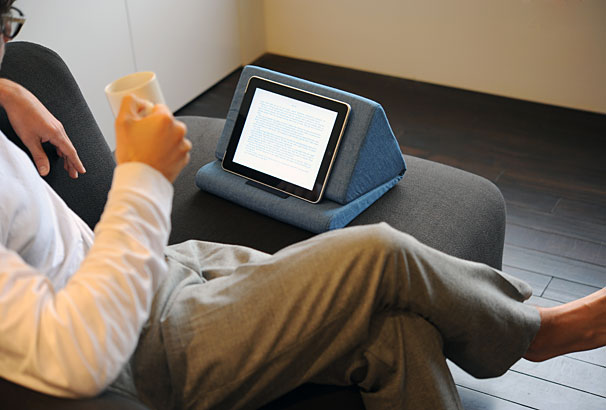 While the PadPillow doesn't conform as closely to your body contours as its beanbag type competitors, it's so feather-light that it's still very comfortable, and has the advantage of lifting the iPad higher than the others if that's your preference. It works in either landscape or portrait mode at an optimal viewing angle for lap-typing on-screen. You can also fold PadPillow out to make room for a full Bluetooth keyboard with wrist support if you prefer to use that method of input instead of the iPad's on-screen keyboard. It's the only one of the four that really works well on your lap with an external keyboard.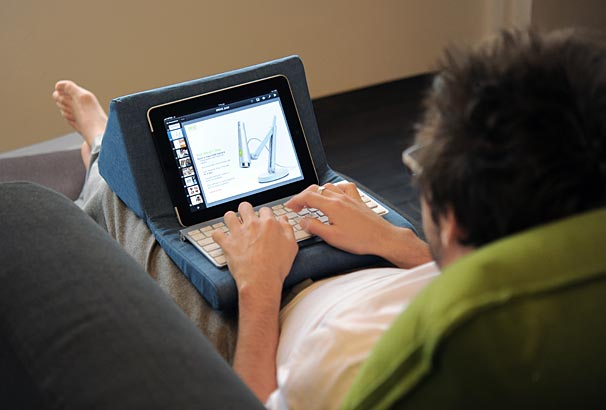 The PadPillow is made in two triangular sections connected with a soft hinge. Its shape is formed by high-density foam blocks, with an outer cover of 100 percent cotton in "Steve's Blue Jeans" (stonewashed blue denim), charcoal gray, light khaki, honeysuckle, or orange fabric, removable for laundering when it gets soiled (which it inevitably does, a reality that might factor into practical-minded users' color choice)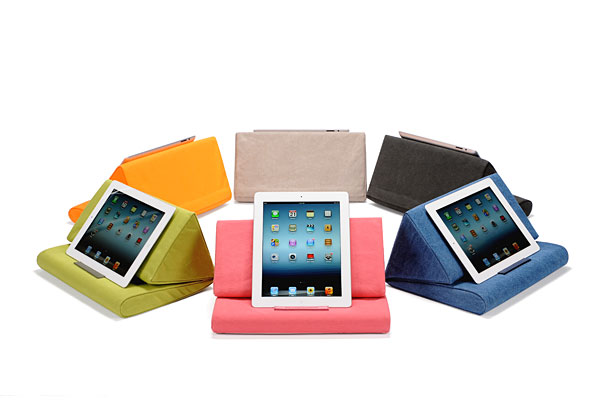 About that; getting the foam out of the cover through a single zipper-closure aperture hidden under a flap at the back is much easier said than done, and reinserting them after the cover is washed and dried even more so. It's doable, but take your time to avoid damaging any if the PadPillow's three component elements.

Folding the PadPillow's sections together forms a "more compact pillow support (although it's still quite a bit physically larger than the iProp, Lap Log, or PadPillow Lite)– great for your lap, the couch arm, or the chair next to you. In this position, a raised leather label acts as a simple stopper to hold the iPad upright. That works better than it may sound, although it' not as secure as iProp and Lap Log's deeper silicone and hardwood channels. I haven't had any real problems in two years of use.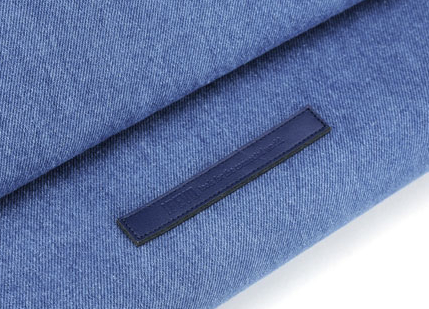 With most folio-type iPad cases, you don't need to remove the tablet from the case in order to mount it on the PadPillow. Just flip the folio's front cover flap up and over the PadPillow's triangular peak.
If you fold the sections out to the extended position, it works well on the floor (at least if you're young enough to be into floor computing), when sitting in a lounge-style chair, or lying in bed. Resting the PadPillow and iPad on your legs allows you to you control the viewing angle with the bend of your knees.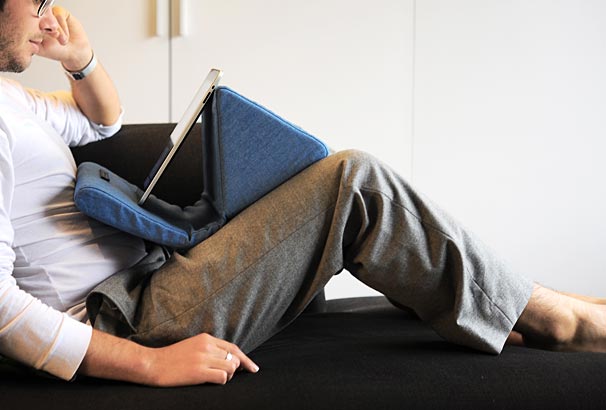 Folding the PadPillow's sections together forms a more compact pillow support, great for on your lap, a sofa arm, or the chair next to you. In this position, a raised leather label acts as a simple stopper for the iPad. One of my few criticisms of the PadPillow, however, is that there should a Velcro strip or a snap fastener or somesuch to secure the PadPillow in its folded configuration, and a carry handle loop of nylon webbing or some such for one-handed carriage would be great, as well.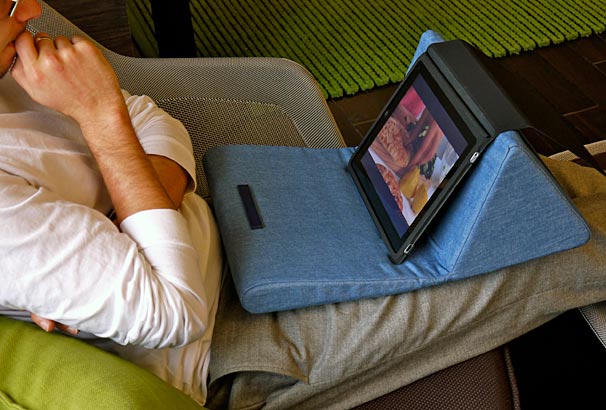 Those criticisms notwithstanding, iPevo PadPillow is a well-designed product that I continue to use regularly. It combines the virtues of elegant functionality, simplicity and a reasonable price which has dropped from the original $34.95 to $26.50.
iPevo:
http://www.iPevo.com
PadPillow:
http://www.ipevo.com/prods/IPEVO_PadPillow_Pillow_Stand_for_iPad
Amazon PadPillow:
http://amzn.to/1fCwXaZ
Facebook Profile:
https://www.facebook.com/iPevous
Twitter Profile:
https://twitter.com/iPevo
PadPillow Lite iPad Stand
The PadPillow Lite Stand is a second variant of iPevo's PadPillow comfortable iPad stand. The full-sized PadPillow has received more than 230 5-star reviews on the Amazon online retail store. With good reason.
However, the PadPillow is just a tad bulky and imposing for some users, and while it's very light, it's simply too big (and the Lap Log is too heavy) for most of us to want to to pack along on the road, notwithstanding that iPevo suggests using it for its literal namesake function during travel. There's also the matter of later iPads becoming physically smaller, and the slew of other-brand 7-inch and 8-inch range tablet computers out there, plus now the iPhone 6 Plus 5.5-inch phablet.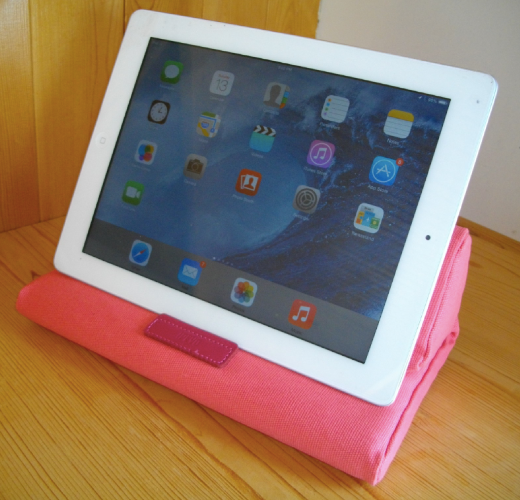 Hence PadPillow Lite — similar in design and function to the original PadPillow, but downsized to a degree that makes it reasonably easy to stow in a computer backpack or messenger bag. Nevertheless, iPevo maintains that the Lite model still works fine supporting older generation full-sized iPad. I've found that it does with my iPad 2, although it is inevitably a bit "tippier," especially in portrait orientation.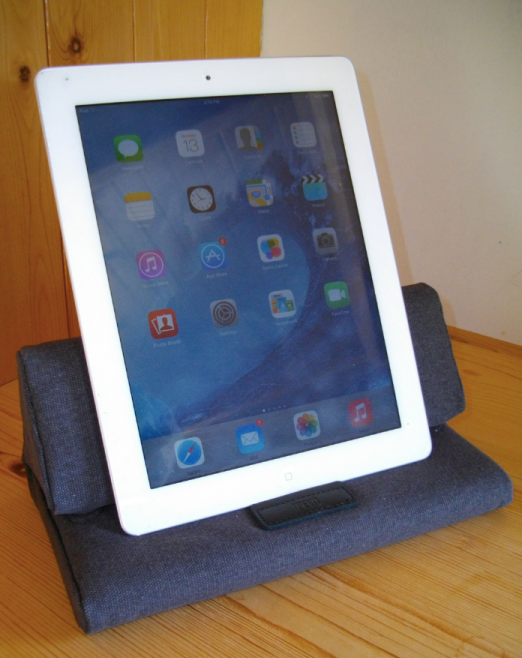 The PadPillow Lite is thus particularly well-suited to the iPad Air, iPad mini, iPhone 6 Plus, and many varieties of sub nine-inch Android tablet computers and ebook readers.
Like the full-size model, PadPillow Lite is made from a high-density foam with a removable 100% cotton fabric cover, in this instance available in two colors only: Honeysuckle Pink and Charcoal Gray (the latter the best PadPillow color choice of all to camouflage accreted grubbiness between washings).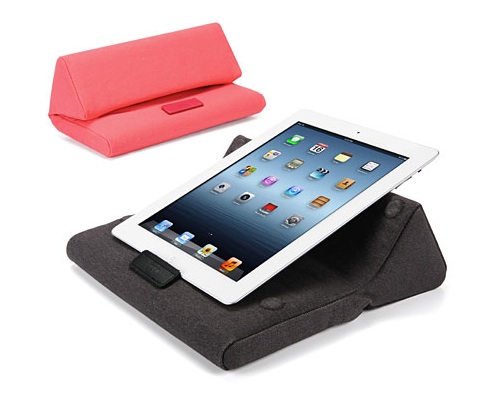 Also like its larger sibling, PadPillow Lite may be used in two different configurations, depending on application, body position and preference. Folded together, the stand provides a steeper viewing angle for the device, but the stand can also be laid flat out for a lower viewing angle. In the folded together position, and with the smaller model, two embedded magnets sewn into the cover fabric to secure the unit in the closed (upright) configuration, which is a major feature improvement over the full size PadPillow I have. The magnets are visible in the open mode photo below.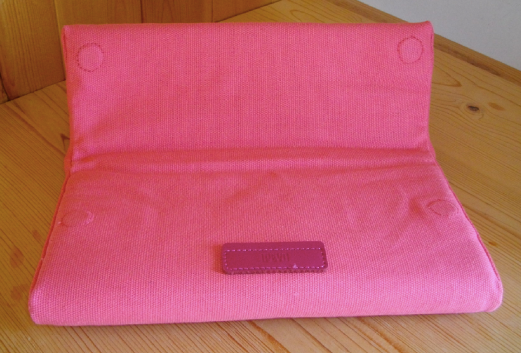 With a customizable viewing angle and two configurations, the PadPillow can alleviate the back, neck, and arm fatigue that often comes with using a tablet or e-reader without proper support. In the extended configuration, PadPillow also provides space for a Bluetooth keyboard for emailing and more.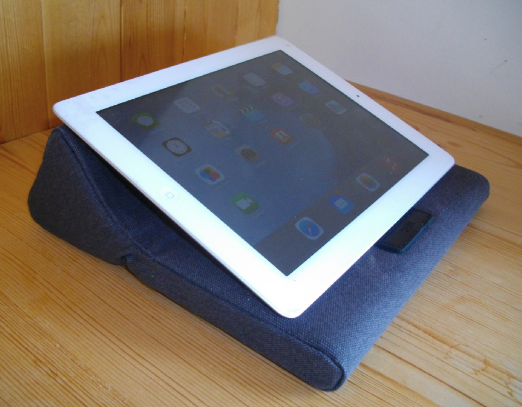 Also, while the PadPillow's fabric cover can be removed from the internal foam shape and padding modules for laundering when it gets soiled (which it does; a reality that might factor into practical-minded users' color choice), getting the foam out of the cover through a single zipper-closure aperture hidden under a flap at the back through which the inner foam can be removed is much easier said than done, and reinserting them after the cover is washed and dried even more so. It's doable, but take your time to avoid damaging any if the PadPillow's three component elements.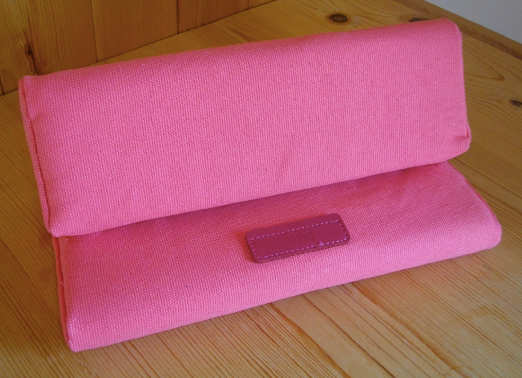 At 5.9 ounces (168g), PadPillow Lite is less than half as heavy as the original PadPillow (which is already very light at less than a pound). The Lite version measures 9.8″ x 4.3″ x 9.2″ (25 x 11 x 23.5cm), significantly more compact than the full-size PadPillow's dimensions of 7.7″x 9.5″x 12.8″. As such, iPevo emphasizes PadPillow Lite's travel-readiness and its featherlight weight. For example, the lite version is more suitable for in-car use.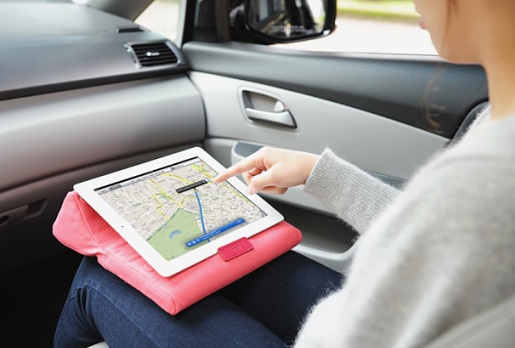 PadPillow Lite sells for a very reasonable $16.95 (the full size PadPillow is $26.50).
I'm giving PadPillow Lite an enthusiastic 5 out of 5 rating.
iPevo:
http://www.iPevo.com
Amazon PadPillow Lite:
http://www.amazon.com/Ipevo-PadPillow-Pillow-7-Inch-Tablets/dp/B009N8M2P6
Amazon PadPillow:
http://amzn.to/1fCwXaZ
Facebook Profile:
https://www.facebook.com/iPevous
Twitter Profile:
https://twitter.com/iPevo
Summary Thoughts
Beginning with the PadPillow more than two years ago, these stands have revolutionized my iPad use. I've been doing more and more composition on the iPad, to a considerable degree thanks to their literally making the difference between comfort and discomfort for lap typing. One of the iPad's marquee advantages is its unencumbered portability, and one of the reasons I bought one was in order to use it for more relaxed composition and editing activity than is possible when sitting at my office workstation. The PadPillow, iProp, Lap Log, and PadPillow Lite have helped me realize that objective, substantially enhancing the tablet's practical usability, while adding very little extra complexity.
As I said at the outset, the purpose of this comparison profile is not to declare winners and losers. In my estimation all four of these stands are winners, and they're inexpensive enough that having more than one for different tasks where they respectively shine is affordable. Personally. I lean to the Lap Log and PadPillow for using around the house or office, the iProp for use in bed or reclining on a sofa, and the PadPillow Lite for taking along on the road and as a good general purpose choice for any use, especially if you have a smaller device.