Pixelmator Brings Powerful Image Editing And Creation Tools To iPad
Pixelmator has for the past seven years offered a nimbler, prettier, and more economical alternative to Adobe's Photoshop and Photoshop Elements for the Mac. Founded in 2007 by two brothers, Saulius and Aidas Dailide, The Pixelmator Team was honored with an Apple Design Award for Pixelmator, recognizing its outstanding achievement, excellence, and innovation in Mac app design. Along with that Pixelmator is the sole and extremely proud winner of the App of the Year award, as part of Apple's Best of Mac App Store 2011 selection.
Now the UK-based Pixelmator Team has announced release of Pixelmator for iPad, an image editor that comes loaded with powerful creative tools for painting, retouching, color adjustments, effects and more. Designed from scratch for iPad, and engineered to harness the full power of Apple's A7 and A8X 64-bit SoC architecture, Pixelmator puts fast and powerful image editing tools at your fingertips available from the App Store for a modest $4.99.
"We are super excited to introduce a powerful, fast, yet very easy-to-use image editor that has everything you need to create, edit, and enhance images on iPad. It looks amazing, and it's a real iOS 8 app," says Saulius Dailide of the Pixelmator Team. "We think everyone, creators at home and professional image editors, will find Pixelmator for iPad incredibly useful, capable and fun."
Pixelmator for iPad brings full-featured painting tools, brushes and painting engine to the iOS. You can choose from a range of brushes, from realistic to stylized,of all sizes and shapes to subtly enhance photos, sketch, draw, paint, spray, color, and more. Every stroke you paint on canvas blends in and responds naturally, thanks to a built in state-of-the-art painting engine.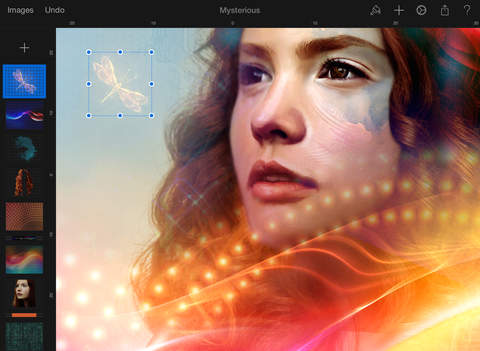 Featuring a range of color adjustment tools, Pixelmator enables precise or artistic color corrections. Use one of the single-tap color sets to give your work a quick enhancement or a more creative look. Or play around with advanced controls like levels, brightness and contrast, color balance, curves, white balance and more. Live histograms provide real-time color values so you know exactly what you're doing. And Pixelmator's color adjustment technology combines all adjustments non-destructively, so you can apply as many color adjustments as you want without losing image quality.
Pixelmator comes with a set of top-quality retouching tools. With the innovative repair tool, you can quickly and easily get rid of unwanted image elements simply by painting on them or, with just a simple tap, fix red eyes, brush away blemishes, smudge to smooth out hard lines, paint to boost the colors, bring in some light and more. Advanced technologies used in the retouching tools make them fast and accurate.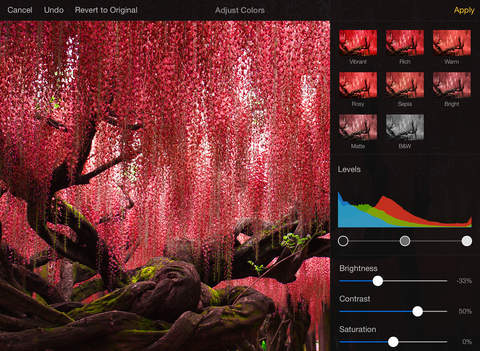 Loaded with dozens of special effects, Pixelmator for iPad gives more ways to enhance pictures. Add effects like blur, vignette, vintage, black & white, light leak, bokeh, miniaturize and many more – instantly. You can even combine different effects for artistic creation and see the results in real time.
Pixelmator for iPad features advanced image editing tools, like layers, non-destructive layer styles and a collection of professional-grade selection tools, too, so you can quickly and easily combine several pictures into one, remove image's background, apply a frame, get rid of distracting objects, rotate and scale, straighten slightly crooked pictures, copy elements from one picture to another, create photo manipulations and more.
Additional Pixelmator for iPad features include pixel-accurate layout tools, shape tools, a type tool, dozens of templates, an image gallery to store and access images and full iCloud support so you can access your images on any device. Fully integrated iOS 8 features and technologies, like iCloud Drive, Handoff, Document Picker and Photo Editing extension, support to apply Pixelmator effects without even leaving the Photos app, and many others. Pixelmator is compatible with most popular file formats, like PNG, JPEG and Photoshop images with layers.
The developers say Pixelmator has been meticulously thought through and created from the ground up for iOS 8 and iPad. Designed to take advantage of iOS 8 features and technologies and engineered to leverage the full power of 64-bit architecture, ARC, Grand Central Dispatch, OpenGL ES, Core Image and Core Animation, delivering state-of-the-art performance and responsiveness.
Features:
Creative tools
Get started with dozens of beautifully designed templates
Enrich photos with an effect, a frame, or create gorgeous collages
Add a word, phrase, or caption
Make the text look beautiful with advanced typography features
Easily add, create, combine, and edit shapes
Effortlessly apply shadows, fills, and strokes
Powerful and full-featured painting tools
Paint with Pixelmator as you would on canvas
Choose from realistic to stylized brushes of all sizes and shapes
Use different brush sizes and adjust the stroke opacity
Professional-grade color correction tools
Dramatically improve less-than-perfect images with a single tap or swipe
Choose from eight different color correction presets
Adjust levels, curves, brightness, contrast, and much more
Remove color cast and set the right white balance
Designed with friendly interface features for intuitive ease of use
Retouching tools
Make flaws vanish from your photos, remove or re-arrange objects in a composition
Blur, sharpen, lighten, or darken specific areas
Get rid of the red eye effect with just one click
Distort or transform to subtly improve or give images a completely unexpected look
Combine different tools and effects for an endless number of ways to refine your images
Note: The Repair tool is available on iPad 4, or later
A real effects machine
Loaded with dozens of breathtaking effects you can play with
Give your pictures a stunning, retro-artistically illuminated look with Light Leaks
Take full control over the image colors with Hue and Saturation
Create charming and authentic-looking pictures of days gone by with Vintage effect
Liven up your photos with some sparkling Bokeh lights
Convert images into perfectly toned black and white
Use more gorgeous effects for more amazing pictures
Combine different effects for unique, near-effortless artistic creations
Advanced image editing with layers and selections
Pixelmator is a complete layer-based editor
Quickly and easily select any part of an image
Edit and apply special effects to portions of your pictures
Select and remove unwanted elements
Cut and place objects from one image to another
Layer Styles
Instantly customize the look of your images, text, and shapes right when you create them
Easily add non-destructive layer styles like shadows, outlines, color, gradient fills, and much more
Change the layer style at whim until you get the look youre after
Compatibility
Open and save images using PSD, JPEG, PNG, PDF, and many other popular formats
Open and save Photoshop images with layers
Send your images directly to the Photos app
Store and access images in iCloud Drive to open with other apps
iCloud and Sharing
Let iCloud automatically store your edited images and seamlessly take your work to all your devices
You can completely skip the manual saving of your documents thanks to Auto Save
Email your photos right from Pixelmator
Publish your images to social applications like Flickr, Twitter, and Facebook
Device Requirements:
* Compatible with iPad
* Requires iOS 8.0 or later
* 120 MB
Pixelmator 1.0 is $4.99 USD (or equivalent amount in other currencies) and available worldwide exclusively through the App Store in the Photo & Video category.
Pixelmator for iPad 1.0:
http://www.pixelmator.com/
Purchase and Download:
https://itunes.apple.com/app/pixelmator/id924695435