Two iPad Physical Bluetooth Keyboard Solutions: Logitech K-480 vs. Brydge – The 'Book Mystique Review
A couple of weeks ago I wrote here about how I've been using a Logitech K-480 multidevice Bluetooth keyboard with my iPad 2 and iPad Air 2 recently as an alternative to typing on the built-in virtual keyboard on the touchscreen. And it's been going well.
Using a physical keyboard does make an iPad feel more like a MacBook. For one thing, you get to keep the entire screen depth, or at least most of it, dependent on app toolbars and such, devoted to viewing content rather than having the virtual keyboard occupying more than half of it. This is particularly appreciated in landscape mode, which I use almost exclusively with my iPads.
You also get more keyboard shortcuts, which is also a welcome attribute. Downsides include extra complication, weight, bulk, and expense, and Apple's stubborn refusal to support Bluetooth mice with the iOS soon shatters the "mini MacBook" illusion. On the other hand, reaching across the keyboard to connect with the touchscreen becomes less awkward with practice (although it's never NOT awkward. The iPad needs mouse support.
The. Logitech K-480 is of course just one of a vast selection of physical keyboard solutions for the iPad, ranging from using a full-sized standard Bluetooth desktop keyboard or one of the several more compact Bluetooth 'boards available, including several specifically designed for use with iPads. Add an iPad desktop stand, and you're in business with an iPad based mini desktop system.
Then there are iPad keyboard cases, which convert the handheld tablet device into a sort of MacBook lite that folds to close like a clamshell laptop. The Brydge series of iPad keyboards take the metaphor a bit further, by making the iPad itself serve as the upper (display) limb of a clamshell composite, with the Brydge Bluetooth keyboard module serving as the lower limb.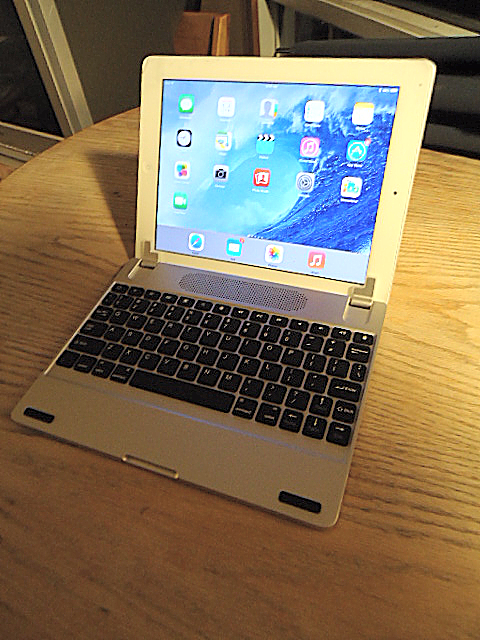 The Logitech K-480, on the other hand, is also a Bluetooth iPad keyboard unit that looks like the lower limb of a laptop PC, but makes no attempt to be a folding assembly mini-MacBook, instead providing only a simple slot into which the tablet is inserted to hold it hands-free in a somewhat vertical orientation.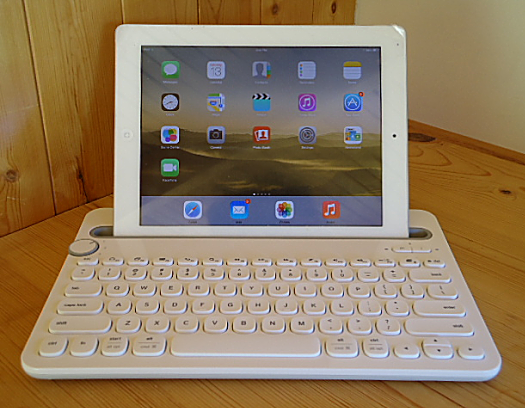 Aside from that distinction, the Brydge and the K-480 are roughly similar in purpose and function as solutions for adding a physical keyboard to the iPad, but still part company in various ways they approach that task. Here's how they stack up,against each other.
Form Factor
As noted above the Brydge and K-480 serve a similar general function, but with different emphases. The K-480 is the more utilitarian of the two, providing a full-sized physical keyboard with standard laptop-style key mapping and spacing. This, along with the iPad slot, makes it both deeper and wider in dimensions than the iPad. The support slot will accommodate any of the 9.7-inch iPad models, and for that matter the iPad mini or even an iPhone, although with the smaller devices, you may lose a sliver of screen space in landscape orientation.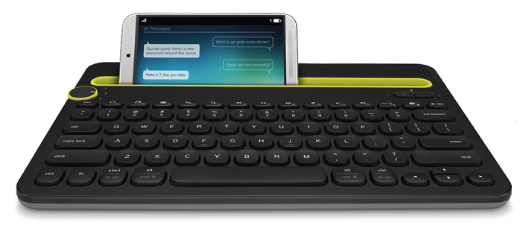 The Brydge, of necessity, has to match the footprint of the iPad exactly, so the keyboard is undersized, which may prove a challenge for some touch typists. I, not being a touch typist, find the smaller keys and closer spacing no problem, although I do prefer the more expansive K-480's full-size scale.
Brydge – 3
K-480 – 4
Appearance
Related to form factor is appearance.The Logitech K-480 in white or black is attractive enough in a utilitarian functional way, but makes no effort to look like anything but what it is — a physical keyboard with an integral iPad stand. Its marquee feature is its multi-device switchability, which is very cool if you want to use it with more than one device.
Indeed, you can use the K480 as a common input device for not just Apple devices, but for Windows, Mac, or Chrome OS computers, and iOS, Android, or Windows tablets and/or smartphones, storing up to three respective device setups with the 'board's "Easy-Switch" dial. I use the K-480 mainly with my iPad Air 2 and iPad, but also used it as my workaday keyboard with the MacBook Air for a couple of months, and I can keep all three devices paired with the keyboard, switching among them with a flick of the three-position dial.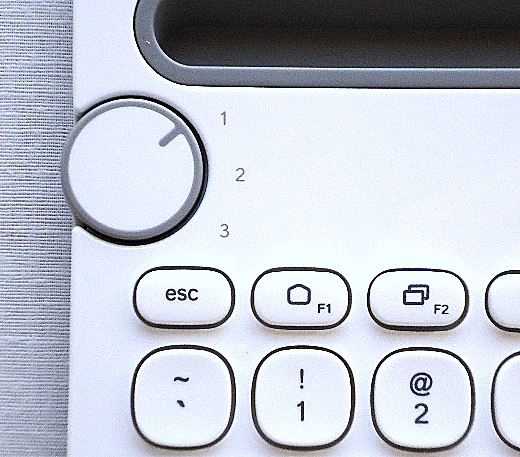 The Brydge, on the other hand, looks like something Apple might've built. It's available in a range of models to fit any of the 9.7-inch iPads from the iPad 2 on up, including Space Gray and Gold variants for the iPad Air and Air 2. An iPad mini version is rumored to be coming, although it would be interesting to see what sized keys that would have. Its designers have the MacBook look and feel nailed, and the the combination of Brydge keyboard unit and iPad indeed looks like nothing so much as a mini-MacBook. It even puts the iPad to sleep when you close the clamshell.
Brydge – 5
K-480 – 3
Keyboard
As for these devices' main mission, as I noted above, the Brydge has a smaller than standard sized keyboard, while the K-480 gives you full-size keys, but differences go well beyond that.
The Brydge's keyboard mapping largely follows standard Apple keyboard practice for the QWERTY, numeric, and modifier keys, but there is a row of machine control and multimedia keys at the top in lieu of where laptops typically have a function key row. Personally, I would prefer programmable F-keys, but I have to remember that this is a iOS device keyboard. Less forgivable is that there is no forward delete key — something the K-480 happily has.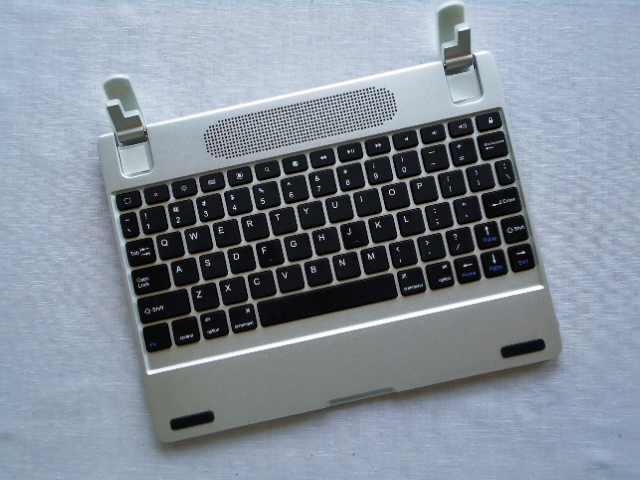 The Brydge's keys look lovely, and they're also backlit on the iPad Air models, so it was a disappointment to discover that their action doesn't have a great feel in my estimation. The key attributes, if you will, that I look for in keyboard action are light, smooth, and soft. The Brydge's is short travel enough, but significantly higher-effort than I prefer, and with harsher, more "over-center" tactile feedback than I find comfortable. I have chronic polyneuritis, and obliged to be really picky about keyboard action. I have to report that I find that using the Brydge keyboard aggravates the nerve pain in my hands and wrists. I expect that many people will find the Brydge's key action just fine, but for some frame of reference, it's not nearly as good as my MacBook, or indeed any Apple laptop I've used in the past 20 years in terms of feel and comfort.
The K480's key action, while not up to the standard of, say, my Logitech K750 Solar Wireless Keyboard, is still better-than-average, with a light, smooth touch. Indeed, I find it so comfortable that I can use it for hours with my MacBook Air at my office workstation without aggravating nerve pain. The keys are a bit noisier then on most Logitech boards, but it's a "clicky" sound that some people profess to like anyway. Some keys, such as CTRL – send a different command depending on whether you're using Windows/Chrome/Android versus OS X/iOS, so the keyboard gives you the same familiar experience whichever operating system you're using. The F1 through F4 keys will work with your smartphone or tablet for shortcuts such as the Home or Back keys. Double-marked keys effect some key behavior changes depending on the connected device.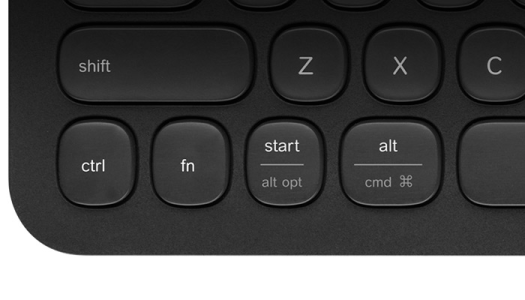 Gray key labels indicate functions available on Apple devices running OS X or iOS. White labels on gray circles identify symbols reserved for use with ALT GR on Windows computers.
Because the K480 supports such a wide variety of devices and operating systems, its keymapping has a few oddities and compromises, however, I found it follows mostly Mac or iOS conventions depending on what's currently connected, and was quite easy to get accustomed too. Split-labeled modifier keys display two sets of labels on either side separated by split lines. The label above the split line identifies the modifier sent to Windows, Android, or Chrome devices. The label below the split line identifies the modifier sent to an Apple Macintosh, iPhone, or iPad. The keyboard automatically uses modifiers associated with the currently selected device.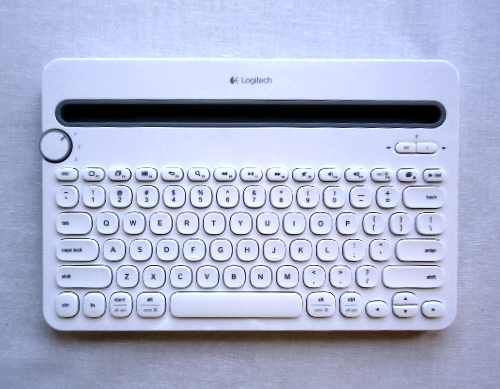 All other keys perform the same action on all devices and operating systems.
Brydge – 3
K-480 – 5
Bluetooth
Being Bluetooth wireless devices, both the Brydge and the K-480 require device pairing.
To pair the Brydge, you slide the power switch on. The blue status light should illuminate for several seconds, and then turn off. On the iPad select Settings > General > Bluetooth > On. Press the "Ctrl" and "K" keys on the Brydge at the same time to make it the keyboard discoverable. The iPad should now display "Brydge Keyboard" as an available device. Select "Brydge Keyboard" on the iPad, which should then display a unique code. Type this code using the keyboard and press enter. The keyboard is now paired to the iPad. If the keyboard is inactive for a few minutes the keyboard Bluetooth will automatically go into sleep mode turning the Bluetooth signal off. The Keyboard Bluetooth will automatically wake up after a key is pressed.
Pairing the K-480 is much less complex and fiddly. There are separate dedicated Bluetooth Connect buttons for Windows/Android/Chrome and OS X/iOS respectively. On an iPad, select Settings > General > Bluetooth > On; then press the appropriate connect button to pair with Bluetooth wireless devices. Flashing blue status lights indicate the state of Bluetooth wireless connection. Select "Logitech K-480" on the iPad, and you should be good to go. No tedious codes to type in.
Brydge – 3
K-480 – 5
Power
The Brydge keyboard has an internal, rechargeable lithium ion battery, and comes with a mini USB cable for charging. The keyboard has to be charged before using. Just plug the mini USB cable into a USB port on a computer or a charge device. The LED in the on off switch (located conveniently on the nearside inch of the computer housing's right side) will glow red until the device is fully charged, then go out. The switch glows blue momentarily when you switch it on, and when the battery needs recharging.
The K480 uses two standard AAA cells for power — another sensible Logitech decision. The battery compartment is located on the back of unit and is easily accessed. Strangely, the keyboard's on/off switch is are also on the back, which is more than a little inconvenient because at least until you've got the hang of doing it blind, you have to lift the entire keyboard and turn it over just to switch the unit on or off. Also on the bottom is a battery condition indicator LED that glows momentarily when you switch the K480 is obscured unless the keyboard is upside-down. A lapse in usually elegant Logitech design.
Brydge – 4
K-480 – 3
Price
There's no way around it, the Brydge is seriously expensive, especially the iPad Air and Air 2 models. Given the clever design, evident high quality of materials (100% aluminum, forged Apple-style out of a single slab of high-grade metal) and standard of workmanship, the Brydge offers good value for users who want to convert their iPad into a mini-laptop, but if you're mainly looking for external keyboard function, it's pretty pricy. The aluminum iPad 2/3/4 model sells for $129.99, although there is a base version in polycarbonate instead of aluminum for $$99.99. The iPad Air 2 Gold unit is $189.00, and the Silver/Space Gray versions $169.00.
Note: Our Brydge test unit was a $149.99 Brydge+ with Bluetooth speaker for iPad 2-3-4, which has now apparently been discontinued, although the otherwise identical  Brydge+ Speakerless for iPad 2-3-4 is still available at this writing.
Logitech products, with their usually technically excellent design, quality, and function, are not generally noted for being price leaders, but the Bluetooth Multi–Device Keyboard K-480, to use its full formal name, has a suggested real retail price of a very reasonable $49.99, making it the bargain in this comparo by a wide margin.
Brydge – 2
K-480 – 5
Total Numeric Scores:
Brydge – 20
K-480 – 25
The K-480 thus comes out on top, at least based on my particular priority criteria. If I'd found the Brydge's key action more comfortable, the scores would have been closer.  Your mileage may vary. Ultimately, a choice between the Brydge and Logitech K-480 iPad keyboards will boil down to which respective attributes appeal most strongly to you..
For more Brydge information, visit:
http://www.brydgekeyboards.com/
iPad 2-3-4 models
http://www.brydgekeyboards.com/collections/ipad-2-3-4
iPad Air models:
http://www.brydgekeyboards.com/collections/ipad-air
For more information on the K-480, visit:
http://www.logitech.com/news/K480
Eco-friendly Natural Bamboo And Wood Accessories For Smartphones And Tablets Now Shipping
Impecca have announced that they are now shipping their new Impecca bamboo and wood smartphone and tablet accessories: the Impecca Bamboo Bluetooth Keyboard for tablets, smartphones, iPhones, Androids, and Bluetooth compatible devices — and natural Impecca Bamboo and Wood Cases for iPhone 6, iPad Air and iPad mini.
These newest additions to Impecca's elegant, environmentally sustainable, "green" line of bamboo and wood accessories, are clained to be the first bamboo device/computer products available in the market. Impecca Bluetooth Bamboo Keyboard and Bamboo and Wood iPhone and iPad cases are created for eco-conscious consumers who like the look and feel of natural wood. Inlaid with bamboo and other woods, these accessories will be welcomed by anyone who appreciates a natural looking work environment.
Impecca Bamboo Keyboard Features Hot Keys – Provides Ergonomic Comfort while Typing Natural Wood iPhone/iPad Cases Protect in Style
The Bamboo Bluetooth Keyboard is designed with comfort in mind, with a fixed bamboo panel on the bottom rear of the module that automatically positions it at the raked angle many users prefer (albeit less ergonomically correct than flat, strictly speaking Ed.). The keyboard has a standard QWERTY layout with an assortment of additional special hot keys, and is compatible with iPads, Android tablets, netbooks and other Bluetooth-enabled mobile devices. The natural wood Impecca cases for iPhone 6, iPad Air and iPad mini come in 3 styles offering protection for your device in products beautifully made of bamboo, maple, rosewood, ebony and other woods.
Impecca Bluetooth Bamboo Keyboard Features:
• Lightweight wood-themed keyboard.
• Available in natural bamboo, with 4 color options on the trim.
• "Green themed" product – environmentally friendly.
• Wireless through long-range Bluetooth up to 35 feet (10 meters).
• Bamboo covered with solid construction.
• Long lasting battery – automatically goes into sleep mode when not in use.
• Compatible with all Bluetooth devices, including Android, Surface, Kindle, Nexus, iPad, Android tablets, smartphones and other Bluetooth-enabled mobile devices.
• Designed for ergonomic comfort.
Impecca iPhone 6 & iPad Wood Cases Features:
• Made of natural wood.
• Custom designed for iPhone 6, iPad Air and iPad mini.
• Available in 3 styles and colors:
– Shades of Green: made of bamboo.
– Natural Harmony: made of maple and multi-mix wood.
– Forest Symphony: made of rosewood, maple, and ebony woods.
• Provides top-of-the-line protection for your device.
• Showcases the latest technology without sacrificing on the simplicity and beauty of modern design.
The Impecca Bluetooth Bamboo Keyboard is priced at $79 MSRP, the Impecca Wood Case for iPhone 6 is $49.99, and Impecca Wood Case for iPad Air and iPad mini are $59.99 each, available immediately at Staples, Kohls.com, http://www.impecca.com, and other major retailers.
System Requirements:
The keyboard is compatible with Android and iOS systems, including Surface, Kindle, Nexus, iPad, Android tablets, iPhones, and other Bluetooth-enabled mobile devices. The cases are compatible with iPhone 6, iPad Air and iPad mini.
The accessories complement Impecca's other bamboo offerings, including Impecca Bamboo iPod Cases, Bamboo Calculators, and Bamboo Speakers. For more information, see:
http://www.impecca.com
Available at Staples & Kohls.com
http://www.thomas-pr.com/impecca/impeccabambookeyboardiphoneipadrelease.html