Tablets: Why Microsoft's Surface Is Soaring While Apple's iPad Languishes – The 'Book Mystique
In contrast to Apple's record fiscal third quarter reported this week, Microsoft had a miserable latest quarter with its revenues falling by 5.1 percent, hammered by ongoing weak PC demand, and posting its biggest quarterly loss ever ($3.2 billion) attributable to a major ($7.5 billion) writedown plus a restructuring charge of $780 million related to the disastrous Nokia mobile phone business acquisition last year.
However, there is one product sector where Microsoft is flourishing and Apple stagnating (at best) — tablets. Redmond's Surface tablet PCs are enjoying robust (to put it mildly) sales growth, while Apple's iPads have been in negative growth since Q1 2014 (see chart here). In contrast, Microsoft reported a 117 percent growth for Surface revenue over the last quarter, representing $888 million in revenue.
Photo Courtesy Microsoft
Over at Apple, InformationWeek's Eric Zeman notes that Apple shipped 10.9 million iPads during the quarter, representing an 18 percent drop in units shipped and a 23 percent drop in revenue, and a massive decline from the 26.4 million iPads it shipped the first quarter of 2014, since which Apple's tablet sales have seen nothing but steady year-over-year declines each quarter.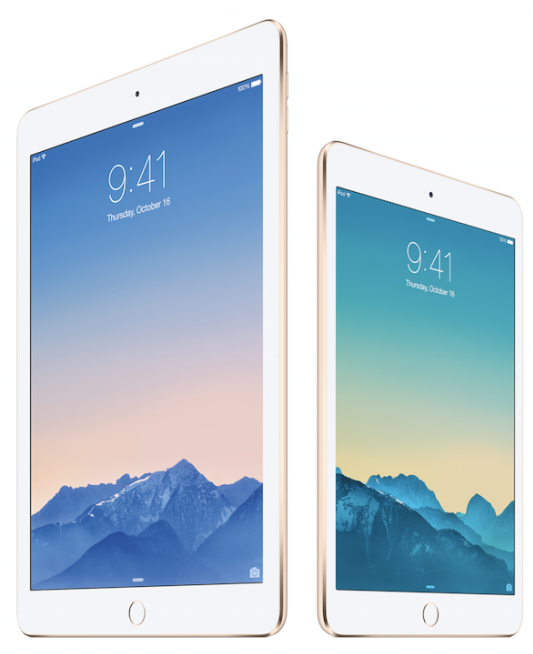 Photo Courtesy Apple
iPad unit sales fell 18 percent year-over-year in the last quarter, with iPod revenues declining 23 percent, leaving the iPad accounting for just 9 percent of Apple's income. At its peak sales during in the first quarter of 2014, iPads accounted for 20 percent of Apple's sales revenue.
These turns of events would have been tough to forecast. During its first three years on the market, the iPad seemed invincible, and was widely predicted to replace the PC as the dominant personal computing device for both consumers and in the enterprise. On the other hand, Microsoft's Surface struggled to gain sales traction for over a year after its introduction. Now the tables have turned, the Surface machines are selling like proverbial hotcakes, and the Mac — not the iPad — is Apple's star PC sales performer.
Some of the iPad's current contretemps can be attributed to cannibalization of the low end — particularly the iPad mini — by the iPhone 6 Plus phablet introduced last fall. Many users have evidently decided that a 5.5-inch panel is big enough for their needs and consolidated their activities largely on a single device. However, my assessment is that it also has to do with capability and value.
Photo Courtesy Microsoft
Microsoft launched its 12-inch Surface Pro 3 in June 2014 and the 10.8 -inch Surface 3 in May 2015, and it's the latter that's really pulled the bung out — with an entry level price of $499 for a machine with a 10.8-inch display, 64 GB of memory, a full-size USB 3.0 port, a microSD card reader, and a Mini DisplayPort that can run full-featured desktop versions of Windows including Windows 10, while the professional grade Intel i5 powered Surface Pro 3 starts at $799 — two hundred bucks less than the base 11.6-inch MacBook Air.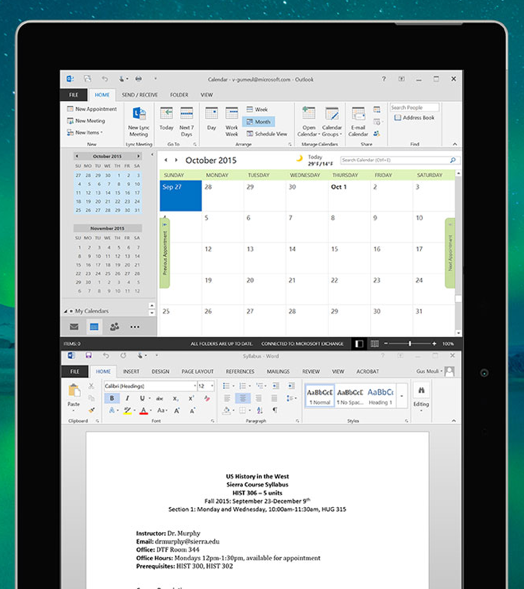 Photo Courtesy Microsoft
Now most people will opt for the optional $130 external keyboard, perhaps upgrade memory, and pile on some other bells and whistles, bringing the Surface 3's price closer to our 11.6-inch MacBook Air, with the Surface Pro easily exceeding it and moving up into MacBook Pro territory, but the MacBook Air doesn't have a touchscreen or convert to tablet mode. As for the iPad, its base $499 model has a pathetic 16 GB of memory, no USB port, no MicroSD card reader, no support for a mouse or hard wired connection to other peripherals like printers and scanners, no real multitasking (coming in iOS 9), and no file-level directory access — the latter which is a deal-breaker for anyone needing that facility for productivity tasks. And indeed, while you can upgrade to 128 GB memory (at a hefty price premium) none of those other features are available on any iPad at any price.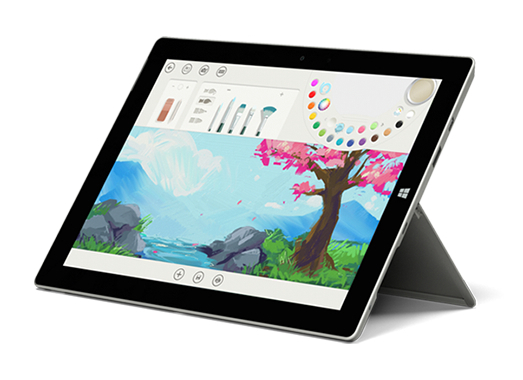 Photo Courtesy Microsoft
Advantage Surface.
Photo Courtesy Microsoft
Motley Fool's Leo Sun suggests two potential unfoldings the iPad's future. On the one hand, it could be cannibalized by newer devices, like the iPod has. On the other hand he suggests that users clinging to old iPads could finally upgrade their devices, and enterprise support might also contribute to a sales revival. sun notes that a recent ChangeWave survey cited during Apple's conference call found 50 percent of respondents planning to buy a tablet within the next 90 days would choose an iPad, and among corporate customers, that percentage rises to 70 percent.
We'll have to see what emerges as the hotly rumored iPad Pro anticipated for release either later this year or early next. If it addresses the current iPad's shortcomings vis-a-vis the Surface machines, Apple can be expected to gain sales traction, especially among the enterprise and productivity users this machine is presumably targeting. However, if it's just an iPad Air with a bigger display, I'm doubtful that it will be enough to turn the tide, especially if Windows 10 proves successful.