Is The iPad Pro Really A Serious Laptop Replacement? – The 'Book Mystique
Probably not, at least for productive professionals and other power users. Steve Jobs declared that we'd entered the "post-PC Era" with the advent of the original iPad in 2010, a phrase we don't hear so much these days, and iPad sales have been decreasing for nearly two years now, although some tablet computers — notably Microsoft's Surface family — are still enjoying robust growth — Surface sales accounted for $888 million in revenue during Microsoft's last quarter, more than double revenues from the same period a year ago.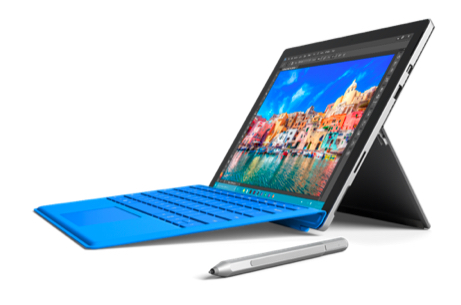 And it doesn't get any easier with Microsoft's unveiling of the new Microsoft Surface Pro and Surface Book on Tuesday. The 8.4 mm thick Pro 4 tablet features a 12.3-inch PixelSense 2736×1824 screen with 60 percent more pixels than the previous model, and is powered by 6th Generation Intel Skylake Core m, Core i5, and Core i7 processors. Prices start at $899.00. Surface Pro 4 is claimed to be not only 30 percent more powerful than Surface Pro 3, but also quieter, cooler running, and more efficient with up to nine hours of battery life. Its redesigned Surface Pen stylus supports 1,024 levels of pressure sensitivity on one end and an eraser on the other. (Image Courtesy Microsoft)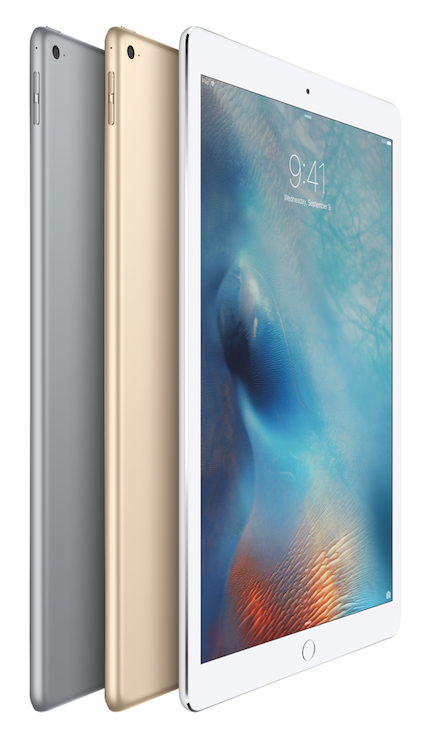 Apple hopes the new 12-inch iPad Pro it unveiled on September 19 will reverse, or at least slow the iPad's market decline, but personally I'm skeptical about that. One of the biggest reasons why Microsoft's Surface machines are selling well is that they run the full Windows 10 desktop operating system, support external pointing devices, and have standard expansion and connectivity ports — all stuff busy and productive pro users require in a laptop computer.
By contrast, Apple has stubbornly resisted adding productivity-friendly features and capabilities to its iOS operating system and the mobile devices it runs, which include the new iPad Pro. And how many non-professional users are going to shell out laptop-range dollars for a 12-inch tablet? Once you add the $99 Apple Pencil stylus and $169 Smart Keyboard to the $799 base price 32GB (not enough for serious productivity duty) model, you're up to $1,067 — about the same price as a 13-inch MacBook Air.
Since 2010, rather than fading away, PCs — especially laptops, have been adopting more of the characteristics offered by tablets — notably thinness, lightness, and instant-on spontaneity — while shedding little of their productivity-friendly power and versatility.
Photo Courtesy Apple
For example, the new Microsoft Surface Book convertible hybrid laptop features pen and touch support, 6th Generation Intel Skylake Core m, Core i5, and Core i7 processors up to 12 hours of battery life, a 13.5-inch optically bonded PixelSense 267 dpi detachable screen, and an optional discrete GPU that allows Surface Book to harness the full power of hardware-accelerated graphics, starting at $1,499.00 — competitive with Apple's current marquee laptop — the 12-inch MacBook with Retina display.
Image Courtesy Microsoft
Don't get me wrong. I'm a fan of both laptops and tablets, and wouldn't want to be without my iPad (currently an Air 2 running iOS 9) but no way is it anything close to being an adequate replacement for my MacBooks, whereas were I a Windows user, I could quite probably concentrate my activities on either of the new Microsoft machines.
It's not that the iPad Pro lacks computing power, what with its Apple A9 system-on-chip, more powerful graphics, and 4 GB of RAM (although the Surface Skylake powered machines are faster). It's more the lack of the above-noted capabilities as well as stuff like no global file and word/phrase level searches in iOS Spotlight, and no uploading single image files to Websites such as WordPress due to lack of file level Directory access.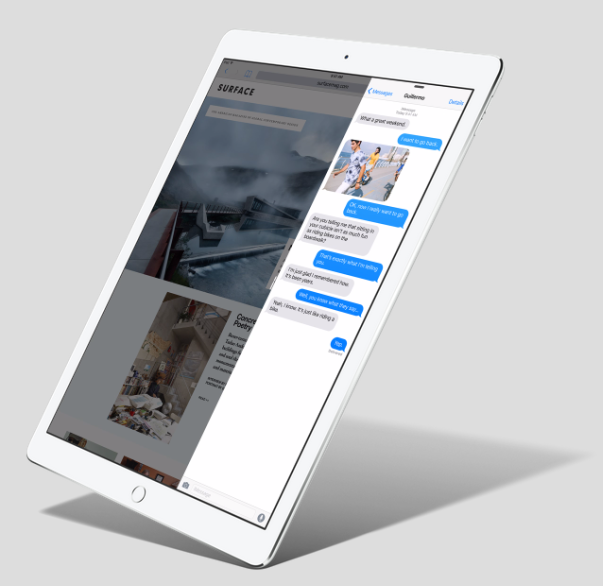 Photo Courtesy Apple
Apple has conceded ground on its dominant full-screen doctrine slightly with iOS 9's windowing features supported by the iPad Air 2, mini 4, and Pro, but while a lot better than nothing still fall far short of the powerful multi-windowing that Windows 10 supports on the Surface devices. And even a pressure-sensitive stylus like the (pricey) new Apple Pencil is no substitute for a mouse, trackpad, or rollerbar.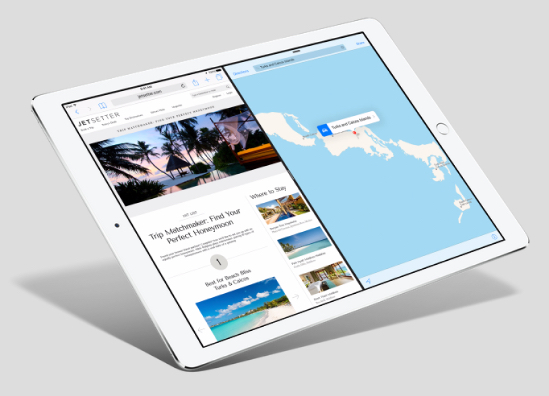 Photo Courtesy Apple
The iPad Pro's compromises are compounded by the fact that the iOS version of most productivity software, if available at all, is far less feature-rich than desktop OS X or Windows versions — Adobe's professional graphics applications being an exemplary case in point with Microsoft's Surface Pro being currently the only tablet allowing installation of the full version of Adobe Photoshop. An obstacle to pro-application developers addressing this is that more powerful versions for iOS would likely demand iPad Pro power at minimum, which would limit potential for sales.
Not everyone agrees with my conservative analysis of the iPad Pro's likelihood of catching on in the enterprise. Observing that Apple, Samsung, and Microsoft have refocused what tablet computers can do, market research firm Strategy Analytics believes there is immense opportunity for new and replacement sales of tablet computers, reversing a 4 percent decline in tablet shipments in 2015 to 7 percent growth in 2016, according to their new "Tablets in a Better Shape for Renewed Growth in 2016" report.
(Photo Courtesy Apple)
However Eric Smith, Senior Analyst for Strategy Analytics' Tablet & Touchscreen Strategies service observes: "[With] release of the Surface Pro 4, we see Microsoft leading the growing pack of professional grade Tablets running Windows 10. The release of Windows 10 in July provided opportunities at the high-end to better position tablets against PCs on productivity needs and compatibility with the office setting. Opportunity abounds at the low-end as well, where White-Box vendors are already selling Ultra-Low price-tier 2-in-1 Tablets to compete against low-end PCs and Tablets for casual use, particularly well-suited in emerging markets for consumers new to the computing segment." The iPad Pro caters to neither of those markets.
Peter King, Research Director, Tablet & Touchscreen Strategies service at Strategy Analytics says: "As replacement cycles have lengthened for both Tablets and PCs in recent years, 2-in-1 Detachable Tablets have become affordable enough that they will compete for consumer spend of both products. A household could settle on a 2-in-1 Tablet for casual use, which can also transform into a dockable mini workstation when needed for more intensive activities.
Note that Smith and King praise Windows 10's catering to power users' productivity needs, while neither references the iOS, and that Apple has no 2-in-1 detachable tablet hardware like the new Surface Book to offer.
In summary, Apple will have its work cut out convincing largely conservative enterprise captains and IT department bureaucrats that an iPad Pro is a more desirable productivity platform solution than a Microsoft Surface or other tablet running Windows 10. I remain Missourian on the iPad Pro's prospects.