Can iPad Pro Really Compete With Surface Pro 4 In The Enterprise? – The 'Book Mystique
Photo Courtesy Apple
Microsoft is delighted with entrprise uptake of its latest Surface Pro 4 tablet PC, which, according to a blog posted by Microsoft Surface Senior Director Cyril Belikoff, is enjoying the fastest adoption in business of any Surface product ever.
"We're humbled by the increasing number of businesses that choose Surface to help their employees get more done in an array of industries including doctors, bankers, commercial pilots, retailers, hotel operators, teachers, engineers and manufacturers," says Belikoff. "Together with our partner community and our business customers, its been a big year, and Surface Pro 3 has resonated with businesses in a big way."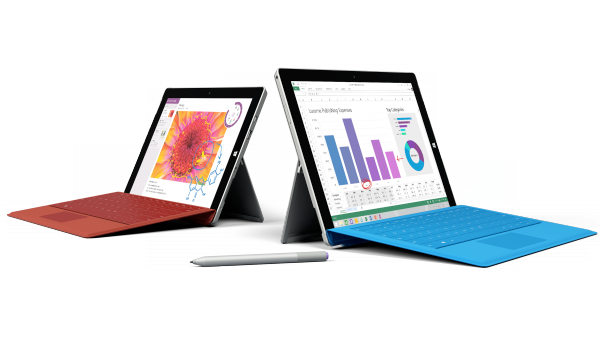 Photo Courtesy Microsoft
So does this bode well or ill for Apple's new iPad Pro? I remain deeply skeptical about potential for massive entreprise embrace of the new larger Apple tablet. One of the main reasons why Microsoft's Surface machines are selling so well is that they, as Mr. Belikoff pointedly emphasizes, can run the full Windows 10 desktop operating system and vastly selection of productivity and proprietary applications that go with it. Many larger firms have their own in-house custom applications — almost all of which are available for Windows only. The Surfaces also support external pointing devices, and have standard expansion and connectivity ports, and user access to the file level directory — all stuff busy and productive professional/power users require in a serious computer work tool — and thus can unequivocally serve as a single, do-all computer platform with no fudging, workarounds, or compromises required.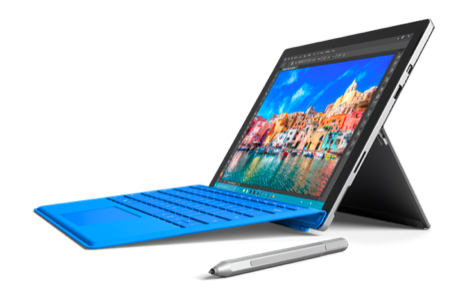 Photo Courtesy Microsoft
Belikoff says that while its various entrrprise, SMB and institutional customers have different requirements and are choosing Surface Pro 4 for many different reasons, one held largely in common across the board is that the value of Surface Pro comes down to cost savings from eliminating the "need for both a laptop and an iPad" (he refers to Apple's tablets by name) thanks to the Surface tabets' ability to run full Office and desktop apps with Windows 10.
On the other hand, Apple has stubbornly resisted adding productivity-friendly features and capabilities to its iOS operating system and the mobile devices it runs, which include the new iPad Pro. While recent model iPads with iOS 9 now finally support limited multiwindow multitasking, the Surface Pro 4 lets you run as many Windows apps as you need simultaneously, able to snap respectively into place on your screen so you can use them all at once.
Photo Courtesy Apple
Consequently, while I love my iPad Air 2 within the constraints of its many limitations, there's no way that the addition of a larger touchscreen, a faster system-on-chip, and more RAM convinces me that the iPad Pro is a fully capable productivity platform. If I were obliged to settle for just one workhorse computer, it would be a MacBook of some sort.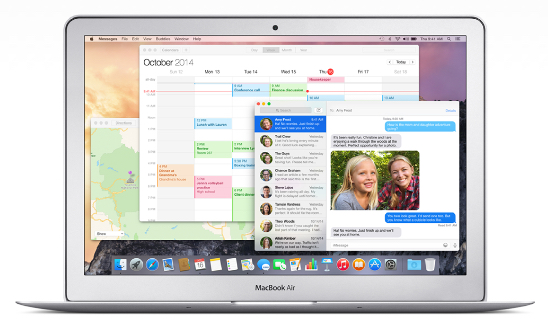 Photo Courtesy Apple
Not an issue for me, but a key one for many enterprise users, iOS devices aren't supported by Active Directory domains. Active Directory and companion System Center Configuration Manager (SCCM) — Microsoft large organization IT management tools used to control user authentication, access control, file permissions, and such.
Another feature lacking in the iOS is multiple user login support, likewise a bigger issue for some than others, but a potential deal-breaker for some workplace and institutional settings.
Meanwhile, Microsoft's strategy has been to create a diverse family of computer products that run on its Windows 10 operating system — desktop computers, laptops, tablets, smartphones, and even the Xbox game console. Moreover, this OS standardization enables third-party developers to write universal applications that work on any device that supports Windows 10. The practical logic and appeal of this dynamic is clear.
Nominally, price distinctions between iPad Pro and Surface Pro 4 are not huge, starting at $799.00 and $899 respectively. However, at those entry-level prices you get 128 GB of data storage and a stylus, while the base iPad Pro has only 32 GB of memory and the Apple Pencil stylus is a $99.00 optional extra.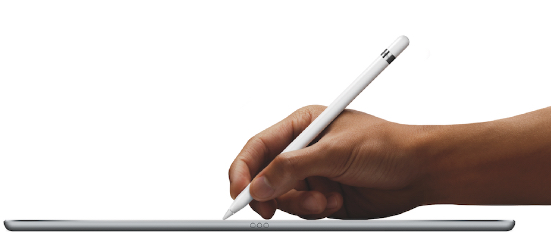 Photo Courtesy Apple
The 128 GB Wi-Fi model is $949, or $1,079.00 with 4G Cellular support. Microsoft also offers a range of options for hardware configuration with the Surface Pro 4 in addition to data storage capacity, including Intel Core m3, i5, and i7 processors and up to 8GB RAM and 256 GB storage ($1,599.00 for both of the latter and i7 power). All iPad Pros have Apple A9 systems-on-chip and 4 GB RAM. Microsoft's Keyboard Cover is $159.00 while Apple's Smart Keyboard is $169.00 and iPad Pro Smart Covers are $59.00.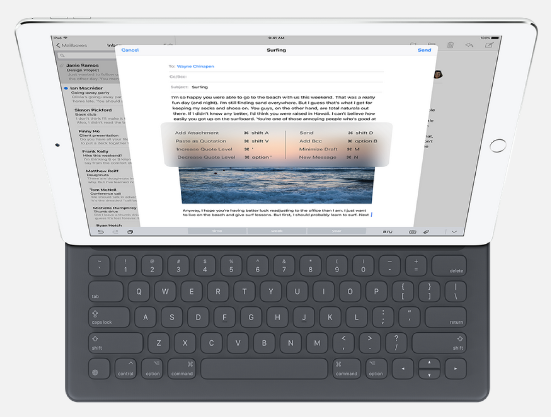 Photo Courtesy Apple
Perhaps I'm mistaken. Apple IS making substantial inroads in the enterprise market. Maybe enterprise users will see the advantages of the Apple two-device motif rather than taking advantage of the Surface Pro's or the $1,599.00 convertible hybrid laptop Surface Book's ability to serve as a fully-capable laptop and tablet device that can run the software they are probably already using. Two-device works for me (with some chronic aggravations on the iPad side), but I'm anything but a typical enterprise or institutional user.
Not everyone agrees. AppleInsider's Daniel Eran Dilger offers a withering critique of Microsoft's Surface/Windows strategy. I don't entirely disagree with Dilger's analysis in the abstract, but he gives too little credence to the tremendous practical productivity and value advantages of being able to run a versatile desktop OS on a device that can also serve as a tablet. Going two-device (or three-device — MacBook/iPad/iPhone) does inarguably give one superior performance in the respective platform categories, but requires, well, two (or three) devices.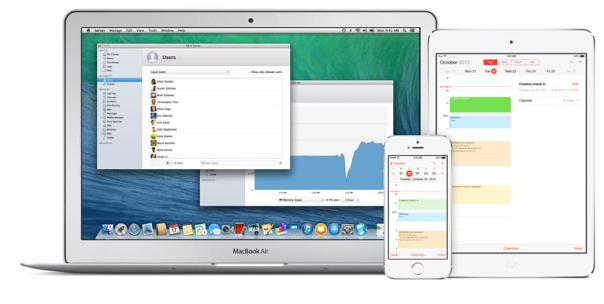 Photo Courtesy Apple
I'm more in accord with CIO's Jim Lynch, who says he's personally not a fan of hybrid devices like the Surface, which to him seem like getting the worst of both worlds by trying to force one device to perform the functions of two devices. "The Surface might be perform okay as a laptop or tablet," he observes, "but it's probably not going to perform as well as an actual tablet or laptop. It's sort of a kludge that tries to combine the form factor and functionality of both devices…. To try to glom one operating system into a hybrid device to serve two separate uses just doesn't make any sense to me. But your mileage may vary in that sense, and so a hardware hybrid like the Surface 3 could do well for some folks…. When you buy a Surface 3 or iPad Air 2 you are buying entry points into the Windows and iOS app ecosystems. Yeah, the form factor and functionality of the hardware matters, but software is the real reason we buy devices."
In his blog, Mr. Belikoff also notes that in July Microsoft announced that they would expand their business channel to add more partners selling Surface globally and in September unveiled the Surface Enterprise Initiative to deliver "word-class services and support" to enterprise customers along with Surface.
With Surface Pro 4 and the new Surface Book, Belikoff says its Surface machines are now available through 5,000 business resellers across the 30 global markets where Surface is available to business customers, including both Dell and HP, to be reselling Surface and bringing their enterprise-grade support offerings to the device, as well as some resellers focused specifically on the needs, preferences, contracts, or location of SMBs, educational institutions and state and local government (SLG) departments.
Belikoff says feedback from Microsoft's enterprise customers regarding their Surface products has been positive, particularly praising how these devices have improved both productivity and mobility. He notes that with the previous Surface Pro 3, businesses found a laptop replacement alternative that met the requirements of their mobile users and added Surface Pro to their corporate standards list. And now with the introduction of Surface Pro 4 and Surface Book, he says the number of customers adopting Surface devices is greater than with any previous generation, with customers spanning a wide range of industries and sectors in the U.S. and abroad.
I hope the iPad Pro turns out to be a commercial success for Apple. I'm an iPad user, expect to continue being one, and a rising tide for the platform lifts all boats. However, Apple is going to face major challenges convincing masses of enterprise users and their employers' IT departments.