Commenting on Apple's release of the iPad Pro later today, Charles Edge, Product Manager of Bushel (more details below) comments:
"Apple's iPad Pro is an even more attractive device for small businesses, and offers hands-down the most enticing laptop replacement we've seen in a long time. The new multi-tasking features in iOS 9, along with the iPad Pro's bigger screen and keyboard option are all exciting, but the biggest advantage is that iOS 9 requires little to no professional support. This is especially appealing to small businesses, who can use tools like Bushel to manage their Apple devices easily and at low cost. By providing employees with the devices they want to use at work, businesses can maximize user productivity, which helps drive competitive value."
Photo Courtesy Apple
Bushel is designed from the ground up to help anyone easily manage their Apple devices and bring enterprise Apple management features to small and medium sized businesses – without the need of IT department support for setup, management and protection of their Macs, iPhones and iPads anytime from anywhere.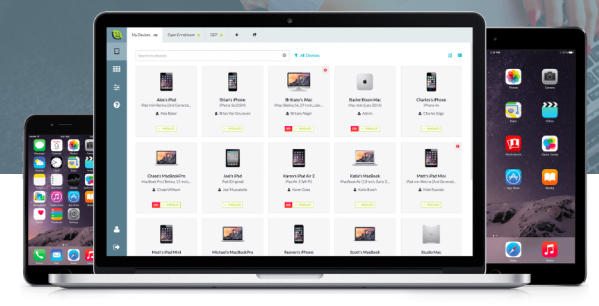 Bushel offers an approachable pay-as-you-go model (first three devices for free, then $2 per device, per month).
Since launching as a product of JAMF Software in January, over 3,300 organizations have adopted Bushel.
The company behind Bushel, http://www.jamfsoftware.com JAMF Software, is the only vendor focused exclusively on managing Apple products in the enterprise and classrooms. And they've been doing it since 2002, before the iPhone, iPad, Apple retail stores, etc.
For more information, visit:
http://www.bushel.com
Source: Bushel