After successfully swimming against a tide of diminishing PC sales through 2014 and 2015, it appears that Apple has finally stopped defying gravity and is running up against the unwritten "innovate or stagnate" law.
Apple reportedly shipped an estimated four to eight percent fewer Mac computers year-over-year in 2016's second calendar quarter, during which major Windows/Chrome PC rivals HP, Dell, and ASUS actually squeaked out a bit of sales growth. Apple now ranks fourth domestically and fifth worldwide in PC system sales.
Market research firm International Data Corporation (IDC) http://www.idc.com/getdoc.jsp?containerId=prUS41584116 reports that worldwide PC shipments totaled 62.4 million units in the second quarter of 2016 (2Q16), marking a year-over-year decline of 4.5 percent, beating the forecast of -7.4 percent by roughly 3 percent according to IDC's Worldwide Quarterly PC Tracker. The United States market performed best in the quarter, reflecting the current strength of the U.S. dollar and relative market stability.
"As expected, the start of the peak education buying season helped generate large Chromebook shipment volumes in the U.S.," comments Linn Huang, research director, Devices & Displays. "A somewhat unexpected boost came from intensified inventory pull-in as cautious channel players, who had been working to pare down inventory over the last several quarters, opened up inventory constraints a bit. This was likely a one-time shipment boost to bring aggregate inventory levels back to market equilibrium. The larger story remains whether an early wave of enterprise transition to Windows 10 could help close out a 2016 that is increasingly looking stronger in the U.S."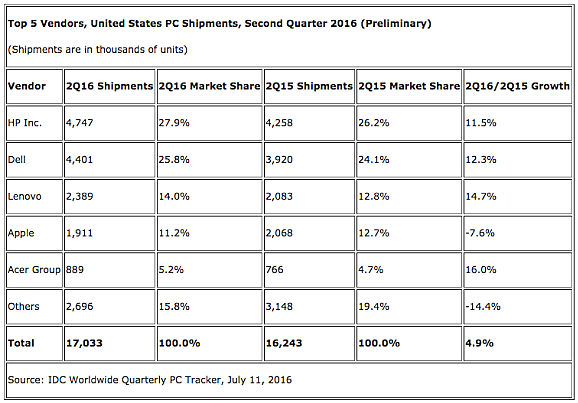 In terms of individual PC makers Lenovo remained the worldwide PC market leader, with continued strong growth in the U.S. market. However, shipments in other markets continued to decline, pulling down overall growth. Lenovo's lead in the share of total PC shipments shrunk over the past year from 1.8% a year ago to 0.4% this quarter. Nevertheless, the margin of leadership has fluctuated since Lenovo took the lead in 2013. Q2 2015 marked the largest lead Lenovo has ever held, and the company boosted its overall share to a peak of 21.7% in Q4 2015.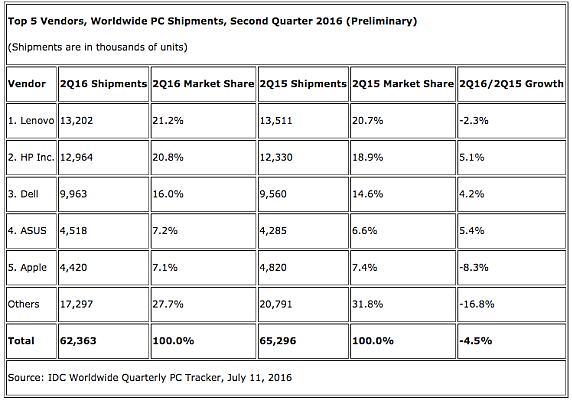 HP Inc. also had a solid quarter, with growth returning to positive territory after a year of declines. The U.S. led regional growth with a gain of 11.5% from last year as the company rebounded from a couple of soft quarters, but other regions also saw growth in positive territory.
Dell also had a productive quarter, with worldwide growth recovering to over 4%. Dell managed a strong recovery in Japan, while also driving solid growth in the United States, although EMEA continued to drag on overall results.
ASUS also saw growth recover in 2Q16, benefitting from an easier year-on-year comparison. The vendor pulled just ahead of Apple for the number 4 spot in overall PC shipments.
On the other hand, IDC says Apple continues to face an increasingly competitive market as it awaits a refresh of its PC lineup, ands a result, Mac shipments experienced a decline from last year.
Indeed, a big part of Apple's Mac sales slide problem is doubtless that they haven't given Mac fans much to get excited about over the past couple of years. The most recent new Mac model introduced is the 12-inch MacBook with Retina display, and it has already received its first annual refresh. Things have been even more stagnant in the desktop Mac Pro camp.
The inherent strength of the macOS platform and excellence of Apple hardware design and build quality has helped sustain Mac sales performance even in the absence of much innovation, but it appears that momentum is beginning to falter, with prospective Mac purchasers adopting a wait-and-see holding pattern.
I'm a case in point. My newest Mac is a mid-2013 Haswell MacBook Air, and it's around the time when I would typically be seriously in the hunt for a system upgrade, likely for a next-generation MacBook Air — the current model's form factor dating back to 2010. The Air has received several internal upgrades over its six years in production, mine marking about the mid-point in that interval, but not enough to persuade be to switch up even though I consider the13-inch MacBook Air starting at $998 to be the best cost/performance value of any laptop computer Apple has ever offered.
While the 12-inch Retina MacBook is technically interesting and aesthetically seductive, I can't consider it a serious contender to replace my MacBook Air, what with its lone, do-all USB-C port and ergonomically compromised "butterfly mechanism" keyboard keyswitches.
New MacBook Pro models have been rumored to be coming for about half a year now, but were a no-show at the WWDC in June, with a September or October release now seeming most probable if a 2016 rollout happens at all, and it looks like the existing MacBook Airs may be slated to live on for some time as Apple's laptop price-leaders with mild or no specification upgrades and allowed to eventually just fade away.
Somewhat alarmingly, at least for me, is that it's been rumored the new MacBook Pro will be much thinner than the current models, and will utilize a version of the 12-inch MacBook's butterfly keyswitch technology, which would rule it out for my purposes.
I'll stay in wait-and-see mode until the roadmap becomes clearer, and it looks like a lot of Mac users are inclined to do the same.