Logitech has announced the Logitech Z337 Bold Sound with Bluetooth, the company's first speaker for the home that allows you to easily stream audio from any Bluetooth enabled computer, tablet or smartphone, and switch between them effortlessly.
"The Z337 speakers bring great sound quality to all of your favorite content no matter what device its on," says Philippe Depallens, general manager of Logitech Audio. "What's more, we've made it really easy to stream from different content sources. Just pause on one device, and play on another to simply make the switch."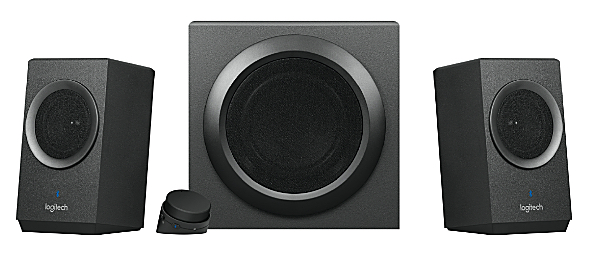 With 80 watts peak power, this speaker system brings your content to life with clear fidelity and strong bass. In addition to the wireless connection, you can also connect the Logitech Z337 to your content source via either a 3.5mm or RCA input – so its easy to hook up to a monitor, a computer or video game console, while still enjoying wireless connectivity with other devices.
The speaker also features a control pod that you can put in a convenient spot for easy access to essential speaker controls, such as power, volume and Bluetooth pairing, along with a headphone jack for those times when you want to listen quietly. A dedicated knob on the back of the subwoofer lets you adjust the bass level.
The Logitech Z337 Bold Sound with Bluetooth is expected to be available beginning in September for a suggested retail price of $99.99. For more information, visit http://www.logitech.com, the Logitech blog, or connect on Facebook.
Source: Logitech