The Great New MacBook Pro Letdown And What It Means Going Forward – The 'Book Mystique
After nearly a week of ruminating on it I'm declaring myself among the hordes of longtime Apple laptop users who were disappointed and underwhelmed by Apple's redesigned MacBook Pro announcements last Thursday. It being now four years since the last MacBook Pro redesign, all Apple could come up with is a Skylake processor upgrade, better graphics, a Touch Bar replacement for the traditional F-key row, Touch ID login, and of course a thinner, lighter form factor. Oh yes, higher prices as well. A lot higher. For example 39 percent higher for the 13-inch Touch Bar model compared with the previous $1,299.00 entry level 13-inch Pro, which still remains available at that price, as does a a holdover 15-inch MacBook Pro at $1,999. More on pricing below.
Personally, I'm unenchanted. Enough already with the thin-and-light obsession. Apple's laptops were quite thin and light enough, and then some, since it's coming at the expense of practicality, comfort and battery life, and is beginning to border on gimmickry. One of the most serious compromises is the keyboard swapped in from the 12-inch MacBook with retina display. Apple says it's a "second-generation" version of the butterfly key switch design, but early hands-on reports say any difference in feel between the first and second generation versions is subtle at best and that the keyboard is still uncomfortable for longform typing, which will pretty much rule the new MacBook Pro out for me.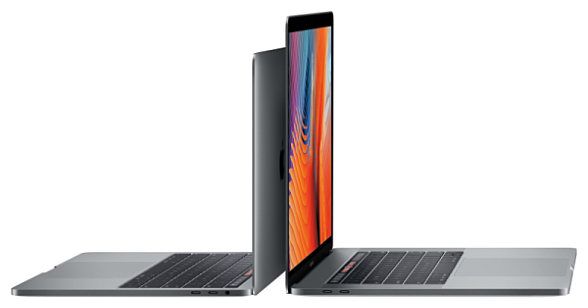 Photo courtesy Apple
Indeed, aside from the concededly huge qualification it can't run the macOS, the new Microsoft Surface Book, introduced last week one day ahead of Apple's new MacBook Pros rollout, seems an altogether more compelling package than the new Apple machines, showcasing real, practical innovation.
What's particularly frustrating about this is that HP has proved comfortable keyboard action is not incompatible with ultrathin laptop engineering. Their new 13.3 inch Spectre copper Ultrabook is actually thinner than the MacBook Pro with retina display, but by all accounts I've seen, it is deemed to have extraordinarily comfortable key action.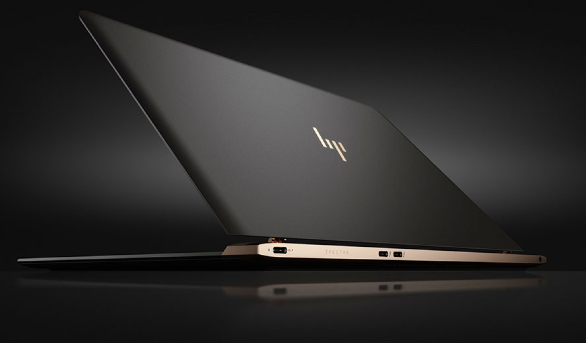 Photo courtesy HP
As for the touch bar and touch ID login, the former probably has quite a bit of potential, and amounts to another iOS feature migrating over to the MacOS. However I have most of my F-keys programmed to trigger AppleScripts for editing and markup, and it remains to be seen whether that will be supported by the touch bar technology. I am doubtful. Touch ID is convenient on my iPad air 2, but it's something I can easily live without.
I'll be letting the dust settle for a while, but I may make my next laptop upgrade in Apple certified refurbished old-school MacBook Pro MacBook Pro 13 inch. I was even more disappointed that Apple decided not to upgrade the MacBook Air as some had been predicting they would. The 11-inch MacBook Air has been quietly discontinued, while the 13 inch model will soldier on as a price leader and placeholder for the psychologically significant sub-$1000 price point. One of the latest Airs is another possibility for me. I have been extremely satisfied with the mid-2013 MacBook Air that's been my anchor Mac for the past three years, and had Apple chosen to upgrade to Skylake processors and add a USB-C port or two, I would likely have found that combination irresistible, especially in light of the keyboard issue, but the MacBook Air specification was not updated.
Some are suggesting that the entry-level stripper version of the new MacBook Pro that doesn't have the touch bar and touch ID is the future replacement for the air. That retains traditional F-key functionality, but doesn't solve the keyboard problem, and the base model has only two USB-C ports, which are not sufficient in what is purported to be a "Pro" laptop. Speaking of ports, while the full-featured versions of the new Pro have four USB-C ports, gone are USB 3, MAgSafe, HDMI, Thunderbolt 2, and the SD card slot. A traditional headphone jack remains, interestingly.
Now, here's the thing. I live in Canada, so prices cited in this next comparison are in Canadian dollars. The current 13-inch MacBook Air with 8GB memory 256GB SSD storage, a 2015 1.6GHz dual-core Intel Core i5 Broadwell processor is CAN$1,449.00 on the Apple Store Canada. A nice piece of work with a good keyboard but well back of the cutting edge in laptop design and with only a 1,440 x 900 resolution non-Retina display. However The Apple Store is also listing Apple Certified Refurbished March 2015 13.3-inch MacBook Pros with 2.7GHz dual-core Intel i5 Broadwell processor, Intel Iris Graphics 6100, 8GB of memory, 256GB of flash storage, and a 13.3-inch Retina display with 2560-by-1600 resolution at 227 pixels per inch for CAN$1,489.00 with the same warranty and AppleCare eligibility as a new Mac. And a good keyboard.
Note that as I mentioned above, Apple is continuing sales of the the old school MacBook Pro for now, but even it is fairly pricey at CAN$1,799 when equipped with a 256 GB SSD, which I consider the minimum practical for my needs.
For context, the new base model MacBook Pro (the one without the Touch Bar and TouchID) with a 2.0GHz dual-core Intel Core i5 Skylake processor, Intel Iris Graphics 540, 8GB memory, 256 GB Storage, and a paltry two Thunderbolt 3 ports, goes for CAN$1,899.00 here in the Great White North. If you want the Touch Bar and Touch ID plus 2.9GHz Core i5 power, it will set you back CAN$2,295.00. That's getting back up to what we used to pay for entry level Mac laptops 20 years ago, but I digress.
I could happily make either the new Air or the Apple Certified Refurbished Pro my next (and possibly last if Apple doesn't fix the keyboard) Mac system, but it seems to me that the best value for dollar spent in this instance lies in the refurb Pro. I've had excellent service from several ACR machines purchased over the years.
As for the new MacBook Pros, I don't perceive enough added value to justify the stiff price increases, even in U.S. dollars. I'll reserve making a categorical judgment about the Touch Bar until I get to try one, but why doesn't Apple just build touchscreen laptops like almost everybody else? Reportedly Microsoft claims that "97 percent of people who have a Surface Pro 4 or Surface Book use on-screen touch input regularly".
One deduces that these new MacBook Pros with their stiff price increases are part of a substantial realignment of Apple's pricing structure, intended to put more price distance between the Pro laptops and the high-end iPad Pro's being pitched as laptop replacements when tricked-out with keyboard and Apple Pencil stylus. If that deduction is accurate, the holdover 13-inch MacBook Air may well be the last sub-$1,000 Mac laptop we see for quite some time.
Another dynamic in play seems to be an inevitable merge of the macOS and iOS sometime in the perhaps not-too-distant future, along with a changeover to Apple A-series ARM silicon. Last week Seeking Alpha's J. M. Manness posted a thoroughgoing speculative analysis of what such a move could mean. The increasing iOSsification evident in macOS Sierra reinforces the hypothesis.
In the meantime, Apple CEO Tim Cook's contention notwithstanding, the iOS and the iPad Pro are not yet adequate macOS laptop replacements for professional productivity oriented users — not without a user accessible document level file directory and mouse support — and with cool PC hardware like Microsoft's Surface devices, HP's Spectre, and Lenovo's Yoga Book now available, Windows 10 is looking like a less objectionable alternative these days.