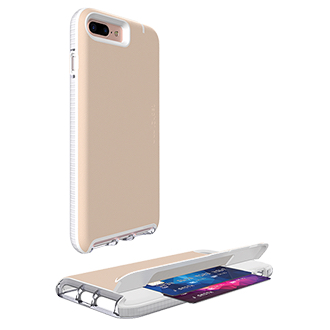 Tech21 has announced the launch of the Evo Go case for Apple iPhone 7 and iPhone 7 Plus, exclusively at T-Mobile. Available online and at participating T-Mobile stores nationwide, Evo Go cases start at $69.99 (standard retail price). Designed for those who want to travel light but still stay protected, Evo Go features genuine leather and offers the same advanced impact protection, ingenious design and unbeatable user-friendliness.
Tech21 continues to push the boundaries of impact protection through its all-new 3-layer drop protection technology featuring the scientifically proven material, FlexShock, an ultra-efficient impact absorbing material designed to dissipate impact force, preventing it from passing directly through the device.
The Evo Go line sits securely in the hand, providing comfortable, precise access to function buttons and the Lightning connector. With a secure magnetic closure, Evo Go offers concealed storage for two cards, keeping them easily accessible, but hidden from prying eyes.
In the creation of Evo Go, tech21 worked to design the product to ensure it continues to offer impact protection that does not compromise phone performance. The case has been rigorously tested to ensure perfect compatibility with Apple iPhone 7 and 7 Plus. Core functionality such as the camera, acoustics and sensors (such as Touch ID) will work the same with the case on or off.
Product page:
http://www.t-mobile.com/TMOsearch/Search.html?count=20&do=redesign&i=1&page=1&q=evo+go&x1=category&q1=accessory
Source: tech21