Having just purchased a new 13-inch MacBook Air with only a 128 GB capacity SSD, I'm pretty sure I'm going to need some expansion of storage capacity. I have a several years old Apricorn Aegis 500 GB USB portable hard disk drive that can handle archival downloading, but it's a bit cumbersome to pack along for portable and mobile use.
A more compact solution to data overflow are Transcend's JetDrive Lite storage expansion cards for the MacBook Air and MacBook Pro with Retina display, which are a quick and easy way to expand data storage capacity of your late 2010 or later 13-inch MacBook, or your late 2012 to mid 2015 MacBook Pro. Alas, they are not supported by the new late 2016 MacBook Pros, since Apple has dropped the SD Card slot from those models.
Inserting a JetDrive Lite into the card reader slot on the side of your MacBook instantly boosts your storage capacity. Capacities up to 256GB are available, enough to store up to 124,000 photos, 64,000 songs or 3840 min. of Full HD video.
JetDrive Lite expansion cards are built with MLC flash technology, and are claimed to achieve read speeds of up to 95MB/s and write speeds of up to 60MB/s.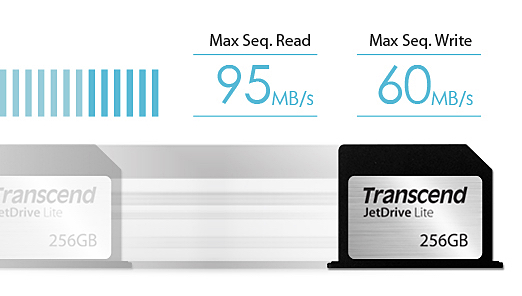 With a flush profile tailor-made for each supported MacBook model, Transcend's JetDrive Lite expansion cards are designed to seamlessly integrate with the MacBook.
Designed for JetDrive Lite expansion cards, JetDrive Toolbox software offers Recovery and Power Save functions to increase data safety. The Recover function allows you to bring back accidentally deleted image, video, MP3, and PDF files. The Power Save function conserves power by automatically ejecting your JetDrive Lite before the Mac enters Standby mode and remounting it when the Mac wakes.
JetDrive Lite flash expansion cards are manufactured using advanced COB (chip-on-board) technology, making them resistant to water, dust, and shock to keep your data safe.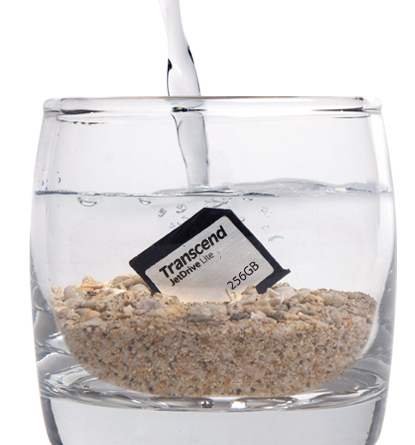 The JetDrive Lite series is specifically designed for MacBook Air and MacBook Pro with Retina display computers. The card is available in four different sizes for use in different MacBook models.
Model JetDrive Lite 130
(64GB – 256GB) JetDrive Lite 330
(64GB – 256GB) JetDrive Lite 350
(128GB – 256GB) JetDrive Lite 360
(128GB – 256GB)
MacBook Air 13″
Late 2010
Mid 2011
Mid 2012
Mid 2013
Early 2014
Early 2015
MacBook Pro (Retina)13″
Late 2012
Early 2013
Late 2013
Mid 2014
Early 2015
MacBook Pro (Retina) 15″
Mid 2012
Early 2013
MacBook Pro (Retina) 15″
Late 2013
Mid 2014
Mid 2015
Note that late 2010, Mid 2011, and Mid 2012 MacBook Air models have reduced performance due to the card reader only supporting up to USB 2.0 transfer speeds.
Transcend JetDrive Lite expansion cards are available at Amazon.com, NewEgg, and other resellers.
For more information, visit:
https://us.transcend-info.com/Products/Solution_detail.aspx?no=10
Source: Transcend