Is The iPad The Future Of Apple Productivity Hardware? – The 'Book Mystique
Sometimes one is best advised to stop resisting, turn, and run with the tide. I've been shouting myself hoarse, metaphorically speaking, for the past five years or so imploring Apple to fix the relatively few issues that stand in the way of the iPad — especially the Pro models — serving as satisfactory laptop surrogates for serous productivity-oriented users.
These include, once again, an accessible file system directory that would allow document level selection of files for editing or export and support for opening files imported from external storage devices, real multi-windowed multitasking and the ability to drag and drop content between open windows, content level document searching, and support for creating and editing documents on the tablet. mouse or trackpad support to enable cursor positioning and manipulation on the screen more precise and dexterous than you can achieve with a fingertip or the $99 optional Apple Pencil stylus.
Also needed is either replacement or augmentation of the proprietary Lightning port with a standard I/O port — logically at this point USB-C — and a SD Card slot.
If the new 12-inch MacBook and 13 and 15-inch MacBook Pro are exemplars of the direction Apple intends to take with Mac laptops, it's time for me to start considering other options more seriously. Some people really like the new MacBook Pros, but like many other commentators I find them incoherently focused — a melding of power and refinement with gimmickry, the Touch Bar falling in the latter category in my estimation. I would much prefer a real touchscreen, longer battery life, and a serious keyboard, rather than razor thin form factors in clamshell laptops. I like the iPad, and I already use mine extensively as a productivity tool, so I would be willing to entertain moving to an iPad platform as long as its productivity shortcomings are addressed, but at this point that's not a satisfactory option because there are things I need to do that the iPad and the iOS either simply can't do or demands too much compromise and inconvenience in working around.
PC Mag's Sasha Sagan has posted a thoroughgoing article explaining why after eight years of using iPad Pros a s his primary laptops, Apple's latest MBP design has convinced him to switch to a Microsoft Surface Book and Windows 10.
I'm not quite ready to give up on the Mac, having responded to my unenchantment with the new MacBook Pro release by buying what will probably be one of the last MacBook Airs as a placeholder while I watch how the Apple universe unfolds over the next couple of years. I have to admit I wondered if I was being excessively pessimistic in buying another Air until I read of others doing the same thing.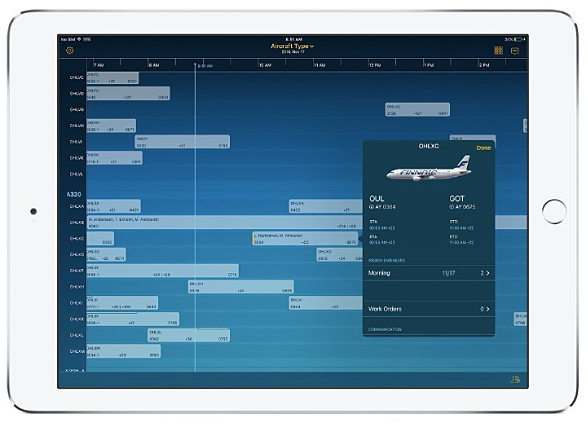 That said, Apple has been pitching the iPad as a laptop replacement for enterprise users, especially over the past couple of years after entering the MobileFirst iOS business software and hardware marketing collaboration with IBM, and I want to see where they will go with that strategy. If they're really serious about courting productivity users in the enterprise and others, the problems I outlined above must be addressed.
Market research firm Strategy Analytics recently reported that after two years of decline, the tablet market is showing signs of new life as productivity trumps entertainment and tablets become cost-effective computing devices for both entertainment and productivity purposes. They expect the non-consumer segment of the tablet market will grow at a nine percent CAGR between 2016 to 2020, reflecting the increasing importance of mobility in the enterprise. This trend is being driven by individuals employed in the enterprise sector adopting tablets, and the report predicts that companies will continue refining their line-of-business applications and processes to support the touchscreen device paradigm with increased investments and deployments, noting that continued interest in the Microsoft Surface Pro tablet and other Windows 10 tablets produced by leading mobile-first vendors and PC OEMs will drive more corporate-liable tablet interest, as Microsoft looks to shift its core PC OS business to more mobile-friendly device form factors and technologies.
Strategy Analytics also expects Apple's iPad Pro to boost corporate-liable tablet shipments, as more businesses turn to the larger, more powerful iPad as a PC replacement for traveling employees. It will be interesting to see which platform prevails or whether they respectively find loyal followings in the enterprise.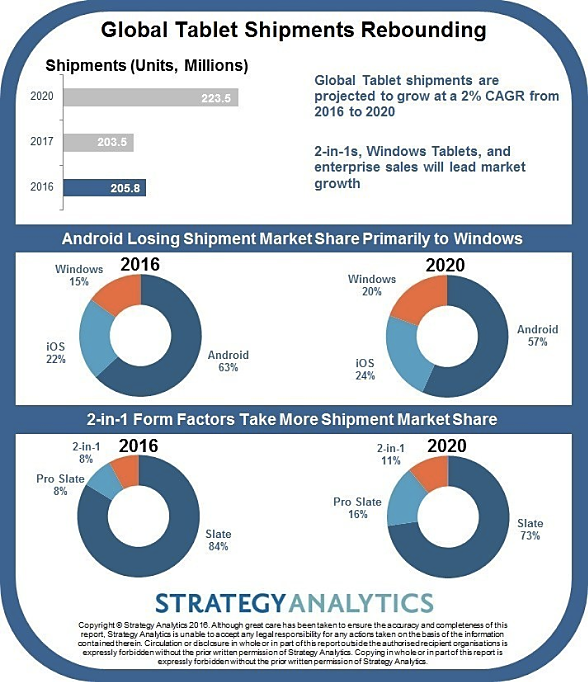 In general tablet shipments are projected to fall only one percent year-over-year in 2017, followed by moderate growth as demand for 2-in-1s, Windows Tablets, and enterprise sales lead the rebound, according to the new "Tablet Shipments, Installed Base and Penetration Forecast by Country 2010 – 2020: Q4 16 Update" report from Strategy Analytics' Tablet & Touchscreen Strategies (TTS) service.

Graphs courtesy Strategy Analytics
Apple's philosophy regarding all this is as usual inscrutable. They promote the iPad Pro as a laptop replacement and enterprise device, but have either stubbornly refused to address its shortcomings, or offered half-baked solutions like Split View — better than nothing but no substitute for real multi-windowing. Similarly, the new MacBook Pro Touch Bar is a poor substitute for a real touchscreen, SD Card expansion is gone, the keyboard is compromised, and a bag of dongles is required for current real world connectivity. It's hard to fathom who the incoherently focused new MacBook Pros are for.
I'm hoping Apple's concentration on iOS development will ultimately provide the solutions I need, but Windows 10 and PC hardware are now thinkable alternatives.