Chicago based Imagam, Inc. has introduced Waver Cloud Music Player 1.0, their brand new music app developed exclusively for iPhone and iPad devices. Waver allows you to create a personal streaming service with Dropbox. Google Drive, Box, OneDrive, SMB Server, WebDav Server, SoundCloud, FTP and more.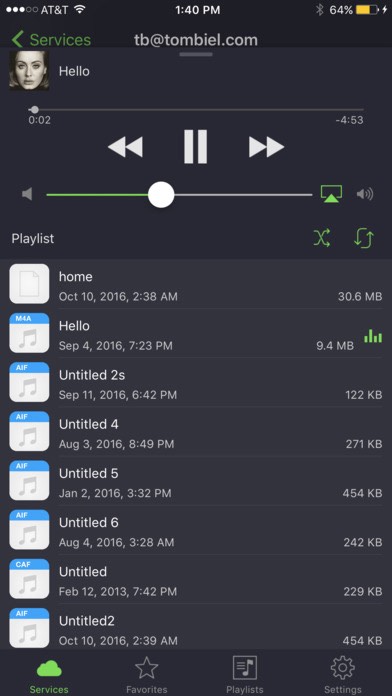 Listen to your music with an advanced and powerful media player.
* FLAC format supported – Enjoy your favorite tracks in the best quality
* Light and dark theme modes
Supported Clouds and Protocols:
Dropbox, Google Drive, Box, OneDrive, SMB/CIFS, SugarSync, AFP (Mac), FTP/FTPS, SFTP, WebDav, Amazon S3, SoundCloud, FTP, more coming soon.
Features:
* Formats: MP3, WAV, FLAC, M4A
* Audio Bar (Adjustable with 3 modes)
* Repeat and shuffle
* Airplay (iOS Airplay mode is supported)
* Favorites (favorites list is supported)
* Playlists (create and manage playlists)
* Dark Theme (In addition to default light theme)
* Fine scrubbing
* Lock screen playback controls
* Background music playback
* Background controls
* Cache Streamed Files – (Files can be saved after caching to prevent re-downloading)
* Passcode Lock – (Application can be passcode protected)
Waver Cloud Music Player 1.0 is $2.99 USD (or equivalent amount in other currencies) and available worldwide exclusively through the App Store in the Music category.
Waver Cloud Music Player 1.0:
http://wavercloudplayer.com/
Purchase and Download:
https://itunes.apple.com/app/waver-cloud-music-player-streamer/id1164196870
Source: Imagam