Tech21 has announced the launch of its Evo Aqua and Evo Aqua 360 Edition cases for the Apple iPhone 7 and iPhone 7 Plus. Designed for active, on-the-go individuals, the new cases provide waterproof protection to keep your phone clean and dry, while offering the same advanced impact protection and user-friendliness for which tech21 is known.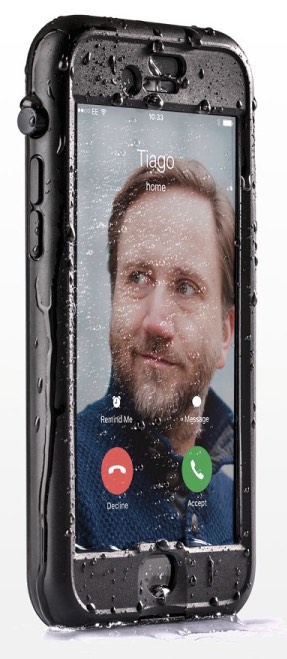 From bathtubs and pools to sinks and toilets, there is no shortage of water threats for phones. Tech21's new Evo Aqua and Evo Aqua 360 Edition cases feature seamless installation, with water and drop protection and integrated seals to protect from any damage. A textured finish provides a secure grip even when wet, with open touchscreen access and superior sound quality for complete and harmonious usability.
Available online at http://tech21.com and in stores nationwide at JB Hi-Fi, the Evo Aqua and Evo Aqua 360 Edition can be purchased today for RRP$99.95. Evo Aqua is waterproof up to 2 meters for one hour, while the Evo Aqua 360 Edition offers one hour of waterproof protection up to 3 metres. Both products provide 2 metres drop protection.
"We want our customers to feel secure with anything their day throws their way, whether thats water, dust, dirt or mud. Evo Aqua's watertight seal keeps phone screens clean and dry so you can still access your favorite content anytime, anywhere," said Jason Roberts, CEO of tech21. "And with Evo Aqua 360 Edition's complete end to end protection, there is no limit to the activities people can do with their phone by their side."
In the creation of the Evo Aqua and Evo Aqua 360 Edition, tech21 worked to design a product that offers market-leading impact protection, featuring FlexShock, an ultra-efficient impact absorbing material designed to dissipate impact force, that does not compromise the phone's performance. Each case has been rigorously tested to ensure perfect compatibility with the Apple iPhone 7 and 7 Plus, guaranteeing a perfect fit, no loss in signal quality and no interference to Wi-Fi, mobile networks, Bluetooth syncing or features such as Apple Pay. Core functionality such as the camera, acoustics and sensors (such as Touch ID) will work the same with the case on or off.
Product Page:
https://www.tech21.com/en_us/products/evo-aqua
In addition to the new Evo Aqua and Evo Aqua 360 Edition, tech21 has also recently launched a full portfolio of iPhone 7 and 7 Plus cases, including Evo Elite, Evo Mesh and Check, Evo Wallet, Evo Gem, Evo Active, Evo Go, Impact Clear, and Evo Tactical Extreme Edition. For more information or samples of the full range of iPhone 7 and 7 Plus cases visit https://www.tech21.com/
Tech21 combines science, engineering and British design to create products that address three core consumer benefits: style, protection and performance. As the brand evolves to continue meeting the needs of its consumers, tech21 has developed the most advanced impact protection material on the market FlexShock. The ultra-thin and lightweight material absorbs and dissipates force and can withstand drops up to 4 metres. In addition tech21 puts all its products through a rigorous testing program, and in an industry first has partnered with the National Physical Laboratory (NPL) to develop its testing methodology. This ensures that the tests tech21 products have to pass are overseen by independent experts. Tech21 is the number one case brand in the UK.
For more information, visit:
http://tech21.com
Source: Tech21