Fat Cigar Productions Ltd has announced that its Hear My Baby Heartbeat Monitor Pregnancy App made it to number 1 on the UK App Store paid medical downloads category on Christmas Day, and has been the number 1 app in the UK for the last 3 months. Some expectant mothers have even reported stunning results – hearing heartbeats as early as 17 weeks. The app now has many thousands of monthly users.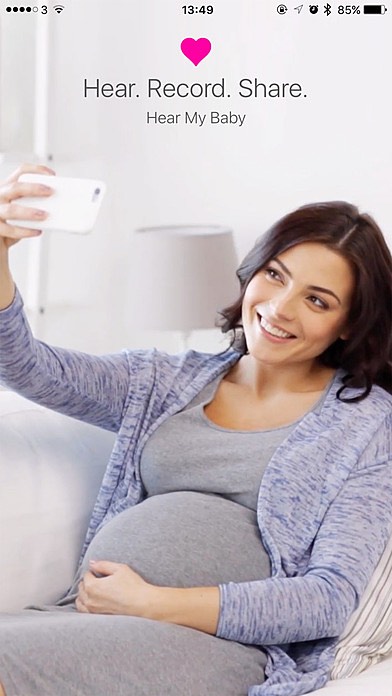 Hear My Baby Heartbeat Monitor is a best-in-class pregnancy app developed for iOS devices to help expectant mothers to simply and easily hear their baby's heartbeat by pressing the microphone from their iPhone up against their tummy.
The one-touch record feature makes it simple to record once the heartbeat has been found, and the app's advanced audio recording system has been engineered to specifically identify the heartbeat range of the baby and then amplify the heartbeat sound it so it can be recorded and shared via email or Facebook. The developers say this is extremely difficult to do well, and has taken considerable testing and re-engineering to perfect.
The number of weeks pregnant can be recorded and a selfie taken to remind of the time and date it was taken (and the size of the tummy), and the easy share feature allows posting on facebook pages, groups or timeline. The mother's privacy is completely protected and no recordings are stored on the developers' servers, meaning it is entirely unlike other apps in this category.
Hear My Baby Heartbeat Monitor is a way to bond with the baby, increase the involvement for siblings, husband and grandparents. Note well that this is not a medical device and should not be considered as a substitute for medical advice or opinion. Always use the app in Airplane mode.
Device Requirements:
* iPhone, iPad, and iPod touch
* Requires iOS 9.0 or later
* 14.1 MB
Hear My Baby – Heartbeat Monitor Pregnancy App 1.1 is $4.99 USD (or equivalent amount in other currencies) and available worldwide exclusively through the App Store in the Medical category.
Hear My Baby – Heartbeat Monitor Pregnancy App 1.1:
http://www.impossible.am/hear-my-baby-heartbeat-monitor-pregnancy-app/
Purchase and Download:
https://itunes.apple.com/app/hear-my-baby-heartbeat-monitor/id1111420122
Facebook Profile:
https://www.facebook.com/hearmybaby
Source: Fat Cigar Productions Ltd. t