Seagate Technology plc's premium brand LaCie has announced significant updates to its LaCie Rugged and d2 storage solutions at the Consumer Electronics Show. Photographers, videographers and musicians have trusted these products for more than a decade to help them capture, edit and deliver their creative work. New technologies let users film and photograph at unprecedented resolutions, requiring more efficient ways to manage the exponential increases in data. To address this challenge, LaCie, with design by Neil Poulton, has engineered its next generation of storage solutions with more speed, higher capacity and better compatibilityand best-in-class reliability.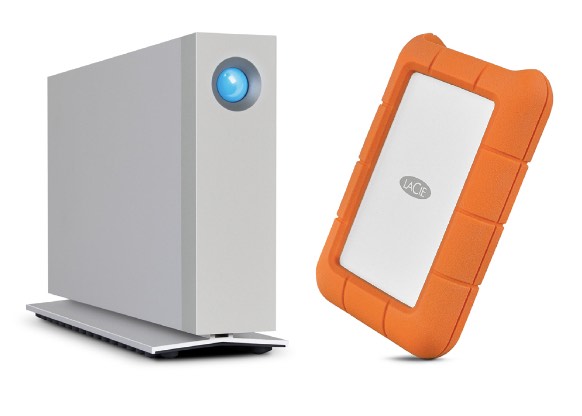 LaCie Rugged Thunderbolt USB-C
The new LaCie Rugged Thunderbolt USB-C combines rugged toughness with USB-C compatibility and fast Thunderbolt speeds. Users can store more footage, and so need to carry fewer devices, thanks to mobile HDD capacity up to 5TB. The LaCie Rugged features Seagate BarraCuda drives , and the 1TB SSD version delivers speeds of up to 510MB/s1, a 30 percent increase over the previous SSD generation. With these speeds, users can transfer 100GB of content in about three minutes and enjoy more responsive photo library browsing in Adobe Lightroom.
Thanks to USB-C, the user can connect the LaCie Rugged drive to USB 3.0-compatible computers as well as to USB-C and Thunderbolt 3 models. Plus, with an integrated Thunderbolt cable featuring compatibility with first-generation Thunderbolt and Thunderbolt 2, this LaCie Rugged drive can be used with more types of computers than any other storage solution on the market. Shock, dust, and water resistance means the LaCie Rugged drive is up for adventure — from treks on Mount Everest to being overnighted across the country. The LaCie Rugged drive is also bus-powered for complete mobility and backed by a three-year limited warranty.
LaCie d2 Thunderbolt 3
The new LaCie d2 Thunderbolt 3 is a great companion to limited-capacity SSD-based laptops and all-in-one computers to expand storage up to 10TB for professional bandwidth-intensive creative applications. Featuring Thunderbolt 3 and USB 3.1 speeds through the USB-C port, the new LaCie d2 drive performs well with late-model laptops such as the new MacBook Pro, as well as on USB 3.0 computers. With capacities of up to 10TB the LaCie d2 drive can easily store large photo and video projects, and features a Seagate BarraCuda Pro 7200RPM hard disk drive.
Featuring speeds of up to 240MB/s1, a ten percent improvement over the previous generation, photographers can spend less time moving files from camera cards into Adobe Lightroom. Dual Thunderbolt 3 ports mean the user can daisy chain dual 4K displays, a single 5K display or up to six total LaCie d2 drivesall through a single cable connected to their computer. It's even possible to power a compatible laptop2 such the latest MacBook Pro through a USB-C port. Thats one less cable cluttering up the desktop. The LaCie d2 is also backed by a five-year limited warranty, the most generous in the industry.
The new LaCie Rugged drive will come in 2TB, 4TB and 5TB HDD and 500GB and 1TB SSD capacities starting at $249.99. The new LaCie d2 drive will come in 6TB, 8TB and 10TB capacities starting at $429.99. The LaCie Rugged and LaCie d2 drives will be available at LaCie resellers worldwide this quarter. For more information, visit: http://www.lacie.com
Source: 2017 Seagate Technology LLC , LaCie