Pirate's Moon, Inc. has announced the release of Richard Hoeper's MyArtTools 1.0, their new drawing app for iPad Pro and the Apple Pencil. Taking full advantage of the Apple Pencil, MyArtTools is a dedicated drawing and painting app that offers many features. Users may also capture images with the iPad Pro front and rear cameras, and even save or open files to MyArtTools's directory. Users may also open saved images from the Photos Album. Users may share drawings using Email, Facebook, Twitter, Instagram, and Weibo.
Besides the drawing and painting tools available, the application also:
* Saves files to the MyArtTools's directory
* Opens saved files from the MyArtTools's directory
* Saves files to the Photos libraries
* Opens images from the Photos libraries
* Captures images with the iPad Pro front and rear cameras
* Has an extensive Help System
* Can be used in both portrait and landscape orientation
* Provides sharing of drawings using Email, Facebook, Twitter, Instagram, and Weibo
* Has a simple privacy policy – MyArtTools collects no information from the user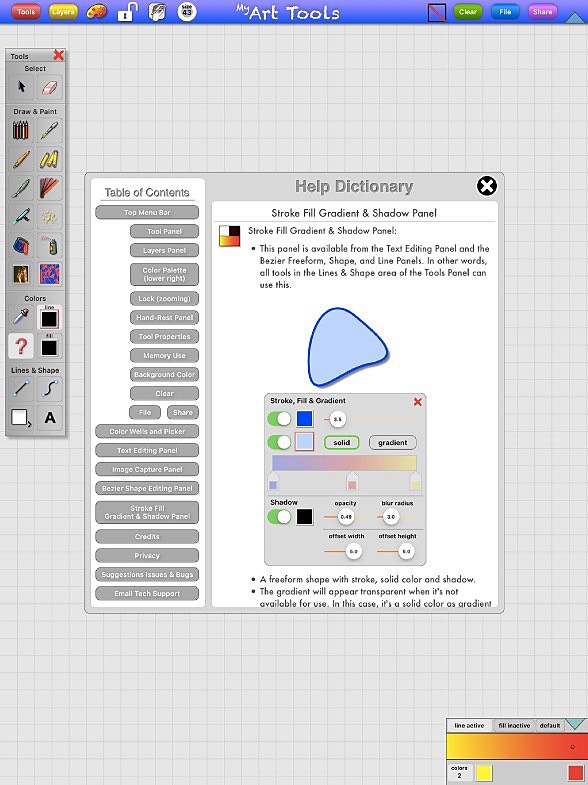 "As an artist I wanted the equivalent of my drawing pad onscreen with virtual drawing and painting tools that suited me," explained Hoeper, senior multimedia specialist at Lyndeborough based Pirate's Moon, Inc. "Various applications I've tried didn't solve this problem to my satisfaction. So over five years I built this application. The results of this application's tools look very similar to what can be found on canvas or paper in my studio. Now, instead of canvas or drawing paper, I take my iPad Pro with me and sketch with it."
Device Requirements:
* Compatible with iPad
* This application requires the Apple Pencil and the iPad Pro 12.9. Some of the tools in this application are smaller than would normally respond to a finger touch, but perfect for the precision of the Apple Pencil. With it, this app is a lot of fun and can be a very serious sketching tool.
* Requires iOS 10.1 or later
* 28.1 MB
MyArtTools 1.0 is $4.99 USD (or equivalent amount in other currencies) and available worldwide exclusively through the App Store in the Entertainment category.
MyArtTools 1.0:
http://mats.piratesmoon.com/technical.php
Purchase and Download:
https://itunes.apple.com/app/myarttools/id1211838860
Source:
Pirate's Moon