According to the latest research from Strategy Analytics, Apple iPhone 7 was the world's best-selling smartphone model in the first quarter of 2017. OPPO R9s was the star performer, shipping 9 million units globally and becoming the worlds third most popular smartphone model.
Neil Mawston, Executive Director at Strategy Analytics, said, "Global smartphone shipments reached a robust 353.3 million units in Q1 2017. The top-five most popular models together accounted for 1 in 6 of all smartphones shipped worldwide during the quarter."
Juha Winter, Senior Analyst at Strategy Analytics, added, "We estimate Apple iPhone 7 shipped 21.5 million units and captured 6 percent marketshare worldwide in Q1 2017. The iPhone 7 is by far the world's most popular smartphone model, due to a compelling blend of user-friendly design, extensive supporting apps, and widespread retail availability for the device. Apple iPhone 7 Plus, with its bigger screen and higher pricing, shipped 17.4 million units for second place and 5 percent marketshare worldwide in Q1 2017. Apple today accounts for two of the world's top five smartphone models."
Mr. Mawston added: "OPPO R9s shipped 8.9 million units for third place and 3 percent marketshare worldwide in Q1 2017. OPPO is largely unknown in the Western world, but its brand is wildly popular in China and growing rapidly across India. The R9s is OPPOs flagship 4G device with key features such as dual-SIM connectivity and fingerprint security."
Linda Sui, Director at Strategy Analytics, added, "Samsung was still gearing up for the launch of its new Galaxy S8 portfolio, but managed to get two models in the top five during Q1 2017. The Galaxy J3 captured 2 percent global smartphone marketshare and fourth place, while Galaxy J5 took 1 percent global share to become the worlds fifth most popular model. Samsung's J3 and J5 are midrange devices that sell very well across Europe and Asia and they helped to offset Samsung's troubles with the Note 7 battery fiasco in the quarter.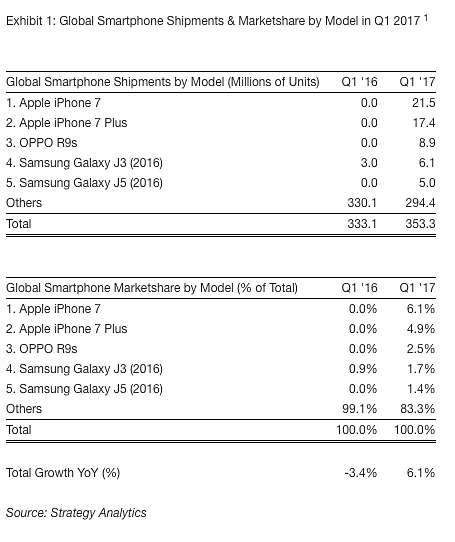 The full report, What are the World's Top 10 Smartphone Models?, is published by the Strategy Analytics Smartphone Model Tracker (SMT) service, details of which can be found here: http://tinyurl.com/kjt96sg.
For more information, visit:
http://www.strategyanalytics.com
Notes:
1 Numbers are rounded.
Source: Strategy Analytics